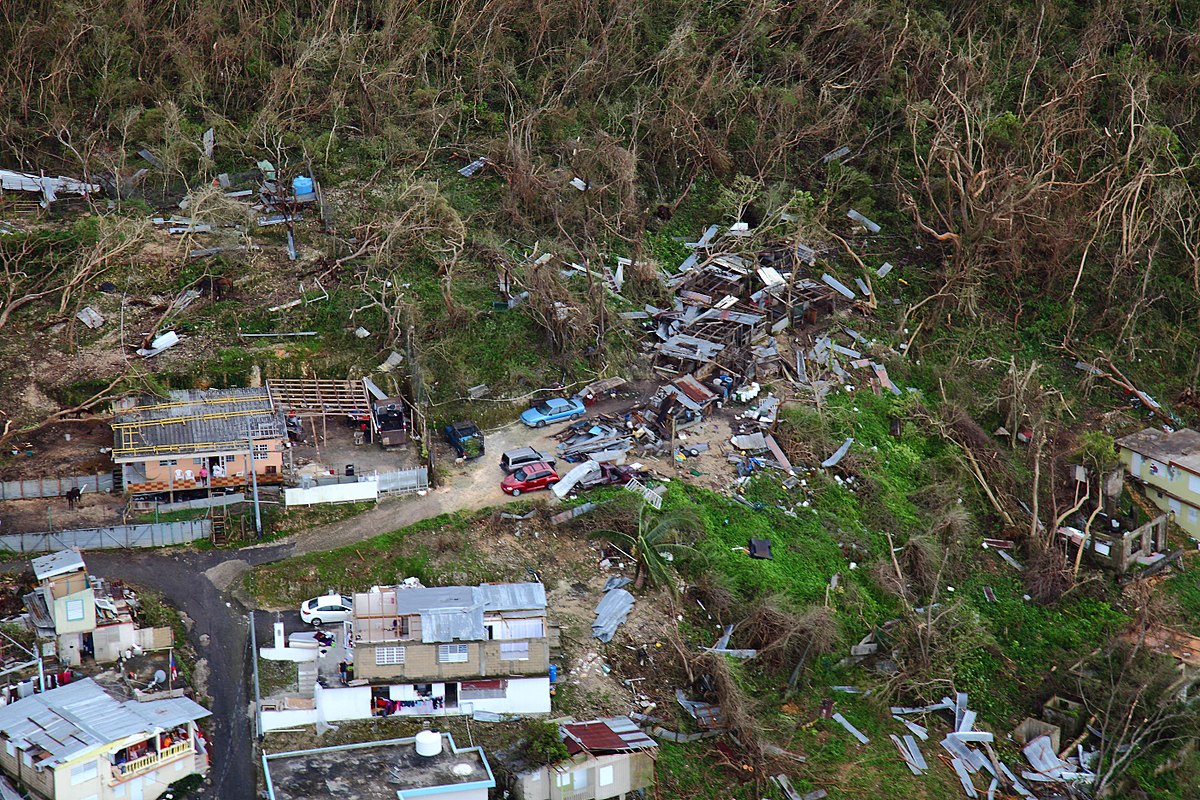 Aerial view of Puerto Rico after Hurricane Maria, Sept. 23 2017. Photo by Kris Grogan for U.S. Customs and Border Protection, CC0
Puerto Rico raises official Hurricane Maria death toll to almost 3,000
August 29, 2018
By Staff
TODAY IN LATIN AMERICA
PUERTO RICO: Gov Ricardo Roselló raised yesterday the official death toll from Hurricane Maria from 64 to 2,975 following the results released by an independent study by the Milken Institute School of Public Health at George Washington University. This is almost twice the local government's previous estimate, which it included in a recent report to Congress, that said there were 1,427 more deaths than normal in the three months after the storm but not as many as the estimate released by Harvard investigators of up to 4,600 more deaths than usual. There is no national standard for how to count disaster-related deaths and calculating indirect deaths remains difficult and contentious. For example, George Washington University researchers decided to count deaths over the span of six months—a much longer period than usual—because power outages were still affecting a large portion of the population.
Roselló said he will create a registry of vulnerable people that could be affected by the next hurricane that will include the elderly, the bedridden and kidney dialysis patients. A commission to study the hurricane response will also be created as the study found that government emergency plans before Maria were not designed for hurricanes greater than a Category 1: Maria was a Category 4 with 154 mph winds.
White House spokeswoman Sarah Huckabee Sanders said in a statement that President Donald Trump "remains proud of all of the work the Federal family undertook to help our fellow citizens in Puerto Rico." Trump had been criticized for saying shortly after the storm, when the official death toll was 16, that Hurricane Maria had not been  "a real catastrophe like Katrina."
HEADLINES FROM THE WESTERN HEMISPHERE
NORTH AMERICA
MEXICO: The Federal Police announced yesterday that a man who allegedly participated in the disappearance of 43 students in Ayotzinapa in 2014 has been arrested. Authorities only referred to the man as Juan Miguel "N" and said he was known under the alias "El Pajarraco," the big bird, and that he was the driver of the car that, according to the official version, took the students to the landfill where they were killed and their bodies were incinerated. International experts and the students' families do not believe this is what happened and have said it is scientifically impossible for the bodies to have been completely burned to nothing in that landfill.
CARIBBEAN
HAITI: Hundreds of protesters rallied last Friday outside the Anti-Corruption Court in Port-au-Prince to demand an investigation into corruption related to the PetroCaribe initiative. The Haitian parliament published last year a report saying former senior officials had diverted funds from PetroCaribe, a Venezuelan program that supplies cheap crude oil to Caribbean and Central American nations, but no one has been prosecuted. President Jovenel Moïse said yesterday that the investigation into the diversion of PetroCaribe funds will be a priority.
CENTRAL AMERICA
EL SALVADOR: The director of the National Civil Police announced yesterday that more than 400 gang members of the Mara Salvatrucha, also known as the MS-13, were arrested during nation-wide raids. Those arrested were allegedly involved in extortion, drug trafficking, ordering the killings of police officers and included an evangelical pastor who gave gang members false community service certificates.
NICARAGUA: Several former Sandinista cadres that have since turned against President Daniel Ortega have been arrested or kidnapped by loyalist paramilitaries and then turned in to authorities in the past few days, according to non-government organizations and the opposition. The former Army officers and political figures are being accused terrorism and organized crime, said the Nicaraguan Center for Human Rights, but authorities have not issued information about the arrests or court proceedings.
ANDES
COLOMBIA: The National Electoral Council closed an investigation against former president Juan Manuel Santos for allegedly receiving illegal financing from Brazilian construction firm Odebrecht for his 2014 reelection campaign after it reached statutory limits.
SOUTHERN CONE
BRAZIL: President Michel Temer announced yesterday that he is deploying the military to the northern state of Roraima, on the Venezuelan border, after new data showed a surge in murders. Criminal organizations have been battling for territory in Roraima in the past three years and the influx of Venezuelan immigrants has put pressure on the local institutions of this poor state. Data from the Violence Monitor showed Roraima has gone from having the third-lowest homicide rate in the country in 2016, to not even appearing in the top ten in 2017, to having the highest homicide rate in the first semester of 2018. A small contingent of elite troops was sent to the border town of Pacaraima after locals attacked Venezuelan refugees, and now an unannounced number of soldiers will be stationed along the border and federal roads of Roraima for two weeks.
BRAZIL: Prosecutors filed on Monday an old accusation of corruption against Fernando Haddad, the vice-presidential candidate for the Worker's Party and probable lead if jailed former president Luiz Inácio Lula da Silva is barred from running. The accusation says Haddad received indirect payments to his 2012 campaign for São Paulo mayor from a construction company, but Haddad argued yesterday that he cancelled a multimillion dollar project with that company after an employee alerted him that it was overcharging the government. Haddad said, as Lula has said many times before, that corruption accusations are being used to prevent the Worker's Party from retaking power.