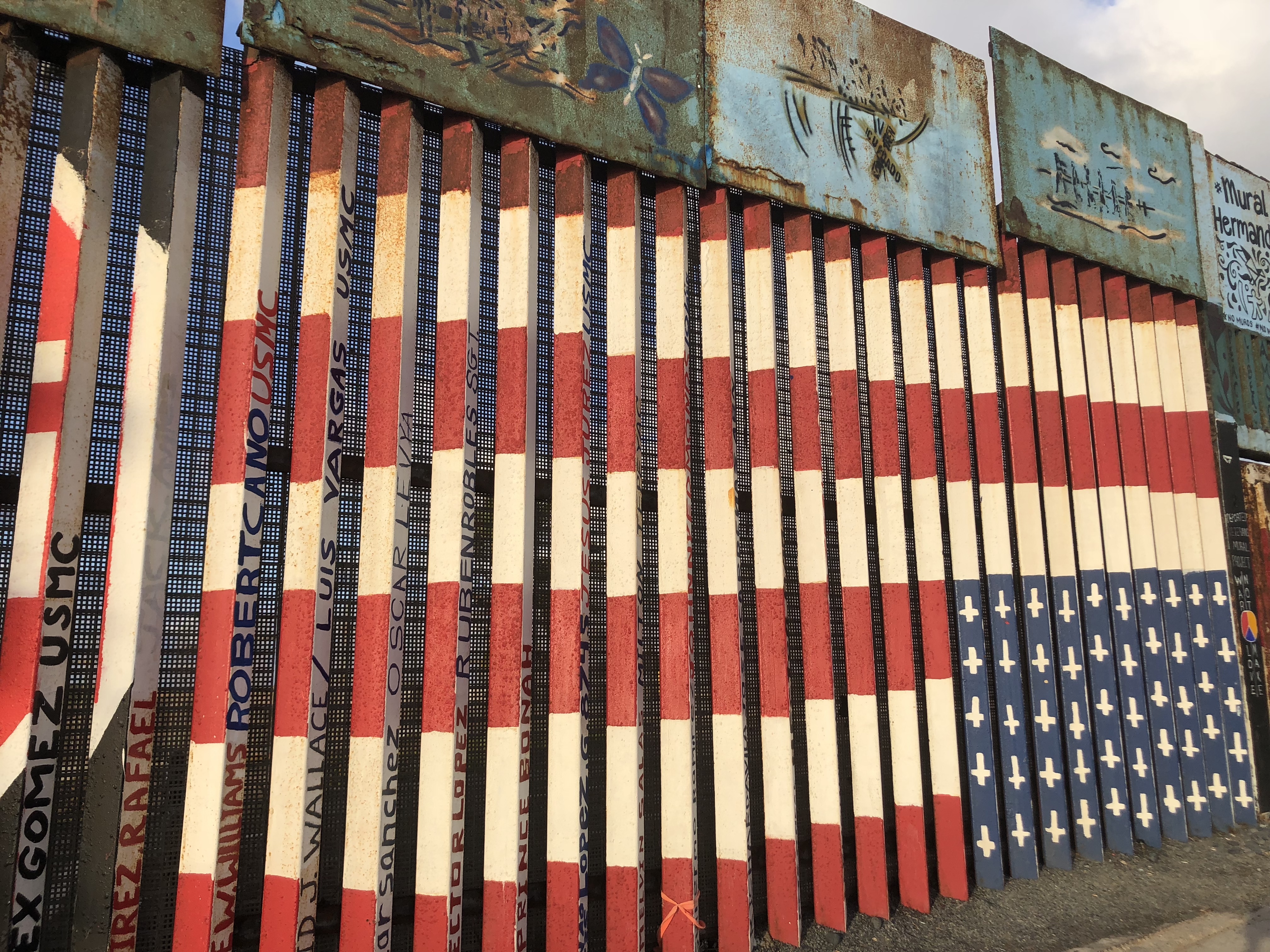 A memorial to deported veterans on the Mexican side of the border on the beach in Tijuana. (Photo by Marc Licciardi)
5 Days at a Tijuana Migrant Camp
After the Trump administration authorized the use of "lethal force" at the border to protect law enforcement officers on Nov. 20, 2018, reporter Marc Licciardi flew from New York to Tijuana, where he stayed from Nov. 28 to Dec. 2. He arrived a few days after U.S. Border Patrol agents fired tear gas as migrants tried to cross the border. Six weeks later, many migrants from Central America still wait in Tijuana for their asylum claims to process, and the U.S. government is shut down over disagreement about funding a border wall. Licciardi documented what he witnessed at the migrant camps in Tijuana, where asylum seekers await their future.
TIJUANA —Paneled drain lights and patrol truck high beams lit up the beach under a black sky near the U.S.-Mexico border in Tijuana. President Donald Trump had authorized the use of lethal force there days earlier, and border patrol agents fired tear gas at migrants as they ran toward the crossing.
Honduran migrants taking shelter under boardwalks began to materialize and led me to a group of 20-year-old men sleeping in bags under a footbridge where they had been camping for two weeks. Among them was Christian Osorio, a middle-aged man who spoke fluent English. He walked to Mexico in a caravan from Honduras, serving as a guide of sorts. He kept his Chihuahua dog huddled in a backpack. His voyage took one month and 10 days, while others in the group walked for two months. Osorio came to Mexico with Pueblo Sin Fronteras, or "People Without Borders." He was formerly a New York resident before leaving voluntarily in 2009 to go back to his daughters in Honduras. Nearby, some migrants slept in albergues, or migrant shelters, but those cost money, and some can only afford to pay on a nightly basis. Barbed-wire fencing was erected on the beach two weeks earlier.
The previous night as I flew over Tijuana on Delta Airlines, I saw two bizarre orange glows. Looking back and forth between the window and the map, I wondered if they were migrant campfires on the Baja Peninsula.
The flight touched down in San Diego 8:11 p.m. I crossed the border with ease at a footbridge, showing only my passport and my NYU press pass. My host, Ernesto, was a Mexican border security agent. He told me that most of the refugees are split between two camps, one here in Tijuana and one in Tecate. Most in Tijuana are "downtown" near the city center, which is directly next to the border wall.
I asked my cab driver to take me to the refugiados, and he drove me immediately to the middle of town, near the corner of Baja California and Avenida 5 de Mayo. The gated immigration center, or centro de migrantes, which was formerly a ballpark, is right next to the United States, only separated by a highway and insurmountable vertical posts. Additional credentials from town hall were required before the agents would let me inside.
When I returned to the camp, it was flooded to ankle level. Families had constructed levees out of mud to protect their tarps, but most of the camp was submerged in water a few inches deep. Some slept in garbage bags, one on top of another. Medical volunteers drove cars full of supplies to attend to the young and the ill. Local churches and charities organized to provide food and clean water, though the lines extended for blocks. It was truly my first time understanding the phrase "huddled masses."
According to the Peter Córdoba, who works at the children's shelter at the camp, 145 migrants seeking asylum stayed in tents here near the border. The facility has a roof, but it is not enclosed. Mexican authorities relocate children and the elderly as the central migrant camp overflows. Angels Without Borders, a separate open-air camp for the immobile sick and homeless elderly, was impacted by the tear gas, which was shot in the immediate vicinity. The gas was also fired near a halfway house for children called Movimiento Juventud.
Claudia E. Gonzales from San Diego came to assist Angels Without Borders. According to Gonzales, an elderly man named Mario was in need of an IV drip and transfer to a hospital. His aid, Miguel, spoon fed him in the tent. She said the organization doesn't have enough food to feed the sick, even with the help of a benefactor. Some patients here have asthma and heart issues.
Looking across the border to the United States, I saw "Police" and "US Border Patrol" vehicles andCAT bulldozers at a construction site on the American side of the Tijuana River. Officers asked me to step away and said, "This is the border wall."
Later, my host gave me a tip that there would be a mass crossing attempt. Migrants swept streets with brooms and recycled their waste, while some tried to organize a march to the border. The movement was later broken up by police.
"They try to push us down, but we're only going to come back harder and we're rushing that border," said a migrant named Marco. He slept under a large tarp with half a dozen men and a tent for women and children. He called it the "penthouse" because it was comparatively spacious.
I asked Marco, why Tijuana?
"We just follow the guides," Marco said.
Marc is a New York reporter who previously worked for Japan's largest newspaper, Yomiuri Shimbun.  Prior to becoming a reporter, he worked on political campaigns in New Jersey and spent a year studying in Europe. He's now pursuing a degree in journalism at New York University.