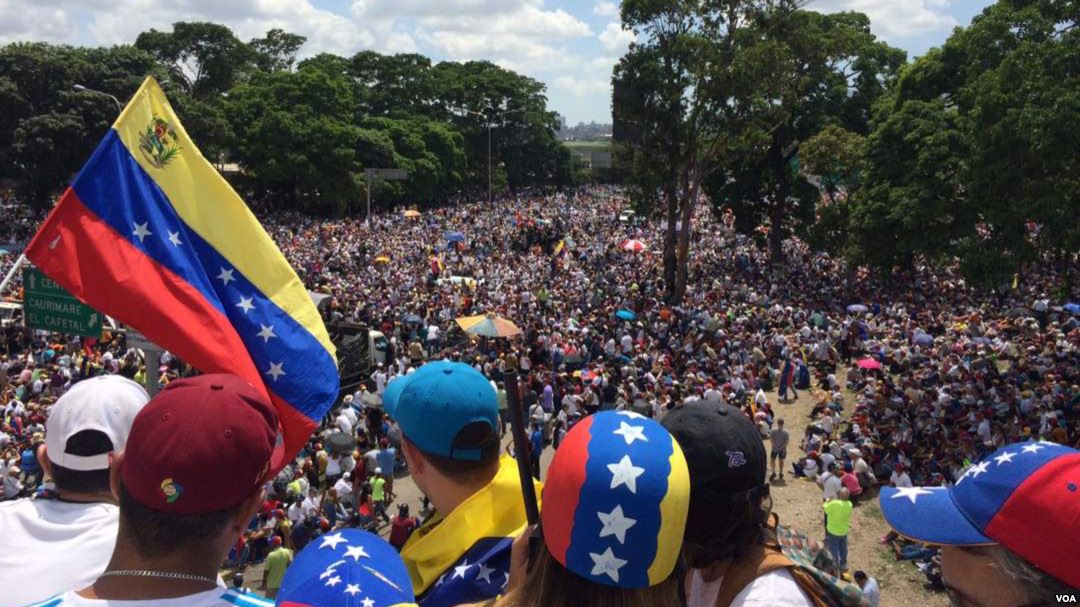 Venezuelans marched in the spring of 2017, after the Supreme Court dissolved the National Assembly. Maduro resolved to leave the Organization of American States that year. (Photo courtesy of VOA)
Widespread Protests Expected in Venezuela, 61 Years After Uprising
January 23, 2019
By Staff
TODAY IN LATIN AMERICA
Venezuela: Today is the 61st anniversary of an uprising against a former military dictator — and the day Venezuelans are scheduled to protest President Nicolás Maduro. U.S. Vice President Mike Pence voiced official support for those opposing Maduro in a video yesterday, saying, "we are with you." Pence called Maduro's presidency illegitimate and told Venezuelans that the U.S. government supports National Assembly President Juan Guaidó. Maduro responded by directing a "revision" of diplomatic relations with the U.S.
Lawmakers voted Maduro's authority illegitimate just days after his inauguration on Jan. 10, setting the stage for Guaidó to be recognized as interim president.The Supreme Court has refuted that decision. In another break from Maduro, the assembly yesterday designated Gustavo Tarre Briceño the country's new ambassador to the Organization of American States (OAS). It resolved to stay in the international body, which Maduro had been working to leave. The OAS has also denounced Maduro, and its leader has indicated he would accept a representative chosen by the assembly.
HEADLINES FROM THE WESTERN HEMISPHERE
NORTH AMERICA
UNITED STATES: The U.S. Senate will vote on two measures to end the government shutdown today. One of the bills, proposed by the Senate's democrats, would fund the government through Feb. 8 without funding the construction of President Donald Trump's border wall. The other bill, proposed by Trump, would give $5.7 billion towards funding the border wall. Tomorrow's vote will mark the first action by the U.S. Senate to end the government shutdown since Dec. 23. If the Senate does not reach an agreement, furloughed federal employees will likely miss their second paycheck, due this Friday.
MEXICO: Mexican law enforcement agencies reported that the rate of homicide cases rose 15 percent in Mexico in 2018. Mexican prosecutors opened 28,816 homicide investigations in 2018, compared with 25,036 in 2017. Homicide rates increased significantly in the provinces of Quintana Roo and Guanajuato, but decreased in regions like Veracruz and Baja California Sur. This news comes the same week that community radio station director Jose Rafael Murua Manriquez was found dead along the side of a road in Baja California Sur. Murua Manriquez had been receiving threats since at least November, according to the Committee to Protect Journalists.
UNITED STATES: Alfonso Cuarón's "Roma" has been nominated for 10 Academy Awards, tying the film for most Oscar nominations this year with "The Favourite." "Roma's" nominations include Best Picture, Director, Actress in a Leading Role, Actress in a Supporting Role and Original Screenplay. The story is told in Spanish and Mixtec and follows the life of a domestic worker in 1970s Mexico City. Indigenous actress Yalitza Aparicio received a best actress nomination for her role, which Cuarón based on the woman who helped raise him.
CARIBBEAN
CUBA: Participating after a 24-year absence at the World Economic Forum WEF in Davos, Switzerland, the Cuban Minister of Foreign Trade and Investment warned the United States against reinstating a section of the Helms-Burton Act of 1996. That would allow Cuban Americans to sue companies profiting from properties expropriated during the Cuban Revolution, and, according in Minister Rodrigo Malmierca Diaz's view, create a "big mess" for any countries with business in Cuba. Yesterday, a civil society organization composed of Cuban immigrants also spoke out against the entire Helms-Burton Act, which includes  the economic blockade.  
PUERTO RICO: Yesterday, several community leaders and government officials met in San Juan to discuss strategies to counteract the ongoing violent wave on the island. Gov. Ricardo Rosselló convened the meeting after 43 homicides occured in the first few weeks of 2019, several of them in broad daylight. The public safety secretary disagrees with Rosselló's concern that there is a crime wave, and argues that the loss of 5,000 police officers in recent years is unrelated to these events. Puerto Rico's homicide rate has gone down by half since 2011, although it is still almost four times the average for the United States mainland.
CENTRAL AMERICA
PANAMA: Pope Francis arrives today in Panama City ahead of the World Youth Day, with crowds of over 150,000 people expected, according to the Vatican. The Pope will celebrate two masses and deliver seven speeches at the weeklong event. He is expected to discuss poverty and migration and has criticized what he called "a wave of closure toward the foreigner." Tomorrow, Pope Francis will be making visits to a clinic treating HIV and AIDS patients and Panama's largest youth detention facility.
ANDES
BOLIVIA: Bolivian President Evo Morales celebrated his 13th year in power yesterday while giving an annual speech to Congress. Morales highlighted the achievements of his government, especially the country's rapid economic growth, but he did not discuss its upcoming elections. The president's bid for a third term went against a referendum, and a poll from last fall showed 68 percent of Bolivians opposing his reelection. A top court ruled last year that Morales could run again, claiming that candidacy fell within his human rights. Morales' most prominent opponent is former President Carlos Mesa.
SOUTHERN CONE
CHILE: Chilean president Sebastian Piñera proposed a new bill this week raising fines and doling out jail time for violations of environmental laws. The proposal would give companies that circumvent regulations as much as two months detention and fines of up to $70,000. Currently, many of these violations end in civil cases and settlements. Piñera said the bill would give local and regional governments more authority to ensure that companies mitigate environmental threats.  The president said he wants Chile to be "an example on a global level in terms of environmental stewardship." The country is already the world's leading producer of copper, and tops the lists for lithium as well as a variety of agricultural products. The bill still needs to clear Chile's Congress to become law.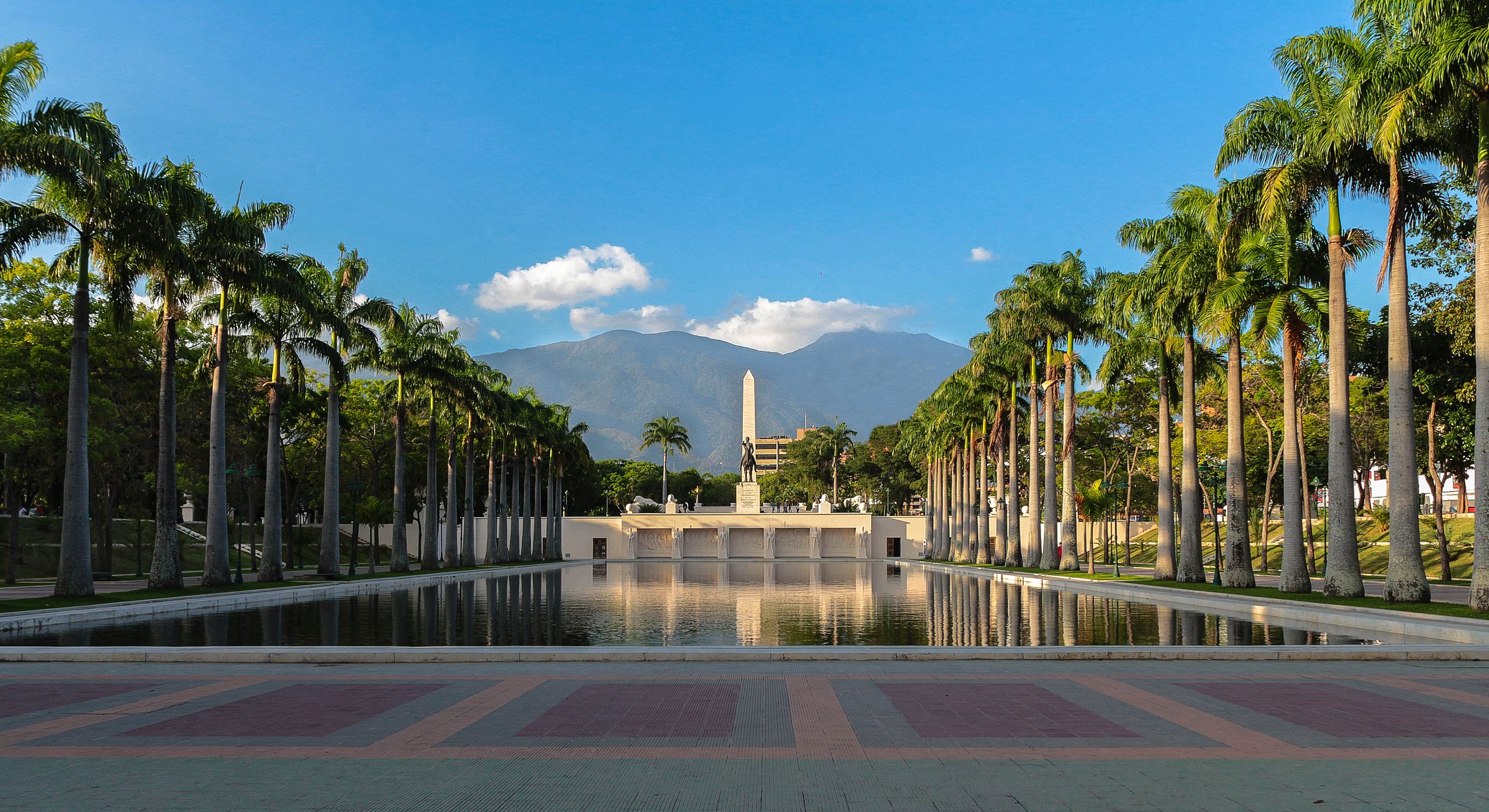 January 22, 2019
> Staff