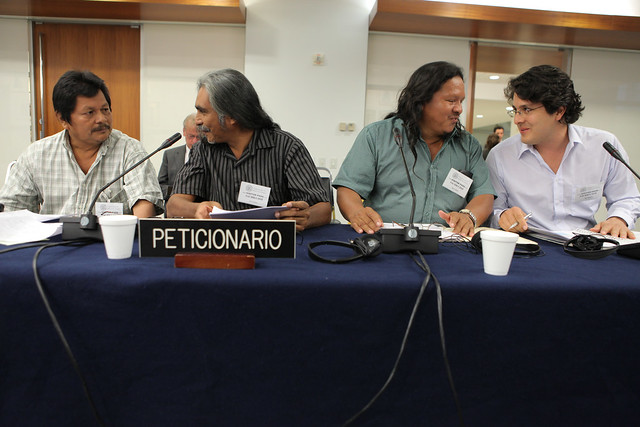 Costa Rican Indigenous leaders meet in Washington, D.C., in 2013. (Photo by Oliver Contreras/Eddie Arrossi Photography via Flickr)
Costa Rica Reaches Agreement with Indigenous Groups After Land Rights Leader Killed
April 9, 2019
By Staff
TODAY IN LATIN AMERICA
COSTA RICA: The Costa Rican government reached an agreement with Indigenous peoples on security and territorial protection yesterday. In an official statement, the Office of the President said that negotiations are "moving forward" with the Bribrí and Teribe Indigenous groups in southern Costa Rica. The tentative protocol includes environmental regulations and territorial sanitation, as well as security initiatives to protect the Indigenous communities.
The bilateral negotiations follow the murder of Sergio Rojas, a Bribrí land rights leader who was shot dead on March 18. For decades, the Indigenous in Costa Rica have struggled to maintain their rights to land legally given to them by the government in the 1977 Indigenous Law. The reallocation of that land has caused conflict between the Indigenous groups and the non-Indigenous who have also lived there.
HEADLINES FROM THE WESTERN HEMISPHERE
NORTH AMERICA
MEXICO: United Nations High Commissioner for Human Rights Michelle Bachelet has agreed to help in the investigation of the 2014 kidnappings of 43 Mexican students. Bachelet said the case could have "paradigmatic" repercussions on Mexico's justice system. She signed an agreement to provide "technical assistance" to the Mexican government. President Andrés Manuel López Obrador (AMLO) opened the truth commission back in December, and Mexican Foreign Secretary, Marcelo Ebrard, has said its remained a top priority.
MEXICO: Mexico will spend only $5 million on new federal security details to protect former presidents. That number is significantly less than the typical $50 million expenditure. Since the election of President Andrés Manuel López Obrador (AMLO), former presidents have not received federal pensions and security, but recent events pushed the president to reconsider. Former President Vincente Fox said that this week was the second time his home had been broken into. AMLO responded to criticism in a press conference yesterday, saying that he assumed responsibility for the breaches.
UNITED STATES: Anonymous sources in the federal government told the Associated Press yesterday that more immigration officials are expected to leave their positions following the departure of Department of Homeland Security Secretary Kirstjen Nielsen. The sources pointed to L. Francis Cissna, the head of U.S. Citizenship and Immigration Services, and General Counsel John M. Mitnick as the next officials to resign, along with several other civil servants in their offices. The departures may signal an attempt to "clean house" in light of pushback to President Donald Trump's immigration policies.
CARIBBEAN
CUBA: The Trump administration has ended a deal between Cuba and Major League Baseball that would have allowed Cuban baseball players to professionalize in the United States. The decision to overturn an Obama-era ruling means that Cuban baseball players will now need to seek a special license from the Treasury Department in order to play in the Major League Baseball (MLB). In the past, Cubans had to defect from their country in order to be eligible to play for a MLB team. The announcement comes two weeks before the MLB season starts.
TRINIDAD AND TOBAGO: Prime Minister Keith Rowley said on Saturday that the twin-island nation will not open a refugee camp for Venezuelans. Rowley expects that Trinidad and Tobago will become a "temporary sanctuary" for the thousands of Venezuelans who have fled their country amid social and political turmoil. USAID has designated $1.6 million for the country's ongoing assistance to over 40,000 asylum seekers. Trinidad and Tobago have been criticized by several media outlets for allegedly "ignoring" Venezuelan refugees.
CENTRAL AMERICA
EL SALVADOR: California Gov. Gavin Newsom met yesterday with Salvadoran migrants who had been deported from Mexico or the United States on their journey north to escape poverty and violence. Newsom traveled to El Salvador to learn more about why migrants are fleeing. California is home to more Salvadoran immigrants than any other state. Meanwhile, nearly 200,000 Salvadorans with Temporary Protected Status (TPS) in the United States face possible deportation in the future as the Trump administration tries to end TPS.
ANDES
VENEZUELA: Mahan Air, an Iranian airline carrier, began direct flights to Caracas yesterday. The first 16-hour flight left from Tehran with a delegation of the country's foreign ministry as a sign of closer ties between the two nations. Both Iran and Venezuela are facing crippling U.S. sanctions. Mahan has Iran's largest air fleet and has been accused by western nations of transporting military equipment to Syria and other regional conflict zones. Mahan was blacklisted by the United States in 2011 for supporting the Iranian Republican Guard, which was declared a terrorist organization yesterday by President Donald Trump's administration. Sen. Marco Rubio tweeted the news as evidence that Venezuela is a national security threat to the United States.
COLOMBIA: President Iván Duque will meet today with Indigenous leaders who blockaded the Pan-American Highway for 27 days. The blockade lasted so long because the Indigenous communities refused to lift it until they talked with the president. A preliminary deal between Indigenous leaders and Duque's interior minister included the promise of government spending of over $250 million in housing, education and health in exchange for the lifting of the blockade and a meeting with president to discuss further terms and a guarantee of compliance. Luis Kankui, a leader of Colombia's National Indigenous Organization (ONIC), said they were still in a state of protest and its continuation will depend on today's meeting.
SOUTHERN CONE
BRAZIL: Ten army soldiers were arrested yesterday after riddling a civilian car with bullets. Evaldo dos Santos Rosa was driving in his car with his son, his wife, her stepfather and another woman when the army opened fire, killing him and injuring his wife's stepfather. The army initially said that they were responding to gunfire and had mistaken Dos Santos' car for a criminal's. However, the police found no weapons at the scene and the military subsequently changed its statement. The presidency of Jair Bolsonaro has repeatedly condoned the use to state violence to battle Brazil's criminal underworld.