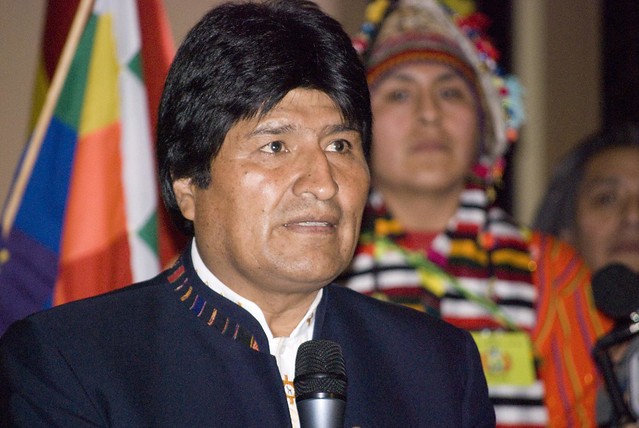 President Evo Morales, shown here in 2009. (Photo by Sebastian Baryli via Flickr)
Quechua Translation: Bolivia Launches New Public Healthcare Program Amid Strikes
RUNASIMIPI: Quechua, an Andean language, is the most commonly spoken Indigenous language in the Americas, with thousands of speakers. Quechua is not actually called "Quechua" by speakers of the language. They call it "Runasimi" — which means "idoma de la gente" or "language of the people."
The news below was translated from Spanish and English into Quechua by Jacquelyn Kovarik. She translated it for the capstone for her independent study project with Dr. Odi Gonzales, the director of the NYU Quechua Language Studies program while completing her dual Masters in Journalism and Latin American and Caribbean Studies. Visit our Quechua page to see more translations and stories related to the Quechua language.
The news originally came out March 5, 2019.
Quechua
Musoq programaq "public healthcare" ñisqa qallarisqanmantapacha, chay programa kinsa chunka pisqayuq waranqa runakunata hanpisqa pisqa p'unchayllapi. Chay programaq— "Sistema Único de Salud" sutiyuq—inscripciónnin enero killapi qallariran. Chay programawan, yaqa soqta millón mana seguroyuq runakunamanmi Boliviaq gobiernonqa segurota qoyta munan. Llapantin Bolivia runakunamanta kay soqta millón kan yaqa kuskan Boliviaq poblaciónninmanta. Chay musoq programarayku, Presidente Morales munanman qoyta aswan qolqeta (iskay pachaq millón dolarta) nacional hanpiq sistemapaq, ichaqa wakin hanpiqkuna niranku, "manan aypanqachu," nispa.
Chay pisi presupuestorayku, asociación hanpiqkuna Bolivia suyumanta munan qallariyta huelgakunata hoqmanta. Hoq llaqtakunamanta, Bolivia gastan aswan qolqeta América Latinapi. Boliviaq hanpiq sisteman rikch'akun Argentinaq, Perúq sistemankunaman.
English
Bolivia launches new public healthcare program amid strikes
In the first five days since its launch, Evo Morales's new public health care system has assisted 35,000 patients. Registration for the Unified Health System began in January with the government goal to provide coverage to Bolivia's 5.8 million uninsured — more than half the country. Morales intends to increase healthcare spending by $200 million, but some doctors have said this won't be enough to address shortages of medical facilities and supplies.
The Medical Association of Bolivia plans to resume strikes against the lack of infrastructure and personnel to sustain the measure. Bolivia spends far more of its GDP on healthcare than the Latin American average. The system is similar to public healthcare available in Argentina and Peru.
Español
Bolivia lanza nuevo programa de servicio de salud público, en medio de huelgas
En los primeros cinco días desde su lanzamiento, el nuevo sistema de salud pública promovido por Evo Morales atendió a 35.000 pacientes. La registración para el "Sistema Único de Salud" empezó en enero con la meta de proveer cobertura a los 5.8 millones de bolivianos que no tienen seguridad social, que son más de la mitad del país. Morales tiene la intención de incrementar el sistema de salud pública con $200 millones de dólares americanos, pero algunos médicos dijeron que ese monto no sería suficiente para remediar la escasez de los centros médicos y recursos médicos.
La Asociación Médica de Bolivia tiene la intención de reanudar las huelgas en contra de la escasez de infraestructura y personal para sostener el nuevo sistema. Bolivia gasta mucho más de su PBI en atención médica que el promedio de otros países en América Latina. Su sistema es similar a la atención médica pública en Argentina y Perú.