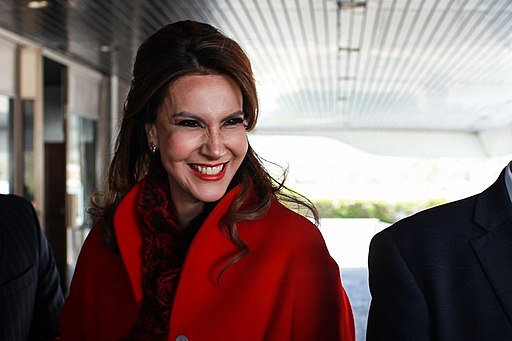 Former presidential candidate Zury Ríos Sosa photographed in February 2019 after the Constitutional Court allowed her provisional run for president. (Image courtesy of Carlos Sebastián via WikiCommons)
Guatemalan Presidential Candidate Banned from Running
May 15, 2019
By Staff
TODAY IN LATIN AMERICA
GUATEMALA: Despite being a frontrunner for the June 16 election, Zury Ríos Sosa, daughter of former President José Efraín Ríos Montt, was banned from running. Ríos Sosa was provisionally allowed to run for the conservative Valor party in February after debate over a constitutional prohibition on candidacies by close relatives of former coup leaders. In a reversal of the February decision, Guatemala's constitutional court found that Ríos Sosa did in fact fall under the prohibition. Ríos Sosa had previously said that the ban goes against her rights as a candidate and those of her supporters willing to elect her.
Her father, who took office in 1982, is known for ruling one of the most violent periods in Guatemalan history, resulting in the mass murder of more than 1,700 indigenous Mayans. He was convicted of genocide and crimes against humanity in 2013, but the ruling was set aside. He died in 2018.
HEADLINES FROM THE WESTERN HEMISPHERE
NORTH AMERICA
MEXICO: According to Mexico's top human rights official, Alejandro Encinas, drug and kidnapping gangs are re-using clandestine graves as new burial sites for murdered persons. The gangs are reportedly disposing of new bodies in pits that have already been excavated and investigated by authorities. The Mexican government had previously budgeted $25 million for ground-penetrating radar and mapping techniques to identify remains and help families find their loved ones. The initiative has uncovered 222 clandestine graves since President Andrés Manuel López Obrador took office on Dec. 1, 2018.  
BORDER: An American man was arrested near the San Ysidro U.S.-Mexico land border crossing after crashing into 17 vehicles and running over five people. According to Tijuana police, the man had previously threatened a Mexican citizen with a knife and fled towards the border crossing in a pickup truck, accompanied by a woman. The truck was stopped before the U.S. border, where bystanders beat them and hit at their vehicle with rods and rocks. Police were unable to identify the assailants but have taken the driver into custody.
UNITED STATES: The U.S. Department of Homeland Security considered the deportation and arrest of thousands of migrant families already living in the United States, according to two Homeland security officials and two other officials close to the Trump administration. U.S. officials planned to arrest families in 10 cities with a profusion of undocumented immigrants. The proposal was initially intended to discourage others from crossing the border. The mass deportations were eventually tabled by the administration as it dealt with increasing resource demands on the border alongside this year's Central American caravans.
CARIBBEAN
PUERTO RICO: Arnaldo Claudio, a retired Army officer who was in charge of supervising a federally mandated reform of the Puerto Rican police department, resigned yesterday saying he believed the money is being misspent. In a phone interview with Associated Press, Claudio stated that the U.S. Department of Justice and the federal court were not taking the required measures to avoid "illegal use of force, illegal transfers and violations of constitutional civil rights" that should be addressed by the initiative. "I don't want to be associated with such a system," he said. Claudio was appointed to oversee the multimillion-dollar, 10-year reform five years ago.
CENTRAL AMERICA
NICARAGUA/EL SALVADOR: Mauricio Funes, former president of El Salvador who received asylum in Nicaragua in 2016, said on Monday that he has since worked as a paid advisor to the Nicaraguan government. According to Nicaraguan journalist, Carlos Fernando Chamorro, Funes and his son, Diego Funes Cañas, are both receiving government payments as employees of President Daniel Ortega. In a Twitter exchange between Chamorro and Funes, Funes said that due to his expertise he didn't see any problem in being an advisor, stating he is earning an "honest living."
ANDES
VENEZUELA: Security forces blocked access to the opposition-controlled National Assembly yesterday morning. The National Assembly was set to gather to discuss the persecution of Maduro's government against opposition lawmakers. A top court also asked the Maduro-aligned Constituent Assembly to strip four lawmakers of their immunity yesterday. The police surrounded the Palacio Federal, where the legislative body meets, citing a bomb threat. The National Assembly hopes to reconvene today.
ECUADOR: The Ecuadorian embassy in London intends to give U.S. authorities Julian Assange's possessions, according to his lawyer's statements on Monday. Ecuadorian officials have authorized police to search the room where Julian Assange lived for seven years on Monday. Everything from cell phones, computers and USB drives will then be sent to the United States after an official request from the U.S. Department of Justice. Assange faces charges of conspiracy in the United States after helping whistleblower Chelsea Manning release classified evidence of U.S. war crimes on his Wikileaks platform. Assange is currently in a London jail after Ecuador ended his asylum in April.
SOUTHERN CONE
BRAZIL: On Tuesday, President Jair Bolsonaro's government announced the cancelation of a planned UN climate change event. The event was to be hosted in the city of Salvador in August as part of the UN's COP25 conference, which Brazil backed out of hosting due to budget restraints. Last week, eight former environmental ministers protested against Bolsonaro's "dismantling" of environmental protection. Environment Minister Ricardo Salles has said climate change is a "secondary issue" for the current administration, which has chosen to focus on "urban issues" like sanitation.