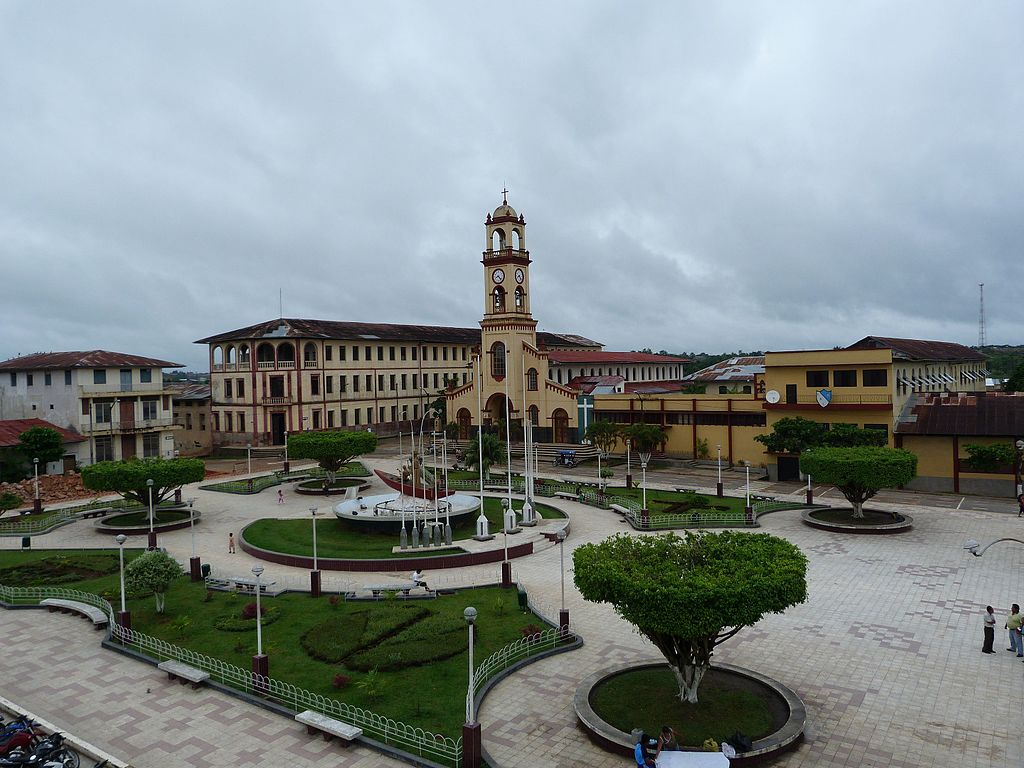 The town center in Requena, located in the Peruvian region of Loreto, just 40 miles away from the epicenter of Sunday's seismic event. (Photo by Ivan Brehaut L. via Wikimedia Commons).
"Moderate Seism" in the Peruvian Amazon Leaves 1 Dead, 18 Injured
May 27, 2019
By Staff
TODAY IN LATIN AMERICA
PERU: Yesterday, the U.S. Geological Survey registered a magnitude 8 earthquake that caused widespread damage in buildings and roads of towns in the Peruvian Amazon, reportedly causing one death. The Peruvian Geophysical Institute (IPG) said the incident was recorded at 2:41 a.m. on Sunday in the Alto Amazonas province, located in the northeastern Loreto region near the border with Brazil.
Preliminary reports indicate that 27 homes were damaged across seven provinces, with intermittent power outages reported nationwide. Hernán Tavera, director of the IPG, refused to call the incident an earthquake and decided to label it a "moderate seism" instead since damages have been sparse. Seismic events were also recorded in neighboring countries. In Ecuador, seven people were reportedly injured as a result of Sunday's tectonic activity.
NORTH AMERICA
MEXICO: On Saturday, Mexico's environmental minister resigned following her decision to delay a domestic flight so she could board it. The exit of Josefa Martínez Blanco came after she admitted to requesting Aeroméxico to wait for her to board a Mexicali-bound plane from Mexico City. On her resignation letter, posted to Twitter, Martínez Blanco stated that "public servants must lead by example" and not by taking advantage of their positions of power. Martínez Blanco is the second official that leaves his or her post in less than a week. Germán Martínez resigned to his job as head of the Mexican Social Security Institute on May 21.
BORDER: A federal judge blocked the Trump administration from using emergency funds to finish segments of the border wall under construction on Friday. U.S. District Judge Haywood Gilliam Jr. from California issued an injunction that bans the "reprogramming" of $1 billion destined to the Army from funding wall projects in Arizona and Texas. President Donald Trump called Gilliam Jr. "an activist Obama judge" and demanded an "expedited appeal" to complete the wall's construction.
CARIBBEAN
HAITI: U.S. Coast Guard captured 50 Haitian migrants traveling to the U.S. on a makeshift boat and deported them back to Haiti. The overloaded panga vessel, carrying 36 men and 14 women, was intercepted 46 miles north of Cap-Haïtien a week ago. Coast Guard reports that over 2,400 Haitians have attempted to enter the United States via maritime means since May 2018.
CENTRAL AMERICA
GUATEMALA: Over the weekend, the Guatemalan film 'Nuestras Madres' won Camera d'Or Award at the 2019 Cannes Film Festival. Guatemalan director César Díaz became the third Latin American filmmaker to earn such distinction. The film deals with the processes involved in preserving the memory of a 36-year armed conflict in Guatemala that took the lives of an estimated 200,000 people. Díaz, whose father was disappeared during the war, dedicated the award to the victims' surviving families.
HONDURAS: On Friday, Honduran investigators said that a group of public officials collaborated with drug cartels by creating a money-laundering scheme through state contracts that provided earnings for both parts. The OAS-backed anti-corruption mission known as MACCIH presented charges against twelve people. These included former president Porfirio Lobo and his son, Fabio, who is currently serving a 24-year sentence in the U.S. for drug trafficking. MACCIH reported that 67 contracts were handed out during the scheme, totaling an estimated $2.8 million.
ANDES
VENEZUELA: Crisis talks between President Nicolás Maduro and opposition leader Juan Guaidó will resume in Norway this week. Guaidó said that the negotiations would have worked if Venezuela has "an end to the usurpation (by Maduro), a transition government and free elections." On the other hand, Maduro thanked the Norweigan government for their "efforts towards advancing dialogue" via Twitter. Minister of Communications Jorge Rodríguez and Miranda Province Governor Héctor Rodríguez will represent the Maduro administration. Deputy parliament speaker Stalin González and Mayor of Caracas Gerardo Blythe will lead the opposition delegation.
COLOMBIA: More evidence that links a Colombian army general with extrajudicial killings emerged over the weekend. Documents from the Prosecutor's Office provided to the Associated Press show how General Nicacio Martínez Esquivel signed off on seven questionable payments to unnamed informants in exchange of killing civilians. Human Rights Watch had already linked Gen. Martínez Esquivel to an additional 23 homicides. Just last week, the New York Times published a story showing how the army chief ordered to "increase combat kills" through any means necessary.
SOUTHERN CONE
PARAGUAY: For the first time in history, the leader of the indigenous Maká group will be a woman. Tsiweyenki, known to the Paraguayan state as Gloria Elizeche, will become chief to the roughly 120,000 Makás, one of 20 indigenous groups in the country. Tsiweyenki, who became a widow in February, will assume the role of chief in the coming months. In the meantime, the Makás have appointed Mateo Martínez as interim chief.
BRAZIL: Yesterday, many pro-government rallies took place in several cities across the largest democracy in Latin America. People in Sao Paulo, Rio de Janeiro, and other 125 cities took to the streets to voice their support form recently-elected president Jair Bolsonaro. The far-right leader has eased gun laws, cut funding to education and advocated for a commemoration of Brazil's military dictatorship, but has faced an uncooperative Congress and widespread condemnation, both domestic and international. The Bolsonaro administration continued to accrue more challenges yesterday, as a prison riot in the Manaus resulted in at least 15 dead inmates.