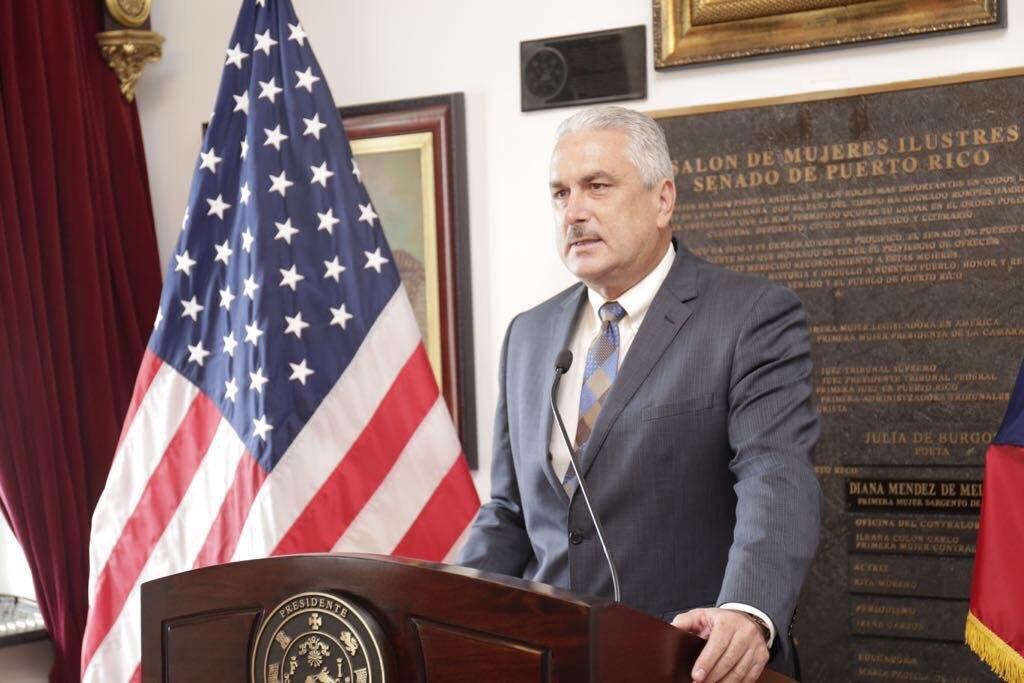 Senate President Thomas Rivera Schatz, who has said he would not vote for Rosselló's nominee and wants to run for governor himself next year. (Photo by The Traveler via Wikimedia Commons).
Succession Uncertainty Looms As Rosselló Steps Down In Puerto Rico
August 2, 2019
By Staff
TODAY IN LATIN AMERICA
PUERTO RICO: Although disgraced Governor Ricardo Rosselló's resignation goes into effect at 5 pm today, the Puerto Rican legislature has delayed the confirmation of a new governor on the island until next week. Congressman Pedro Pierluisi has been chosen by the outgoing governor as the new Secretary of State, making him the individual who could succeed Rosselló in La Fortaleza.
However, Senate President Thomas Rivera Schatz, who announced his candidacy recently, said that Pierluisi "does not have the votes" to confirm his nomination. Puerto Rico's lower house is expected to hold a hearing on Pierluisi's appointment today, while the Senate will do the same on Monday. The Associated Press called the situation a "full-blown" constitutional crisis.
Headlines from the western hemisphere
NORTH AMERICA
REGION: The Washington Post reports that 2% of the North Atlantic right whales have been found dead in the last two months in Canadian waters. After a decade of gains, the marine mammal population is experiencing a decline that conservationists are attributing the decline to change in their migration patterns due to warming ocean waters. Scientists calculate that around 400 right whales are remaining in the world, pushing the species closer to extinction. 
BORDER: Mexican security forces killed a Salvadoran migrant, who allegedly drew out a gun and fired at officers, in front of his 8-year-old daughter in Saltillo, Coahuila. An immigration advocacy group, La Casa del Migrante, reported the casualty via Twitter yesterday, saying that state police shot the unnamed Salvadoran man during a raid on migrants who were allegedly waiting to hop on the freight train to the U.S. border. The Coahuila state government said that the child is in custody of welfare officials. 
MEXICO: El Monitor del Parral, a newspaper based in the state of Chihuahua, has announced that it will stop publishing its print edition after suffering a bomb attack earlier this week. On Wednesday, a newspaper editorial said that El Monitor would stop publishing crimes stories, "no matter how important it may be." Operating for 58 years, the newspaper reported that the perpetrators threw Molotov cocktails at the building, causing damage in the newspaper's headquarters.
CARIBBEAN
REGION: Instagram has issued an apology after blocking material related to carnivals across the Caribbean. Users on the popular social media platform noticed that posts using hashtags related to celebrations in St. Lucia, Trinidad, and Antigua, which concluded up on July 16, were prompting a community guidelines violation notice. "The hashtags #xuvocarnival and #trinidadcarnival2020, among others, were restricted in error and we are restoring them to full visibility. It is never our intention to silence members of our community," said Alex Kucharski, an Instagram spokesperson on Tuesday. 
CENTRAL AMERICA
NICARAGUA: The government has added taxes to commonly used foodstuffs and household items. Products like instant soups, canned sardines, deodorant, soap, cooking oil, and toothbrushes will experience price increases between 5% to 15%. Meanwhile, The Vatican's envoy in Nicaragua, Apostolic Nuncio Waldemar Somertag, said yesterday that the government believes that the peace talks "have concluded." The Inter American Commission on Human Rights (IACHR) expressed its "disappointment" with the government's decision given the "persistence of human rights violations."
ANDES
VENEZUELA: Oil exports decreased by 17.5% in July, the second-lowest month since the United States imposed economic sanctions on the country. PDVSA and its affiliates produced 932,887 barrels per day (BPD) of crude and refined products last month, sending them in 35 cargoes to mostly Asian destinations. Russia's state-owned oil company, Rosneft, purchased more than 46% of Venezuela's shipments last month, with the rest of their client portfolio shrinking. Yesterday, as he departed for a campaign rally in Cincinnatti, U.S. President Donald Trump said he is "considering a blockade or quarantine" on Venezuela. 
SOUTHERN CONE
ARGENTINA: As another election cycle begins in the country, new data show that Argentina has spent more time in an economic recession than any other nation in Latin America: 33% of the time since 1950. President Mauricio Macri, seeking reelection on Oct. 27, has employed austerity measures to fight the perennial volatility: he has frozen prices on foodstuffs, utilities, and public transport. His main opponents, Alberto Fernández and his running mate Cristina Fernández de Kirchner, have accused Macri of gross economic mismanagement. In global terms, Argentina is only outranked by the Democratic Republic of the Congo, an African nation that has endured two major wars and three military coups. 
BRAZIL / PARAGUAY: Both countries annulled a controversial energy deal that put Paraguayan President Mario Abdo Benítez on the brink of impeachment. Throughout the week, the opposition had criticized President Benitez for signing an agreement that could financially harm Paraguay by increasing costs to $200 million. The secret deal, signed in May but revealed only last week, included a chronogram for acquiring energy from the Itaipu hydroelectric dam, which sits between the two countries, that extended until 2022.