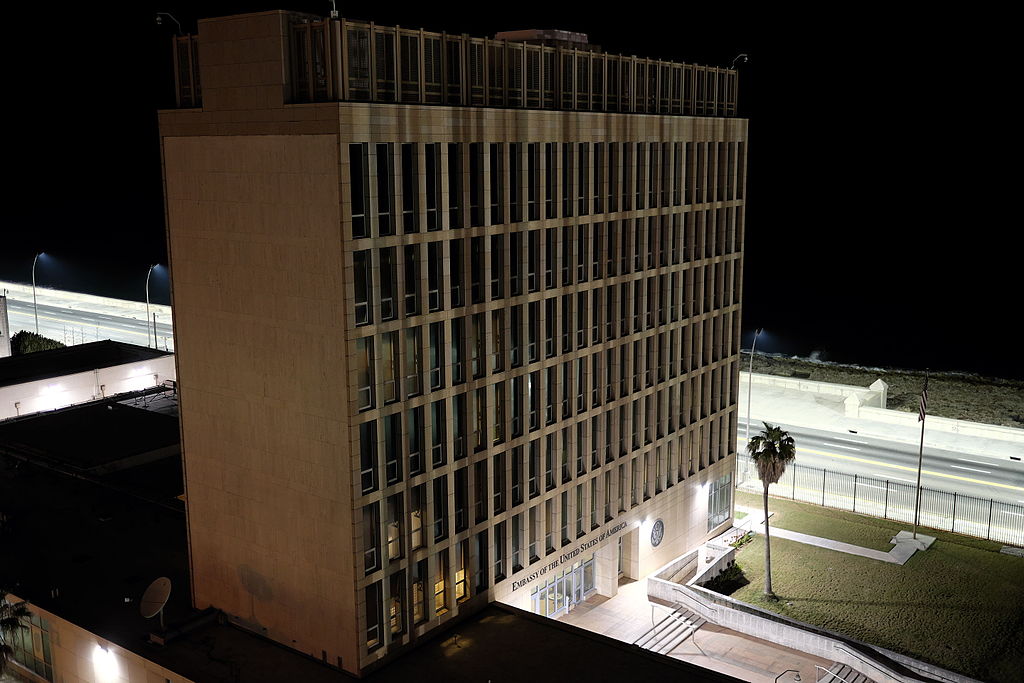 The U.S. Embassy in Havana, Cuba, in 2016 (Photo by Bjen78 via Wikimedia Commons)
Study: 'Havana Syndrome' May Have Been Caused by Mosquito Fumigation
September 20, 2019
By Staff
TODAY IN LATIN AMERICA
REGION:  A study commissioned by the Canadian government concluded that the mysterious illness known as the "Havana syndrome" that affected 50 U.S. and Canadian diplomats in Cuba was caused by mosquito fumigations. Researchers associated with the Brain Repair Centre at Dalhousie University and the Nova Scotia Health Authority were the first to study Canadian victims who had medical testing done before their postings in the Havana embassy. The study found that neurotoxins in pesticides sprayed in the embassies in response to the Zika outbreak in 2016 may have blocked a vital enzyme in the brain. 
The incidents took place between 2016 and 2018, with diplomats describing symptoms including memory loss and sleep disturbance after hearing a ringing noise. In 2017, President Donald Trump reduced the Cuban embassy staff to the bare minimum and the Canadian government reduced its Havana embassy staff by half as a result of the incident.
Headlines from the western hemisphere
SOUTHERN CONE
ARGENTINA: Following mass protests, the Senate unanimously declared a food emergency until 2022 due to growing poverty amid an ongoing economic crisis. The new law amps up Federal expenses in public canteens by 50% until December 2022, adding $175 million to their budget. The country is facing an extreme financial crisis with around 32% of the population living in poverty. Yesterday afternoon, the National Institute of Statistics and Censuses of the Republic (INDEC) released data that showed that 10.6% of Argentinians, or more than 2 million people, are unemployed. 
BRAZIL:  Former Odebrecht executive Henrique Valladares, who was one of the main whistleblowers in Operation Car Wash corruption probe, was found dead in his Rio de Janeiro apartment on Tuesday. According to an email the Brazilian Police sent to the Associated Press, the cause of his death remains "undetermined." Valladares, former vice president of Odebrecht, confessed in the probe that the company paid about USD $12.2 million to the then senator and former presidential candidate Aécio Neves. He also said that Edison Lobão, former President Dilma Roussself's Energy and Mining Minister, also requested brives to benefit Odebrecht.
ANDES
VENEZUELA/COLOMBIA: Two new photos of opposition leader Juan Guaidó with an alleged member of a paramilitary group were released yesterday afternoon. The pictures appear to show Guaidó with Zambrano García, whom the Venezuelan government claims is a key member of the drug trafficking group "Los Rastrojos." However, the Colombian government claims García "does not figure among the structures of this group." Last week, two pictures of the self-proclaimed President of Venezuela hugging the two Rastrojo leaders alias "Brother" and "El Menor" were leaked.
CENTRAL AMERICA
NICARAGUA: Nicaraguan plantation workers and their families are seeking compensation from the French government after thousands were sterilized by pesticides in the 1980s. The victims were awarded compensation in Nicaragua over a decade ago and have filed lawsuits in the United States, but they are now turning to French company Dow Chemicals to pay out the awards. French courts froze $110 million worth of Dow Chemical shares on Tuesday, anticipating a trial set for January. 
HONDURAS: United States officials met with Honduran delegates yesterday to sign new immigration agreements between the two countries. A press conference is to follow today at noon CST. The agreements are part of a broader initiative between the United States and Central American countries to create "safe third countries" that will accept migrants heading to the United States. Acting Secretary of National Security Kevin K. McAleenan and Honduran President Juan Orlando Hernández met late August to discuss the agreements. Discussions continued into September as delegations from both countries finalized the terms.
CARIBBEAN
BERMUDA: Category-3 Hurricane Humberto caused no deaths as it passed by the island Wednesday night, resulting in only structural damage to buildings and roads, as well as a brief power outage. By midday yesterday, power had been restored and government offices were set to reopen. The storm continued north, expecting to kick up high surf and strong winds in Bermuda and along the eastern coast of the United States.
NORTH AMERICA
MEXICO: Tropical Storm Lorena is expected to intensify into a Category-1 hurricane as it makes its way to Baja California Sur, according to La Comisión Nacional del Agua (Conagua). Governor Carlos Mendoza Davis announced that shipping activity in Los Cabos would be suspended starting at 1 p.m. yesterday in a preventive measure. The nearby states of Michoacan, Nayarit, Colima and southern parts of Sinaloa will face heavy rain.  
UNITED STATES: The U.S. Treasury is working with Venezuelan opposition leader Juan Guaidó's envoy to the United States as well as the FBI and Italian police to track down pieces of European and Latin American artwork that they suspect have been stolen by the Venezuelan government, according to the Associated Press. Some of the pieces in question include three Venezuelan paintings that hung in the Venezuelan ambassador's residence in Washington D.C. but went missing after Guaidó's envoy began running the diplomatic mission in May. The three works together are believed to be valued at around $1 million.
September 19, 2019
> Staff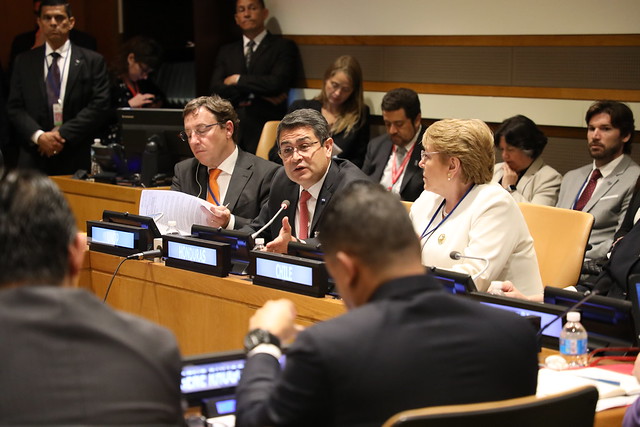 September 23, 2019
> Staff