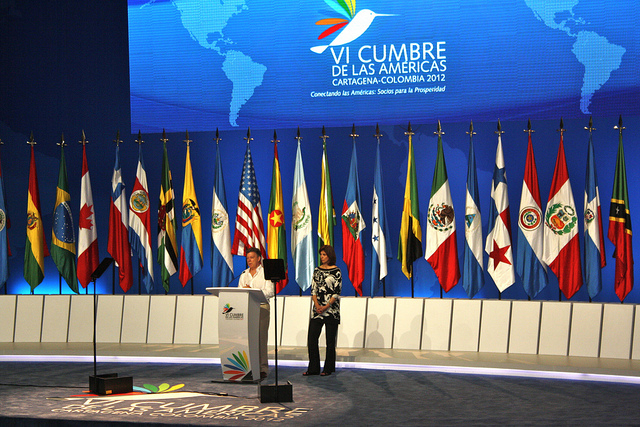 Cuba Divides Sixth Summit Of The Americas
April 16, 2012
By Staff
Today in Latin America
Top Story — The Summit of the Americas in Cartagena, Colombia came to a close on Sunday without a joint declaration due to disagreement over Cuba's future participation in the summit. A number of Latin American leaders, including Colombian President Juan Manuel Santos, said that there would be no more future regional summits under the auspices of the Organization of American States without the participation of Cuba. However, the U.S. and Canada refused to include language in the declaration that would guarantee Cuba's invitation to future summits. Ecuadoran President Rafael Correa explicitly declined to attend the summit because Cuba was not allowed to participate, while Nicaragua's Daniel Ortega and Venezuela's Hugo Chávez were also absent. The foreign ministers of Venezuela, Argentina, and Uruguay said they would not sign the resolution if the U.S. and Canada did not remove their vetoes of Cuban participation. The next Summit of the Americas is planned for 2015 in Panama.
Read more from Fox News.
Headlines from the Western Hemisphere
North America
Caribbean
Central America
Andes
Southern Cone
Image: OEA-OAS @ Flickr.
Subscribe to Today in Latin America by Email