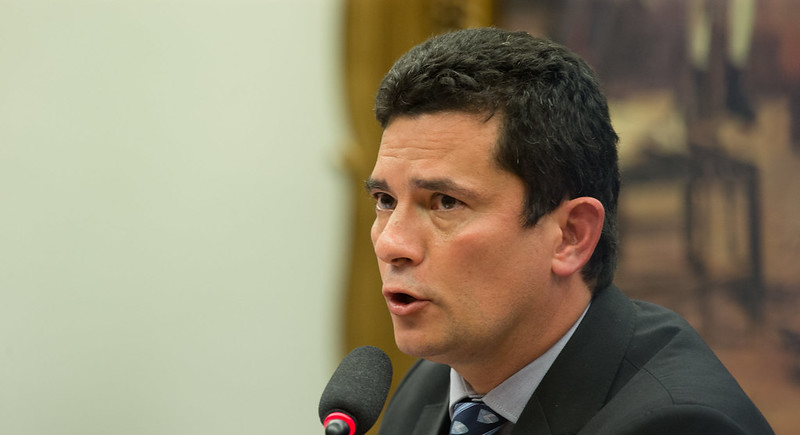 Sérgio Moro testifies for the Commission to Reform the Criminal Penal Code in 2017. (Photo courtesy of the Partido dos Trabalhadores via Flickr)
Brazil Justice Minister Resigns, Accuses President of Police Interference
April 27, 2020
By Staff
TODAY IN LATIN AMERICA
BRAZIL: Justice Minister Sérgio Moro resigned Friday and accused President Jair Bolsonaro of interfering in federal criminal investigations. At a press conference, Moro said that he warned Bolsonaro against firing federal police chief Maurício Valeixo. Moro said Bolsonaro disregarded his advice because "he was concerned about investigations underway in the Federal Supreme Court."
Moro also claimed that the President told him he wanted "someone he could get information from" in the federal police position. Bolsonaro responded to Moro's announcement later that afternoon, saying it was his right to replace Valeixo. Federal police are currently investigating several members of Bolsonaro's family, including his sons Carlos and Flávio.
Moro and Valeixo had worked closely during the Operation Car Wash corruption probe, which earned Moro recognition from Brazil's right after it resulted in the jailing of President Luiz Inácio Lula da Silva.
The political turmoil plays out as Brazil's total number of coronavirus deaths continues to rise, topping 4,000.
Headlines from the western hemisphere
SOUTHERN CONE
CHILE: Officials announced that they will go forward with the plan to issue "release certificates" for patients who have recovered from COVID-19, contrary to World Health Organization guidance. Speaking to reporters yesterday, Health Ministry sub-secretary Paula Danza said that the certificate is not an immunity card, but that a person who has "lived through the disease is less likely to become ill again." However, the WHO has warned governments not to issue immunity cards, saying that patients who have recovered from COVID-19 may develop a second infection and that the certificates could encourage people to return to work and begin spreading the virus again. 
ANDES
ECUADOR: Vice-Minister of Heath Xavier Solórzano said that on May 4, the country will transition out of the "isolation" period to enter a period of "social isolation." He clarified that some commercial activities will re-start but that most "social" activities will not yet resume. Many families still have not received the remains of their loved ones who died of COVID-19. Ecuador currently has 22,179 confirmed coronavirus cases, with the most cases in Guayaquil in Guayas province.
CARIBBEAN
REGION: The spread of COVID-19 continues to affect the movement of people and money across the Caribbean. In Haiti, officials reported a 4% increase in the price of basic products, as well as the appreciation of the US dollar. Rice, beans, vegetable oil and sugar have seen the largest price increase. In Trinidad and Tobago, Prime Minister Keith Rowley announced that the lockdown and border closures will be extended one more week, until May 15. The mayor of San Juan, Puerto Rico told reporters at MSNBC that no one in Puerto Rico had received a coronavirus stimulus check, despite a federal promise to release the funds.
CENTRAL AMERICA
EL SALVADOR: President Nayib Bukele ordered a 24-hour prison lockdown after 22 homicides were reported this past Friday, the highest total in a single day since his election. The "maximum emergency" policy applied to prisons that house known gang leaders, who were ordered to be put in solitary confinement. The prisons were also ordered to cease all outside contact and activities. On Sunday, authorities said that inmates from different gangs would be moved into the same cells, raising concerns that violence will break out between rival groups.

NORTH AMERICA
MEXICO: The National Migration Institute announced that 65 migrant detention centers had released a total of 3,653 people back to Guatemala, El Salvador and Honduras, in response to the COVID-19 outbreak and concerns of its effects in overcrowded facilities. During the relocations, the government prioritized "minors, the elderly, families, pregnant women and migrants with risks of chronic diseases." This was in line with an order to release "vulnerable" migrants first. The process began on March 21, but was delayed temporarily due to border closures. 
MEXICO: A Human Rights Commission monitor and his son were murdered in Guerrero on Friday, marking the fourth slaying of a rights activist in 2020. Jesús Memije and his son were going home to Coyoca de Benítez when they were shot. Details of the killings haven't been released, but the investigators are being urged to focus on Memije's work as a rights defender as a possible motive. Three other activists were murdered earlier this year. 
MEXICO: The Inter-American Development Bank (IDB) and the Mexican Business Council have agreed to create a program that would give $12 billion in loans to small and medium-sized private businesses in Mexico. The program's goal is to aid nearly 30,000 firms with the loans. President López Obrador has spoken out about providing financial assistance to the economy, and emphasized "public investment and social spending" through infrastructure projects like the Maya Train.
Photo courtesy of the Partido dos Trabalhadores via Flickr