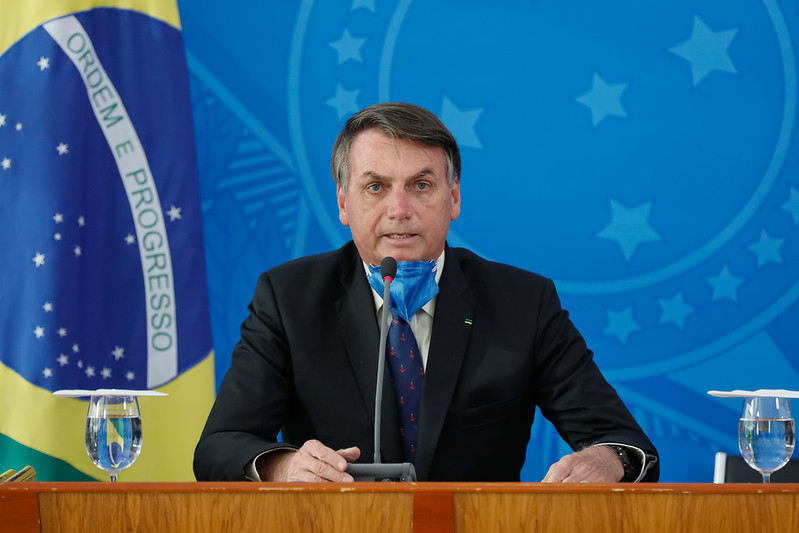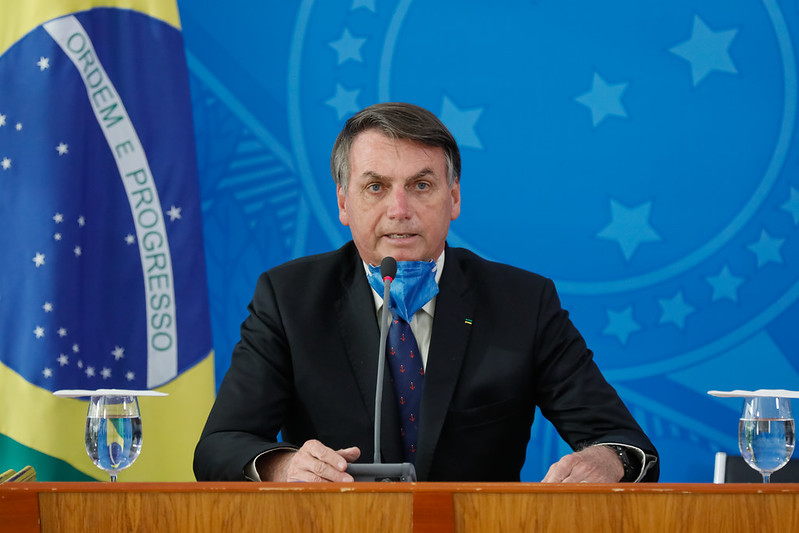 Brazilian President Jair Bolsonaro in a press conference with the Ministry of Health on March 20th. Photo courtesy of Flickr account Palácio do Planalto.
Brazil Could be Next Global Coronavirus Hotspot
May 8, 2020
By Staff
TODAY IN LATIN AMERICA
BRAZIL: The rates of new coronavirus cases in Brazil show no signs of slowly, raising concerns that the South American country could become the next global hotspot. Brazil registered more than 600 deaths for the third day in a row on Thursday, according to the Health Ministry. As of Thursday night, 9,146 people have died in Brazil and 135,000 have tested positive for the virus.

Due to limited testing and delays in case notification, the real number of cases and death is likely to be much higher. A new study by scientists from Oxford and two Brazilian universities compared the epidemic curves in the United States and Brazil, concluding that there are similar, exponential mortality rates in both countries.  The study was posted as a pre-print online, meaning it has not yet been subject to peer review. The study projected 64,310 deaths by June 9.  
Health Vigilance Secretary Wanderson de Oliveira says it is not clear whether the pandemic will peak in Brazil in May, June, or July. As the pandemic advances, some states have opted for hardening social distancing measures and quarantines, defying federal suggestions to ease restrictions to help the economy.
Headlines from the western hemisphere
ANDES
PERU: Iquitos, the Peruvian capital of the Amazon, is the second major Amazonian city to be severely hit by the novel coronavirus. The city was already battling a recent dengue outbreak, and now hospitals are running out of oxygen tanks. Iquitos can only be reached by air, meaning essential supplies such as personal protective equipment and oxygen cylinders can only be sent intermittently. This shortage created a black market for oxygen cylinders, pushing their price up to more than $1,000. About 90% of COVID-19 patients have died due to a lack of appropriate medical supplies, according to Graciela Meza, executive director of the regional health office of the Amazon region.
VENEZUELA:  Juan José Rendon admitted he helped finance Silvercorp, the security firm that has claimed responsibility for the attack on Venezuela last weekend. In an interview with CNN, Rendón, an advisor to Venezuelan opposition leader Juan Guaidó, disclosed he signed a preliminary contract with Jordan Goudreau of Silvercorp to carry out the attack. This past Sunday, Venezuelan authorities intercepted two attempts of a maritime intervention referred to as Operation Gideon. Rendón acknowledged he was exploring the possibilities of capturing President Maduro and bringing him to court to face existing indictments. He clarified the agreement specified they would not try to kill Maduro. Goudreau provided the Washington Post with part of the document which had Guaidó's signature. Guaidó denies all allegations of his involvement. According to Rendón, despite the signature and payment, Silvercorp was later informed the contract was cancelled, but Goudreau decided to go ahead with the plan.
CARIBBEAN
CUBA: President Miguel Diaz-Canel called the attack on Cuba's embassy in Washington D.C. a "terrorist attack." United States court documents state that Alexander Alazo, a Cuban emigre who is currently detained, opened fire on the embassy with an AK-47 around 2 a.m. He had been "hearing voices." At the time of the shooting, there were seven people inside the embassy, but no one was injured. Diaz-Canel has called on the U.S. to conduct a thorough investigation, and guarantee security for the country's diplomatic missions. Cuba's Foreign Minister Bruno Rodriguez said that the Trump administration's hostility toward the country promoted the violence. Before Alazo began shooting, he attempted to set fire to a Cuban flag soaked in gasoline, on which he had written "Stop Lying to People. Respect. Trump 2020. USA, Land and Family."
DOMINICAN REPUBLIC: Dominican major league baseball players, through the Pedro Martinez Foundation, are raising money for COVID-19 relief. Around 50 players, including Pedro Martinez, David Ortiz, and Jose Bautista, formed a WhatsApp group. Together, they have raised one million dollars for the country. The fund will be used to buy medical equipment, cleaning items and food for children. Edwin Encarnacion has been training in his hometown of La Romana, and said that he and other players wanted to help the people in their hometowns, and decided to join together to make a bigger impact.
PUERTO RICO: Authorities have charged two men connected with the deaths of two transgender women in Puerto Rico. Juan Carlos Pagán Bonilla, 21, and Sean Díaz de León, 19, are in federal custody and have been charged with carjacking and using and carrying a firearm during a violent crime. Each charge is punishable by death or up to life in prison. Puerto Rican police and the FBI are still investigating the alleged crimes, calling them a violation of the Hate Crimes Act. The women, Serena Angelique Velázquez Ramos and Layla Pelaez Sánchez, were found burnt inside a car on April 22, and their killings are among the at least five other deaths of transgender and gender non-conforming Puerto Ricans this year. 
CENTRAL AMERICA
GUATEMALA: Four unaccompanied Guatemalan minors deported from Mexico have tested positive for coronavirus. Documents from Mexico indicate that the four teenagers were asymptomatic, and the director of a Guatemalan social welfare agency, Anaeli Torres, confirmed that they continue to be asymptomatic. This marks the first time the government has acknowledged cases of COVID-positive deportees arriving from Mexico. At least 100 deportees coming from the United States have tested positive for the virus. Torres has asked that Guatemalans living near shelters for deported children not stigmatize the minors, as fears of the virus are causing rejection and threats of violence against deportees throughout the country.
HONDURAS: Authorities are enforcing the coronavirus lockdown with militarized police. The Office of the United Nations High Commissioner for Human Rights has warned nations not to abuse power during the pandemic. Director of Field Operations Georgette Gagnon said that "security forces are using excessive and sometimes deadly force to enforce lockdowns and curfews." On April 24, Marvin Rolando Alvarado, and his family members defied the mandatory lockdown in the village of El Paraíso in the Omoa Cortés municipality and left their home to sell bread. They were stopped by a division of the Military Police of Public Order (PMOP) and beaten and shot at by agents. Alvarado was in critical condition following a gunshot wound, and later died of his injuries. Residents of El Paraíso blocked a highway in protest, demanding justice for Alvarado's death.
NORTH AMERICA
US-MEXICO: Fisher Industries, the construction firm President Trump promoted to build the U.S.-Mexico border wall, violated American treaty commitments with a private border fence. The fence was built next to Rio Grande, the river that separates Texas and Mexico. The International Boundary and Water Commission (IBWC) found that the firm's three mile fence could worsen flooding and requested changes to the project.

MEXICO: The government may cut funding for counselling centers for indigenous women as part of COVID-19 austerity measures. Rubicelia Cayetano, who works in one of these centers in the state of Oaxaca, says that there has been an upsurge in domestic violence cases since the lock-down started in March. Figures from the government's National Security System show that violence against women rose by 20% from February to March. The number of women killed nationwide rose from 219 in February to 254 in March.  
MEXICO:  Antonio Echevarría, the governor of the Pacific coast state of Nayarit, has accused the Social Security Institute (IMSS) of failing to protect health workers. In a video message posted on social media, he said that 42% of people who have tested positive for COVID-19 in the state are IMSS medical personnel. He added that the "internal protocols" at IMSS healthcare facilities have to be improved to reduce the risk of exposure for health workers. Across Mexico, medical personnel have protested to demand more supplies of personal protective equipment.