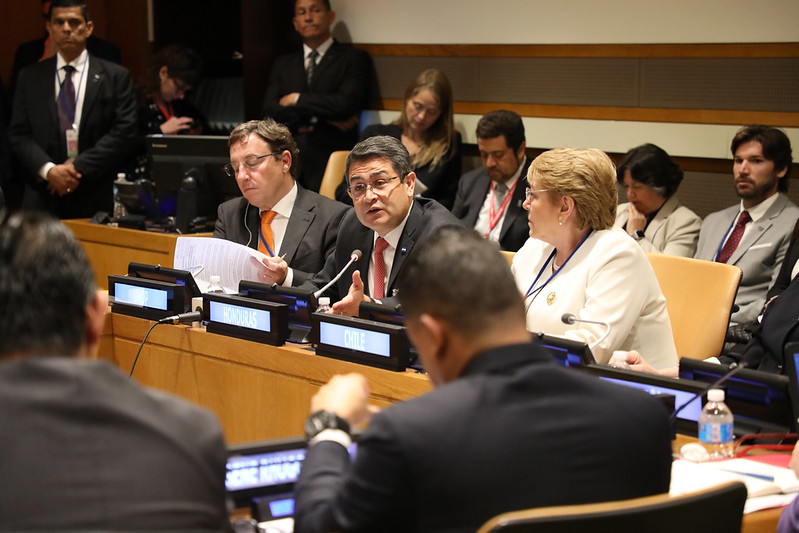 President Juan Orlando Hernandez, middle, at a UN roundtable on poverty and inequality in 2017. Photo courtesy of the UN Development Programme via Flickr.
1.6 Million Hondurans Are Food Insecure During Pandemic
July 3, 2020
By Staff
Content warning: this newsletter contains references to sexual assault and suicide.
TODAY IN LATIN AMERICA
HONDURAS: The World Food Program (WFP) warned that 1.6 million people in Honduras are suffering from food insecurity during the COVID-19 pandemic, an increase from previous months. Associate director of the WFP in Honduras, Etienne Labande, warned that recovery will be slow. Children will be especially vulnerable to food insecurity, with 23% of children under 5 in Honduras already affected by chronic malnutrition.
The WFP will begin a more in-depth nationwide study next week in order to create an emergency response plan. The organization plans to provide humanitarian aid to 250,000 food insecure families for three months. The plan will cost more than $60 million, of which the WFP has only secured $10 million.
Honduras has been on national lockdown since March. Many people work in the informal economy and have been un able to provide for their families. Government aid has not been sufficient. Several officials in the healthcare system have been accused of corruption, leaving many without much needed medical aid against the coronavirus. President Juan Orlando Hernandez was recently discharged from the hospital after being treated for COVID-19, and has also faced corruption allegations. The current number of cases in Honduras is more than 20,000.
Headlines from the western hemisphere
SOUTHERN CONE
ARGENTINA: Teachers nationwide are planning a virtual blackout next week to protest the government's failure to pay on time and fulfill teachers' salaries. This is the second blackout initiated by teachers since the start of the pandemic, during which many educators say they are not being paid on time in accordance with Argentina's labor laws. Government officials are expected to convene on the matter today, before the winter break for both public and private schools begins.
PARAGUAY: The National Administration of Navigation and Ports (ANNP) is under investigation due to alleged corruption and misuse of funds. According to government officials, the ANNP provided a company known as SIS America with more than $6 million PYG for unknown reasons. The inquiry into ANNP states that the hiring of the company is considered an "irregular outsourcing of collections." The head of ANNP has also been accused of spending government funds on travel and personal expenses, as well as unofficially hiring over 300 employees. The complaint against ANNP was placed in early March.

ANDES
BOLIVIA: Protests against the government have erupted in major cities. Many of the protestors are teachers and healthcare workers. Health and education officials believe it will not be possible to resume classes before September. Workers are protesting for alternatives besides online school for students in rural towns who do not have access to the internet. Healthcare workers are decrying the government for alleged corruption in interim President Jeanine Áñez's administration. Bolivia is expected to be one of the first Latin American countries to hold presidential elections during the pandemic. Congress approved elections to go forward on September 6. Several members of Añez's political party  disapprove of the date, citing a new study which states Bolivia's COVID-19 peak will be reached in the first weeks of September. The country currently has 35,528 confirmed cases and 1,271 deaths.
CARIBBEAN
HAITI: President Jovenel Moïse granted executive clemency to more than 400 prisoners, including convicted rapists and serial killers. The presidential pardons were issued in June, and have been covered by the media recently due to human rights organizations describing some of the pardons as "troubling." Many advocates have been pushing for the release of non-dangerous prisoners in Haiti to avoid further spread of COVID-19 infections. Haiti has currently released around 750 prisoners out of the estimated 5,000 releases that the United Nations Security Council recommended to better manage coronavirus in the prison system.
PUERTO RICO: Nearly three years after Hurricane Maria, more than 26,000 homes are still in need of repairs due to damage from the devastating storm. Government officials say that work is underway to repair 339 of these homes. Many people have continued to live in unstable structures since 2017, despite other natural disaster occurring on the island. The construction of these 339 houses alone is expected to cost the government $22 million. Around 30,000 families have been affected.
CENTRAL AMERICA
EL SALVADOR: Twenty men were arrested and detained in La Uníon for sexual crimes against minors, according to a local police report. Investigations against the perpetrators began in February. The men are expected to be charged with sexual assault of minors and, in some cases, rape. El Salvador has consistently had one of the highest rates of femicide in the world, with sexual violence and domestic abuse cases rarely being prosecuted.
NORTH AMERICA
MEXICO: Government officials reported that a total of 103 attacks against healthcare workers between the months of May and April, with the highest total occurring in Mexico City. They said the attacks were caused by fear of the spread of coronavirus, with many assailants believing that essential workers are causing Mexico's high number of cases. Many nurses and doctors reported fearing for their lives as they enter and leave their places of work. The majority of government health officials attacked during these incidents were women, whereas most of the assailants were men. Transgender activist and doctor María Elizabeth Montaño was murdered in June after leaving a hospital in a central Mexico City neighborhood.
UNITED STATES: After a nationwide search, the remains of Vanessa Guillén, a Mexican-American soldier, have reportedly been found. She went missing from Fort Hood in April. An attorney for the Guillén family announced Thursday that Guillén was bludgeoned to death. Her family says she Guillén planned to a complaint about Spc. Aaron David Robinson for sexual harassment. Robinson died by suicide in a confrontation with police on Wednesday, after fleeing the military base. Guillén's case has gained international attention after her family began reaching out to the media last month in the hopes of finding her. Guillén's family and lawyers are calling for a Congressional investigation.