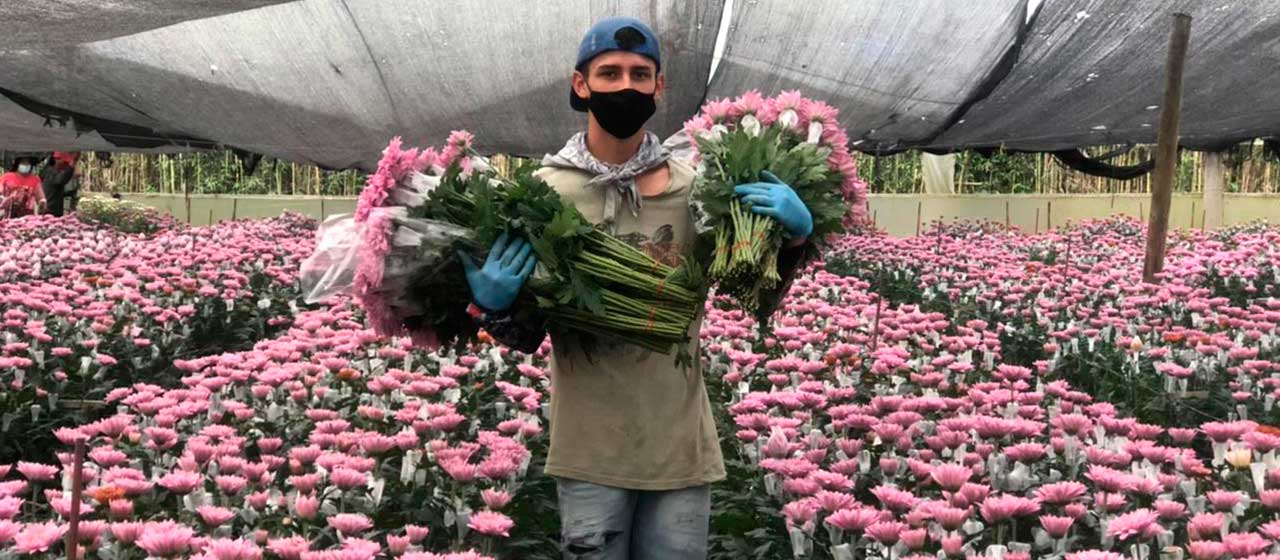 Valentine's Day could be a lifeline for struggling Colombian flower industry
Valentine's Day: a day for romance, passion, and gifts. In 2020, Americans demonstrated the depth of their love on Valentine's Day by spending a record-breaking $27.4 billion. The top three gifts: chocolate, cards, and flowers. 
Most of the Valentine's bouquets filling florists and supermarkets throughout the U.S. have come from Colombia. Valentine's Day sales can make or break the Colombian flower industry, representing about 15% of annual sales.  
"With a good Valentine's day, you're set for the rest of the year," said Juan David Lecuona, the Commercial and Marketing Director for Deliflor, the largest chrysanthemum breeder in the world.
After a tumultuous past year due to COVID-19, the stakes are especially high. 
Nearly 80% of Colombian flower exports go to the United States. Last year when the pandemic hit, the Colombian flower industry went into a tailspin, affected by restrictions from both the Colombian and U.S. governments in response to COVID-19. Though many small farms are still struggling, the industry has made a surprising comeback. 
The flower industry's success is crucial to Colombia's economic well-being. After the Netherlands, Colombia is the second largest flower producer in the world, and flowers are one of the country's top exports, with $1.46 billion worth of flowers exported in 2018. This means that a bad year for the flower industry is also a blow to the Colombian economy. 
In March of last year, the situation looked grim. Many businesses were closed and people confined to their homes, with 30 states enforcing stay-at-home orders in the United States. On March 25, the Colombian government issued a country-wide shelter-in-place order and international flight ban.
"Everyone panicked," said David Marín, the Colombia-based director for Latin America at Deliflor. "They thought that they wouldn't let us keep operating."
However, both the Colombian federal government and U.S. local and state governments were quick to list the flower industry essential, allowing it to continue operating. The Miami International Airport is the main port of entry for imported fresh flowers, and on March 19, Miami Dade County included flower importers on the list of essential workers published in an emergency order.
Even so, demand for flowers initially crashed. In March, the president of Asocolflores, the Colombian Association of Flower Exporters, said international orders had decreased by 80% in a statement to Colombian newspaper El Espectador.
Although no one was buying flowers, flower production continued and the thousands of flowers produced were simply destroyed. 
"We were working like normal on the farm," said Edgar Correa Vargas, a small-scale grower with a farm just outside of Colombia's second largest city, Medellín. "But we lost it all because they weren't taken. The flowers that weren't sold went into the compost."
Though work on flower farms continued, the challenge became getting the flowers from Colombia to vendors in the US. The Colombian flight ban meant that air freight volume was limited.
That forced growers to find workarounds. According to notes from a roundtable at the Produce Marketing Association, some growers shipped flowers to the U.S. in seating areas of passenger flights.  
After Valentine's Day, Mother's Day is the next most important day of the year for flowers. The sales from these two holidays account for 52% of U.S. flower sales in a year, according to the Society of American Florists. 
With gatherings prohibited, flower-heavy events like weddings and funerals were canceled. Instead, individual flower purchases have become the main source of income for the flower industry, and the industry has pushed marketing campaigns to persuade people to buy flowers.  
"Now with people staying home, they want to be surrounded by beautiful things," said Lecuona. 
"You have [flowers] in your house, it changes your mood and generates well-being," said Marín.
The marketing efforts encouraging people to buy flowers for their homes seem to have worked. Despite the initial concerns that lockdown measures would kill Mother's Day flower sales, the Product Market Association reported Mother's Day sales last year that exceeded expectations, with 3%-higher sales than in 2019. One retailer who participated in the Produce Marketing Association virtual roundtable claimed to have sold "dirt off the floor."
Decent sales, however, haven't fixed everything. The flower industry provides jobs for 140,000 Colombians, as well as work for intermediaries, like transport companies, to export the cut flowers. For many growers in Colombia, 2020 was a devastating year, with months of little to no work.
"It's the worst year because everyone had to let people go," said Lecuona. "Farms with lots of people, lots of temps, and they let them go."
To comply with strict safety measures, farms significantly reduced their staff and operated at 25% capacity. According to Lecuona, each hectare of crops requires 10 to 15 workers, so the risk of spreading COVID-19 is high.
Leading up to this peak period, even more work is needed, and farm workers often work extra-long hours, some more than 100 hours per week, according to a 2017 report on labor conditions by human rights organization Paso International. 
So while this Valentine's Day represents a big opportunity for the industry sales, the high demand also presents a big risk for employees. 
The stakes couldn't be higher: while Valentine's Day this year represents a big opportunity for industry sales, the high demand also presents a big risk for employees.