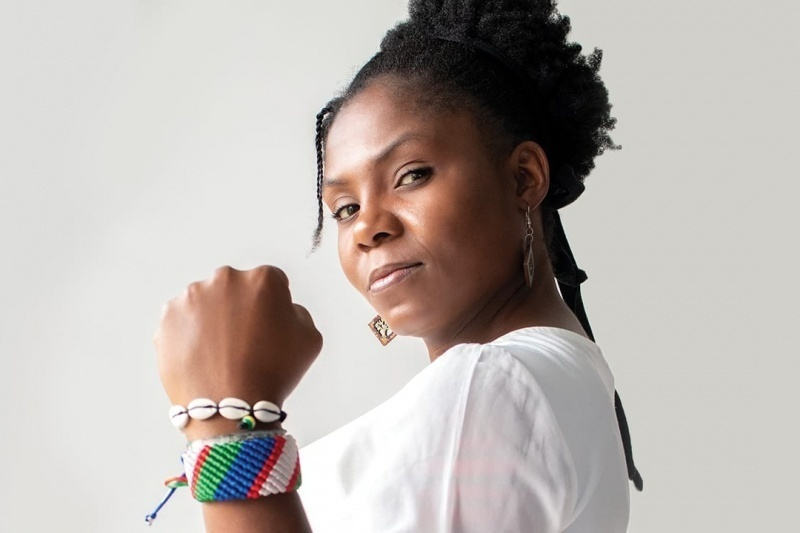 Portrait of Afro-Colombian land defender Francia Márquez (photo by: Mauricio Pulido / Forbes Colombia)

Land defender Francia Márquez might become Colombia's first Black vice president
March 27, 2022
By Staff
COLOMBIA: Leading presidential candidate Gustavo Petro announced Wednesday that the Afro-environmentalist lawyer Francia Márquez will serve as his running mate in May's presidential elections. Francia Márquez, who is from the southwestern Cauca province, is known for protesting illegal mining in her territory. 
In 2018 Márquez was awarded the Goldman Environmental Prize for organizing a 350-mile march to Bogotá with 80 women, resulting in the removal of illegal mining operations from the Suarez municipality of Cauca. Marquez won more than 750,000 votes in a primary earlier this month, coming in third after Petro and the leading conservative candidate Federico Gutiérrez.
Márquez is the first Black woman to run in presidential elections in Colombia's history. Gutiérrez has also selected an Afro-Colombian running mate, the engineer and former Minister of the Environment Luis Gilberto Murillo. 
SOUTHERN CONE
CHILE: The state of emergency in southern regions of Chile, territory claimed by the Mapuche, came to an end on Saturday. This fulfilled a promise by the administration of newly-installed President Gabriel Boric not to renew the state of emergency in La Araucanía and Biobio.
Boric's predecessor, Sebastián Pinera, instituted the militarization of this territory in October 2021 in the face of intensifying armed Mapuche resistance. He extended the state of emergency ten times, with the approval of Congress. Boric's government has stated that dialogue would be their preferred route out of the conflict.
However, congress on Wednesday approved the president's request to extend the state of emergency in northern provinces where there have been tensions surrounding migration into Chile.
URUGUAY: In a referendum on Sunday, Uruguayans voted not to repeal a significant portion of President Lacalle Pou's controversial "Law of Urgent Consideration" (LUC). As of 11 pm local time, with over 96% of the vote counted, the "NO" option had 51.2% of the vote.
Key issues under question included the increased securitization of the state, restricted rights to protest, and a reduced role of the state in social and economic spheres.
The LUC, which was enacted in October 2020, also drew criticism from the opposition and civil society for the manner of its implementation. Lacalle Pou presented the wide-ranging bill to Congress as a matter of "urgent consideration", requiring legislators to consider and debate over 500 articles in a limited time.
ANDES
PERU: A judge on Thursday barred former President Alberto Fujimori from leaving the country for 18 months upon his upcoming release from prison.
Peru's constitutional court approved Fujimoris's early release on March 17, shortening his 25-year sentence by a decade. The ruling restored a 2017 humanitarian pardon granted to Fujimori by then-President Pablo Kuczynski, later overturned by the supreme court. 
Fujimori was convicted of corruption and human rights violations committed under his leadership between 1990 and 2000. He is facing pending trials related to the forced sterilization of Indigenous women and ordering the murder of six farmers while he was in power. 
CARIBBEAN 
REGION: Various protests demanding reparations and an apology from the British monarchy for colonialism and slavery marked Prince William's official visit to the Caribbean last week. Kate Middleton, William's wife, accompanied him.
During the couple's stop in Jamaica, Prime Minister Andrew Holness surprised some on Wednesday when he declared to William the government's intention to become a republic by removing the queen as Jamaica's head of state. This followed a demonstration outside the British High Commission in Kingston on Tuesday.
The previous weekend, the royals canceled a trip to a Maya village in southern Belize after residents, already embroiled in a land dispute with a monarchy-backed conservation group, protested a lack of consultation on a planned visit to their territory.
CUBA: There were long lines at gas stations across the island last week as fuel supply issues added to the country's list of economic challenges.
The spike in demand for fuel was partly prompted by the breakdown of a main thermoelectric power plant in the province of Matanzas the week before. The plant's failure meant that some gas and diesel had to be redirected to servicing the island's power grid, reducing supply to fuel stations. Additionally, TRANSCUPET, the state-run company responsible for fuel distribution, was grappling with a shortage of delivery trucks.
Operations at the power plant were partly restored on Tuesday and TRANSCUPET said it was working towards "stabilizing" the fuel supply.
CENTRAL AMERICA
GUATEMALA: The Supreme Court of Justice suspended on Tuesday anti-corruption judge, Pablo Xitumul.  The judge handled high-profile cases against the military and former government officials. The court's decision came one day after Judge Erika Aifan resigned and fled into exile to the United States. 
Xitimul's suspension comes after police inspector, José Cuxaj, filed a complaint against the judge stating that he refused to have his vehicle inspected during a 2019 incident. 
Throughout his time as a judge, Xitimul convicted several government and military officials on charges ranging from corruption to genocide. At least 10 justice officials have fled Guatemala this year due to their involvement in high-profile anti-corruption cases.
NICARAGUA: Former presidential candidate Cristiana Chamorro received an eight-year sentence on Monday after being found guilty of money laundering. President Daniel Ortega's opponents argued that this case was politically motivated. 
Chamorro comes from an influential family. Her mother, Violeta Chamorro, won against Daniel Ortega in 1990 to become the first woman president in Latin America. Her father was the editor of the newspaper La Prensa. He was assassinated in 1978. 
Chamorro has been held under house arrest since June – and is expected to remain under house arrest pending a judge's decision on whether or not she'll serve her sentence in a prison.
NORTH AMERICA
MEXICO: U.S. ambassador to Mexico on Thursday, Ken Salazar, called for Mexican lawmakers to unite with the United States against Russia's invasion of Ukraine. He asked for both countries to join in solidarity as they did against Hitler during the second world war. 
Salazar's comments came after Russia's ambassador to Mexico, Viktor Koronelli, spoke at a "Mexico-Russia friendship committee" on Wednesday. 
President Andrés Manuel López Obrador remains neutral in the Ukraine conflict. 
UNITED STATES: The Biden administration on Thursday released a new regulation to speed up asylum processing and deportation in the U.S.-Mexico border. The new rule aims to provide more authority to asylum officers by allowing them to hear and decide asylum claims, amid an immigration court backlog and a record number of migrants seeking to enter the United States. 
The new regulation came as U.S. officials debated about ending a COVID-era border policy that blocked most asylum cases at the border. The regulation applies to migrants, including families, that are under the process of "expedited removal." The rule will not apply to unaccompanied minors.