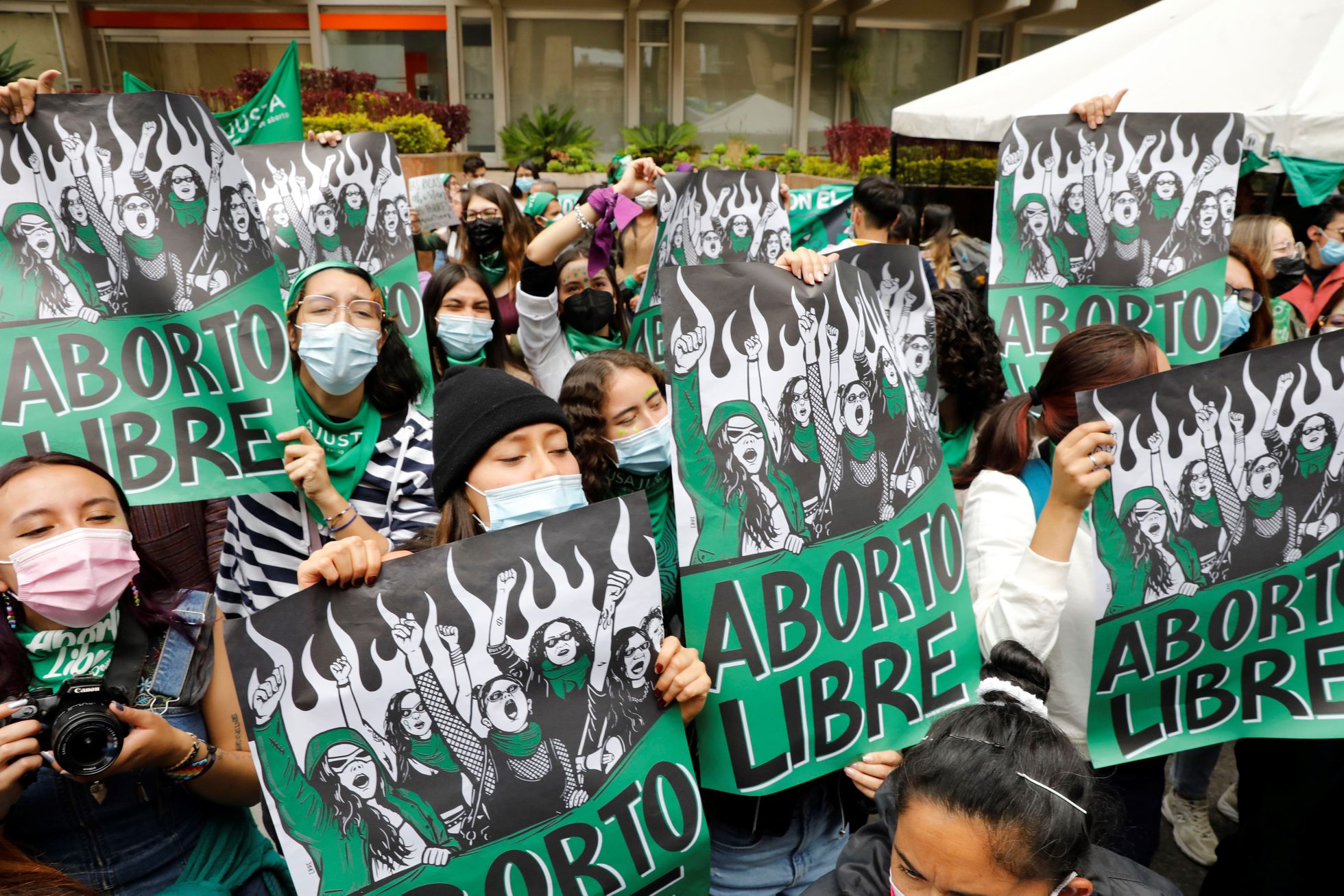 Colombian women demonstrate outside the Constitutional Court ahead of Monday's ruling. (Photo: Carlos Ortega/EFE)
Colombia's Constitutional Court legalizes abortion up to 24 weeks
February 27, 2022
By Staff
THIS WEEK IN LATIN AMERICA
COLOMBIA: Colombia's Constitutional Court ruled on Monday to decriminalize abortion up to 24 weeks of pregnancy. The decision came after years of organizing in Colombia and in the region, buttressed by recent decriminalization rulings in Mexico and Argentina. 
Previously, abortions were only permitted in cases where the health of the women or fetus were endangered, or in cases of rape. The documentation required to prove such cases was notoriously difficult to obtain, presenting major obstacles to accessing the procedure legally. 
Abortions carried out beyond the 24-week limit can result in a three-year prison sentence. While Colombia's conservative president Iván Duque spoke out against the ruling, a recent poll found that more than 80% of the Colombian population supports abortion in some circumstances. 
SOUTHERN CONE
ARGENTINA: Authorities reported on Friday that firefighters have managed to contain about 70% of the wildfires raging through the northeastern province of Corrientes. Rainfall on Thursday and Friday aided their efforts.
Over 2 million acres of land – 11% of the province's territory – have been destroyed by the fires since the beginning of the year. Firefighters arrived from various regions of Argentina to assist in controlling the fires. Neighboring Bolivia and Brazil also sent units to join in the effort. 
Argentina has been suffering from a sustained drought, which, combined with high temperatures, has helped fuel the fires. Corrientes is an agricultural and cattle ranching province that is a significant player in the national beef industry.
BRAZIL: Brazil on Friday voted in favor of the U.N. Security Council resolution condemning Russia's offensive in Ukraine, despite President Jair Bolsonaro's unwillingness to directly criticize Russian President Vladimir Putin.
A day after the vote, Bolsonaro tweeted that Brazil stood "in defense of sovereignty, self-determination and territorial integrity" and would contribute to a "peaceful resolution." Earlier, on Thursday, Bolsonaro rebuked his vice president for denouncing Russia's invasion of Ukraine, claiming that only the president should speak on these matters. Two weeks prior, during a visit to Moscow, Bolsonaro expressed "solidarity" with Russia without mentioning the tensions in Ukraine.
Russia vetoed Friday's Security Council resolution. However, the council voted on Sunday – again with Brazil's support – to forward the resolution to the General Assembly for a vote on Monday.
ANDES
PERU: Ex-Peruvian president Ollanta Humala and his wife began trial Monday for accusations of money laundering in a case connected to the Brazilian construction giant Odebrecht. The Odebrecht case is considered one of Latin America's biggest corruption scandals. 
Humala and his wife Nadine Heredia are accused of receiving over $3 million in campaign contributions from Odebrecht in 2006 and 2011. Odebrecht has admitted to the U.S. Justice Department to paying $800 million in bribes across the region to secure lucrative infrastructure contracts. 
If convicted, the couple could face more than 20 years in prison. Former Peruvian presidents Alejandro Toledo and Pedro Pablo Kuczynski are accused of similar charges. Ex-president Alan García committed suicide in 2019 just before being arrested in connection to the scandal. 
CARIBBEAN 
CUBA: The government on Saturday issued a statement that blamed the U.S. for the current war in Ukraine. It referred to "U.S. efforts to continue the progressive expansion of NATO" towards Russia's borders as the main provocation for its attacks on Ukraine.
The president of Russia's lower house of parliament visited Cuban President Miguel Díaz-Canel on Wednesday. At the meeting, the two highlighted their countries' long-standing cooperation, and Russia extended debt repayment deadlines for Cuba.
Saturday's communication echoed a statement by the foreign ministry on Tuesday that said that Russia had a right to "defend itself" and reminded that former President Raúl Castro had stated in 2014 that U.S. and NATO actions in Ukraine could threaten peace in Eastern Europe.
HAITI: Police officers on Wednesday killed one journalist and wounded two others after firing into a crowd of protestors in Port-au-Prince. The three journalists were covering a strike by textile workers who have been demanding better pay. The murder victim, Maximilien Lazard, was a photojournalist working for a local online media company.
Police had earlier utilized tear gas against protestors armed with rocks who had used a truck to block a road leading to the airport in the capital.
Protests earlier this month led Henry to raise the minimum wage from 500 gourdes (about US$4.80) a day to 685 gourdes ($6.60), but protestors argued this was not enough and have continued taking action.
CENTRAL AMERICA
EL SALVADOR: Four Salvadoran women recently released from prison talked on Tuesday about their unjust incarceration for seeking emergency services due to pregnancy complications. They each received 30 year prison sentences on aggravated homicide charges for allegedly terminating their pregnancies. 
Kenia, one of the four women, said, "They deprived me of my freedom. It was unfair. I lost my youth, I lost my family, all my dreams fell apart."  The director of the nonprofit Citizen Group for the Decriminalization of Abortion, Morena Herrera, said that El Salvador's abortion ban only punishes women from low socioeconomic backgrounds who can't afford legal representation. 
Nayib Bukele's government has yet to liberalize El Salvador's abortion laws. The four women spoke one day after Colombia legalized abortion up to 24 weeks.   
NICARAGUA: Judges convicted seven opposition leaders on Wednesday of "conspiracy to undermine national integrity." Prosecutors maintained that the seven "conspired" against President Daniel Ortega's government by taking part in a Whatsapp group chat with political analyst Manuel Orozco, who was accused last year of coordinating destabilization efforts. 
Three of the convicted opposition leaders planned to run in last year's Nov. 7 presidential elections. President Daniel Ortega had them arrested along with 40 other opponents of his, which secured his victory. 
Hearings are scheduled for Thursday to determine the sentence. So far, most of the convicted opposition leaders have been sentenced to 13 years in prison.  
NORTH AMERICA
MEXICO: Mexican police and National Guard on Tuesday confronted frustrated migrants who began demonstrating in Tapachula, near México's border with Guatemala. The migrants, mostly from Haiti, Africa, and Central America, grew impatient with authorities due to delays in appointments to resolve their migratory status.   
The clash began shortly after migrants found their appointment letters thrown in the trash. They also protested the 150 pesos fee, per person, including children, to obtain appointments. 
Given the increase in asylum cases in México, the Office of the United Nations High Commissioner for Refugees urged the Mexican government two weeks ago to seek alternatives to detention and asylum for migrants. 
MEXICO/US: President Andrés Manuel López Obrador reacted on Wednesday to "misinformed" statements made by the U.S. Secretary of State Antony Blinken about journalist killings in México.  
Blinken sent a tweet on Tuesday saying that the number of journalist killings this year is concerning, calling for greater accountability. López Obrador took it as a criticism adding that perhaps Blinken was misinformed by U.S. agencies. López Obrador denied that these are state crimes. He said that his government is acting in all cases related to the killings. 
This year, five journalists have been killed in México.