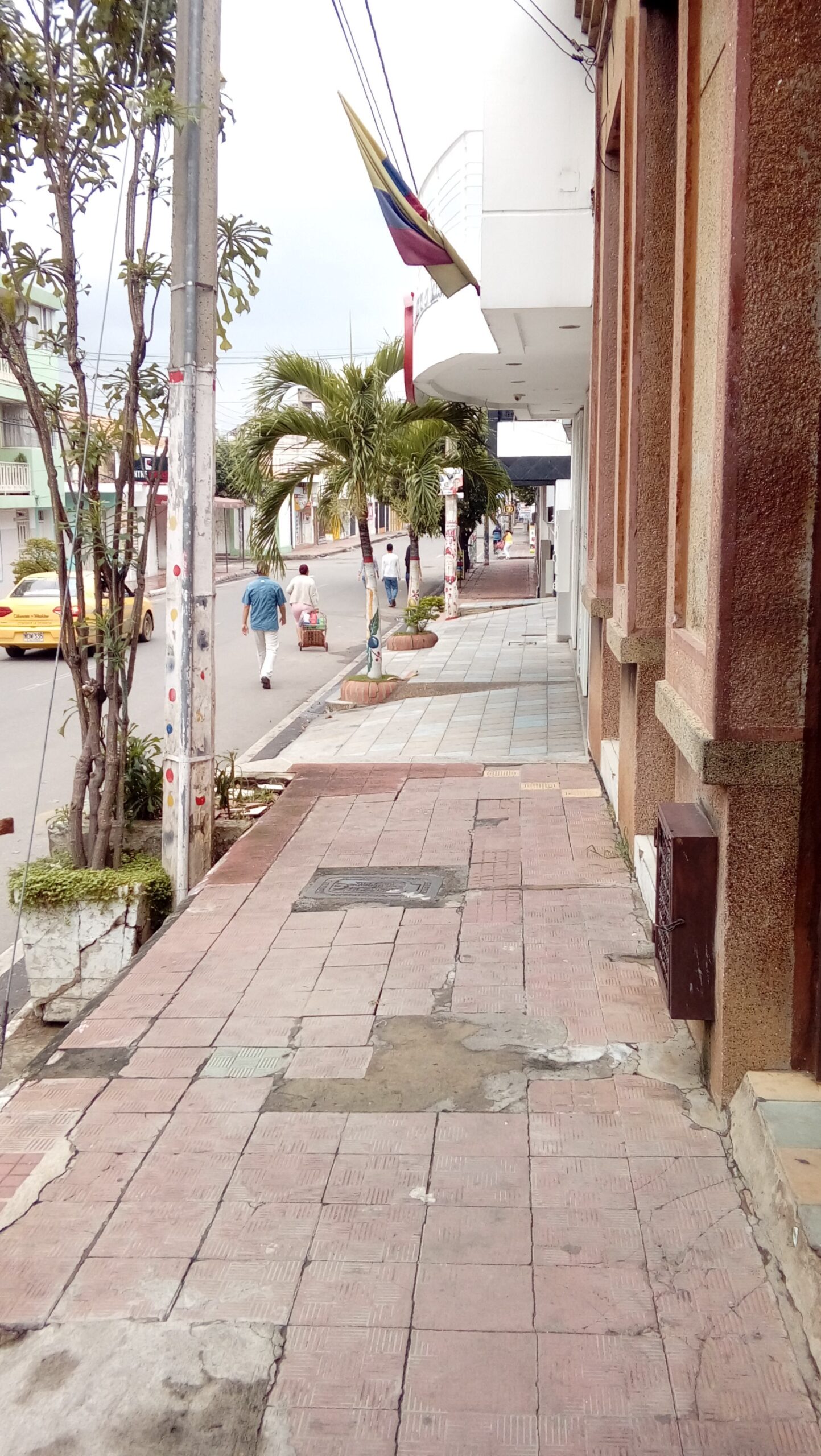 People walk along the sidewalk in the border city of Cúcuta, Colombia. (Photo by De ca on Unsplash)
Colombia-Venezuela: How the Rapprochement is Going
CÚCUTA, Colombia — Sitting on different sides of a white line that marks the border between Colombia and Venezuela on the Atanasio Girardo bridge — previously known as "Tienditas" — Colombian president Gustavo Petro and Venezuelan President Nicolás Maduro smiled at the cameras after reactivating the Partial Scope Agreement of a Commercial Nature No. 28, which seeks to strengthen bilateral trade by updating tariffs and lifting import duties on dozens of manufactured goods.
Held on February 16, the meeting was the third face-to-face interaction between the two leaders since Petro took office in August last year. It's also Maduro's first visit to the Colombian border as president.
With the meeting, the pair signaled their political will to re-establish diplomatic and trade relations between the two countries. But while the central governments have held meetings and made promises about reviving a historic relationship, the rapprochement has been oversold and its benefits have been hard to deliver.
For now, citizens on both sides of the border are left disappointed and frustrated. In Cúcuta, they fear the consequences of a tightening relationship with Maduro, and they're not seeing the benefits of the rapprochement that they longed for.
A Rocky Shift From Duque's Diplomatic Siege
Colombia's first leftist president, the former guerilla member Gustavo Petro, promised a 180-degree turn from his predecessor, right-wing president Iván Duque who brought about a diplomatic siege of Venezuela when he recognized Juan Guaidó as the country's interim president in February 2019 and helped facilitate humanitarian aid for the crisis-hit neighbor. In response, Maduro permanently shut the borders to Colombia.
The border has been subject to frequent closures since August 2015, when unidentified gunmen wounded three Venezuelan border guards. Maduro dispatched thousands of soldiers, declared a state of emergency at the border, carried out mass arrests and deported thousands of Colombians. Maduro claimed he was protecting his country from Colombian paramilitaries, smugglers and drug traffickers.
Duque's diplomatic siege has been criticized for taking Venezuelan and Colombian citizens in the border area as hostages of his political agenda. Yet, Petro's rapprochement with the Venezuelan government is also lambasted by critics. He's accused of legitimizing Maduro's leadership amidst investigations by the International Criminal Court into human rights violations. A UN report from September has documented that abuse by Venezuelan authorities amounts to crimes against humanity.
"We can say that these practices remain because we continue documenting them," says Marta Valiñas, Chair of the UN Fact-Finding Mission on Venezuela, referring to continuous arbitrary detentions and acts of torture committed by Venezuelan authorities. She told LAND that she believes any actor who has bilateral or multilateral relations with the Venezuelan government should take these violations into account.
Petro has invited the Venezuelan president to reenter the Inter-American Human Rights System, which Maduro withdrew from in 2013. That year, Venezuela had 15 convictions in the Inter-American Court for severe human rights violations. The violations have continued, and recently Maduro's government presented law proposals seeking to repress civil society organizations ahead of primary and presidential elections. Last month, Maduro questioned the impartiality and objectivity of the International Criminal Court amidst its ongoing investigations. Critics say Petro could do more to defend human rights in Venezuela as he re-establishes relations, and in October Human Rights Watch issued a letter to him with such demands.
"A Slow and Incomplete Process"
Less than a month after Petro took office, new ambassadors were appointed to each of the nations. In Colombia, Petro withdrew support to the interim government's Charge d'Affaires of the Venezuelan Embassy to Colombia, Eduardo Battisini, and accepted the credentials of Félix Plascencia to take over as Venezuela's ambassador in Colombia. Plascencia lasted just 5 months in his position and was recently replaced by Carlos Martínez, a former military general. In Caracas, Maduro warmly welcomed the new Colombian ambassador, Armando Benedetti, a former senator and close friend and ally of Petro.
Petro, Maduro, and their ambassadors presented ambitious plans to reopen the common land border, resume direct commercial flights between the countries, reopen consulates, and negotiate peace with members of Colombia's National Liberation Army, ELN, a guerilla group that has a presence in both countries.
Even so, many promises are left unfulfilled half a year later.
After weeks of delay, only one airline, Turpial, operated direct flights between Bogotá and Caracas. The Colombian state-owned airline, Satena, recently joined with two weekly flights between the capital cities. A handful of other airlines still wait for authorization from each country's aeronautical authorities to take off, however.
About 2.5 million Venezuelans in Colombia and 4 million Colombians in Venezuela are left unattended as consulates remain closed in both countries. The Colombian Ministry of Foreign Affairs announced that Colombian consulates should start operating in four cities in Venezuela within the next four months. Yet, even Colombia's own ambassador is skeptical about meeting that timeline: "It's been a very big failure of the Foreign Ministry. They've served for 7 months and they have not opened a single door, not a single consulate," he tells LAND. In an upscale neighborhood in Northern Bogotá, the Venezuelan embassy is left in ruins, without doors and windows, its walls covered by graffiti. It is still unclear when consular services will be available for Venezuelans to renew their passport or apply for visas from Colombia.
"It's been a slow and incomplete process," says Socorro Ramírez, an academic expert in bilateral relations with Venezuela and a member of Puentes Ciudadanos Colombia-Venezuela, a binational network that exerts citizen diplomacy. Ramírez says reestablishment doesn't just happen through meetings between central governments. It happens through processes of reinstitutionalization and by engaging with local actors. 
Ramírez says Venezuela's return to the Andean Community, a South American trade bloc, could help institutionalize relations and provide clear rules of the game.
"It's key that the relationship is not reduced to an ideological issue or a matter of political proximity. We need to reconstruct institutional dynamics," she says, referring to the close relationship between the socialist leaders, and even more so between Ambassador Benedetti and Venezuelan government officials. Ambassador Benedetti posts pictures and tweets, dubbing Maduro and his family his friends, congratulating and complimenting them — gestures that have received criticism. Researcher at the Observatory of Venezuela at University of Rosario, Txomin Las Heras Leizaola tells LAND that, "All these gestures are not only unnecessary, but they're also offensive to the victims of violations committed by the Venezuelan authorities."
To observers, Benedetti's relationship with Maduro adds fuel to the discontent of a delayed, rocky and technically weak rapprochement. 
Status Quo Shift at the Colombia-Venezuela Border
The roughly 1,370-mile-long border between Colombia and Venezuela, once one of the most dynamic in Latin America, was opened for cargo trucks on September 26 and had its "full" re-opening on January 1 with cargo and passenger transport passing through the Atanasio Girardo International bridge. It's a historic move after seven years of partial closure. 
Yet, locals shake their heads when asked about the reopening, saying it's a symbolic, political stunt and that the border was never really closed.
"It's a lie. It was already open. And when you go there, your own police officers will rob you," says Yenni Moreno, a merchant in Cúcuta, shaking her head.
Another merchant, who prefers to remain anonymous due to the illegality he operates within, explains that business people have been crossing the border between Norte de Santander in Colombia and Táchira through the more than 250 so-called "trochas", illegal tracks managed by armed, criminal groups. These trochas are routinely used for smuggling gold and other contraband goods, even trafficking people. 
"You know, business at La Parada was better, economically, when the border was closed," the merchant explains. "Why?," he says. "Because everything moved through the trochas."
The merchant works in La Parada, a chaotic and unsafe neighborhood right next to the Simón Bolívar bridge that connects Villa del Rosario in Colombia to San Antonio del Táchira in Venezuela. He asked LAND to meet with him in another location because La Parada is too dangerous for having these conversations.
"There, they'll kill you for whatever," he says, explaining that members of Tren de Aragua, a large criminal organization originating in Venezuela, extort and use infiltrators to spy on residents. Right on the other side of the river, in Venezuela, members of the guerilla, the Colombian National Liberation Army, ELN, are the ones in control.
Many people at the border still opt for the trochas instead of the formal, legal border crossings. Following years of frequent closures, they got used to coordinating with the guerilla to cross. Several merchants tell me it's often easier and cheaper to deal with the guerilla than the Venezuelan authorities. "The guards here in La Parada are really really corrupt," says another merchant who works in La Parada. She says that they inspect more thoroughly, are ruder, and ask for more money in bribes than the guerilla.
Not only security issues make it time-consuming, expensive, and dangerous for both regular citizens and merchants to cross the border. A lack of confidence, particularly for Colombians selling products to Venezuela, and regulatory uncertainty make business people hesitant to engage in cross-border trade. Business people fear sanctions and are unsure what rules govern trade between the countries. They often operate in three different currencies: Colombian pesos, Venezuelan bolívares, and US dollars.  
"So imagine the dynamics for doing business under this kind of uncertainty," says Sergio Hernando Castillo, the executive president of the Chamber of Commerce in Cúcuta. "The business climate is really complicated," he shakes his head.
But some change can be spotted in Cúcuta, Colombia's most important border city, which now has malls full of Venezuelans that cross regularly to do their shopping where products are abundant and cheaper than in their own crisis-stricken country. Yet, the changes do not match what people hoped for. 
Colombia's president even expressed disappointment about the reopening. "We opened the bridge […], and the economy continues to pass through the illegal trails, because uniformed officials on both sides continue to charge la comisión — 'the commission,'" he said at an event in Cúcuta last year.
Castillo from the Chamber of Commerce agrees that the commercial potential is yet to be fulfilled. 2022 closed with consolidated binational trade of between 700 and 750 million USD, according to the Colombian Ministry of Commerce, Industry and Tourism. A result that is better than when trade hit the bottom at 116 million USD in 2017, but it's far from its peak of 7,200 million USD back in 2008. It's also far from the governments' goals of reaching 1,700-1,800 million USD in commercial operations in 2023, according to a joint declaration disseminated by the Colombian Presidency, or to Ambassador Benedetti's lofty ambitions of reaching 10,000 million USD.

Fulfilling these promises may not be realistic. But to deliver, the two countries must address structural issues with corruption, security, poor infrastructure, and a broken Venezuelan economy, which shrank by roughly three-quarters between 2014 and 2021.
"The change did not happen," a group of angry anti-Petro protesters shouted as they marched through the streets of Cúcuta on February 15, the day before Petro and Maduro's meeting at the border. They're traumatized by the crisis in their neighboring country. "We don't want to end up like Venezuela," says Yenni Moreno, who has been part of most anti-government protests in the city. She starts crying as she recalls the suffering caused by Maduro's government in Venezuela, where she – like so many other Colombians in Cúcuta – has spent years of her life and has several family members.
Mie Hoejris Dahl is a Danish freelance journalist based in Bogotá, Colombia. She covers human rights, conflict, economics, and environmental issues in Latin America. She's a graduate of Copenhagen Business School and the Harvard Kennedy School of Government. She can be found on Twitter at @miehdahl or www.miedahl.com.