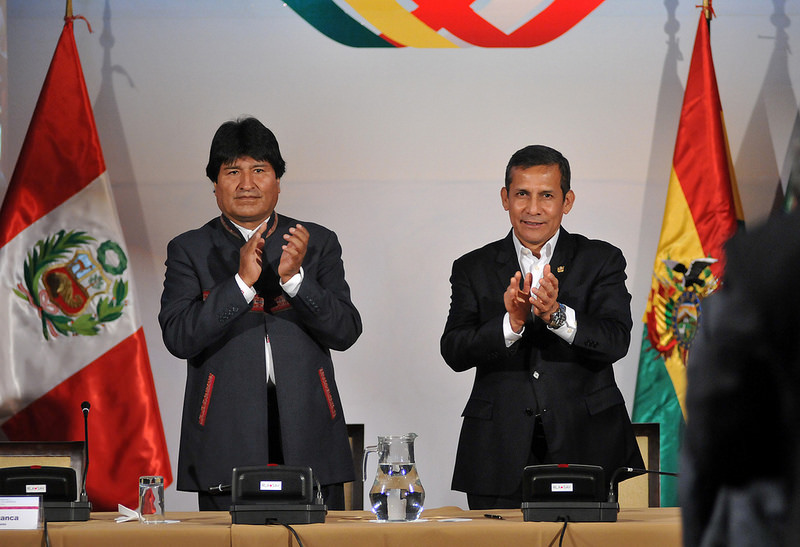 Andean Leaders Face Corruption Probes
February 29, 2016
By Staff
Top Story — The presidents of Peru and Bolivia have both been associated with large-scale corruption investigations in recent days.
A Brazilian federal police report from Feb. 5 asserts that authorities investigating a kickbacks scheme at the state oil firm Petrobras are broadening the scope of their probe, alleging that Peruvian President Ollanta Humala received $3 million in bribes from the Brazilian construction company Odebrecht, which has itself been implicated in the corruption probe. The bribes were allegedly received in exchange for contracts in Peru, where Odebrecht has a number of ongoing projects. The police report cited emails in which a former Odebrecht executive seemed to be referencing a $3 million payment to "OH," who is believed to be the Peruvian president.
Maristela Basso, a professor of International Law at the University of São Paulo, told The Associated Press that "Brazil will probably request further investigation from Peruvian authorities" as a first step, with a trial in a Brazilian court as a potential consequence. Humala's office has denied any wrongdoing.
Bolivian President Evo Morales, meanwhile, is also being associated with an ongoing corruption investigation. Gabriela Zapata, Morales' ex-girlfriend, was taken into custody on Friday after being accused of taking part in an influence trafficking scheme involving high-paying government contracts. Zapata, who is a high-ranking executive at China CAMC Engineering Co. Ltd., has not yet been officially charged by authorities, but opposition politicians have already raised claims that President Morales gave and received favorable contracts with the Chinese firm, which Morales denies.
Both probes have put pressure on the Andean leaders, in addition to the Petrobras investigation's devastating political impact on Brazilian President Dilma Rousseff. João Santana, a Rousseff campaign aide who also advised Humala in 2011, is currently under arrest in conjunction with the Petrobras probe. Morales, meanwhile, is still reeling from the results of the public referendum held this month, which was supposed to pave his way toward a re-election but was instead met with rejection, a defeat observers have linked in part to the revelation of his ties to Zapata.
Headlines from the Western Hemisphere
North America
Caribbean
Central America
Andes
Southern Cone