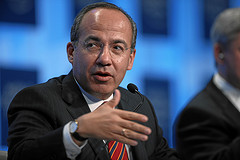 Today in Latin America
Top Story — The Mexican government fears losing control over parts of the country to drug traffickers and lacks a clear drug war strategy, according to U.S. diplomatic cables made public by WikiLeaks and published in the news media Thursday.
The attitudes contained in the cables contrast sharply with the Mexican government's more confident public announcements about the drug war.
The cables indicated that U.S. officials did not have much confidence in the Mexican military, calling them "slow and risk averse."
Mexico's Foreign Relations Department said on Thursday that the information contained in the cables is "incomplete and inaccurate," The Associated Press reports.
A separate cable published on Thursday said that Calderón told a U.S. official last year that Latin America needs a "visible U.S. presence" to oppose the influence of Venezuelan President Hugo Chávez.
Spanish daily El País received an advance copy of the cables from WikiLeaks and has posted the documents about Mexico here. The titles and descriptions are in Spanish, but the cables are in English.
Just Published at the Latin America News Dispatch
Headlines from the Western Hemisphere
North America
Caribbean
Central America
Andes
Southern Cone
Image: World Economic Forum @ Flickr.