Chile Hands Over Highly Enriched Uranium To the United States
April 9, 2010
By Staff
Today in Latin America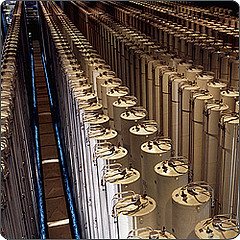 Top Story — Chile became one of the first countries to hand over highly enriched uranium (HEU) from its nuclear reactors to the United States for safe storage. The Associated Press reported the story yesterday, the same day that President Barack Obama and Russian President Dmitri A. Medvedev signed a nuclear arms control treaty.
The U.S. will also hold a nonproliferation summit next Monday in Washington, where Obama is expected to ask countries to work with the U.S. in removing weapons-grade HEU from reactors, as Chile did.
"We are happy to see it go," Fernando López of the Chilean Nuclear Energy Commission told The Associated Press. "Countries normally don't want to be loaded with waste from other countries," López added. "To put it in a safe place is valuable for everybody."
U.S. and Chilean engineers worked last month to remove the 40 pounds of HEU before it was shipped out of Chile under U.S. Coast Guard supervision, through the Panama Canal, to Charleston Weapons Station in South Carolina.
The United States is the only country in the world to dispose of uranium and many countries, including Russia, rely on the U.S. for this process. This disposal process is part of Obama's strategy of focusing concerns of nuclear nonproliferation to rogue states and terrorists and away from former Cold War adversaries.
"For the first time, preventing nuclear proliferation and nuclear terrorism is now at the top of America's nuclear agenda," Obama said, according to the Associated Press.
For more information, view the AP video below.
Just Published at the Latin America News Dispatch
Headlines from the Western Hemisphere
North America
Caribbean
Central America
Andes
Southern Cone
Image: BlatantNews.com @ Flickr.