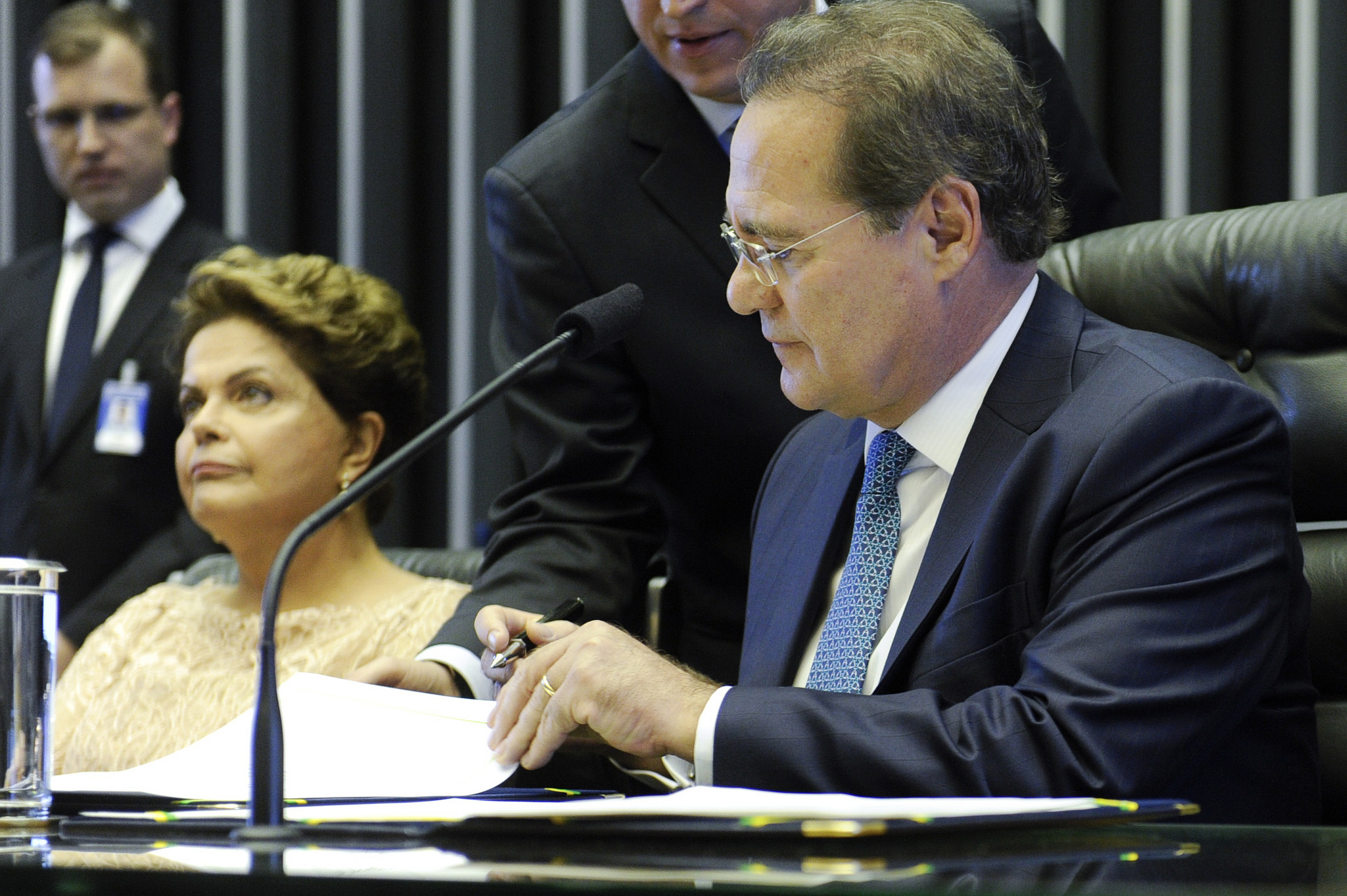 Brazil's President Dilma Rousseff and the Senate leader Renan Calheiros. (Image:
Brazilian Senate
, CC BY 2.0)
Defiant, Rousseff Hopes For a Potential Ally in Senate Leader
April 19, 2016
By Staff
Top Story — Brazil's President Dilma Rousseff on Monday spoke out against the decision the night before by the lower house of Congress to proceed with her impeachment, vowing to fulfill her mandate until she is forced to step down, The Associated Press reported.
After 367 of the 513 members of the Chamber of Deputies voted for Rousseff's impeachment, the process will move to the Senate, where the government will now focus its efforts, a Rousseff aide told Reuters.
That chamber's current leader, Renan Calheiros, has not called for Rousseff to step down, but instead for new elections to be held. He has previously assisted the president, helping her pass a budget deal in 2015 and delaying a probe into the charges on which she could now be impeached, Reuters reported.
Rousseff, for her part, stands accused of misusing funds from the state development bank to conceal a budget deficit; she has not been charged with illicit enrichment. Calheiros, like Chamber of Deputies Speaker Eduardo Cunha and Vice President Michel Temer, with whom he shares a party, has been accused of corruption. Temer will assume the presidency if Rousseff steps down, although polls suggest a majority of Brazilians would favor his impeachment as well.
As Reuters notes, Calheiros' Brazilian Democratic Movement Party (PMDB) has pressured him to call a speedy vote to confirm an impeachment trial for Rousseff, and observers have suggested Calheiros is unlikely to oppose his party's wishes. If the Senate vote passes, Rousseff will be forced to step down immediately, pending the trial's outcome.
In her remarks, Rousseff compared her current situation to the torture she suffered under the dictatorship that ruled Brazil from 1964 to 1985, and denied having committed a crime. "The acts they're accusing me of were committed by other presidents before me and weren't considered criminal or illegal," she said, reported Folha de S. Paulo.
Rousseff's staff is likely aiming to convince Calheiros to delay the vote, which would give the administration time to sway lawmakers to its side. Unlike in the Chamber of Deputies, where a two-thirds majority was needed to continue with Rousseff's impeachment, a simple majority in the Senate will confirm the process.
Headlines from the Western Hemisphere
North America
Caribbean
Central America
Andes
Southern Cone