Mexican President Felipe Calderón.
Mexican Drug War Heats Up Over The Weekend; 25 Dead in Juarez & "El Grande" Captured
September 13, 2010
By Staff
Today in Latin America
Top Story — As Mexico celebrates the bicentennial of its independence from Spain this year, it is also in the midsts of a violent conflict.
Over the past weekend the country saw a proliferation of violence, including the slaying of 25 people in the border city of Ciudad Juarez and a prison break that saw 85 inmates escape.
Also in Ciudad Juarez, Mexican authorities carried out the controlled detonation of a car bomb, after receiving a phone tip leading police to a dead body in a car and ultimately a second car containing the bomb.
On Sunday, Mexican marines captured an alleged leader of the Beltran Leyva Cartel in the central state of Puebla.
Sergio Villarreal Barragan, also know as "El Grande", was arrested along with two accomplices in the city of Puebla.
Mexican President Felipe Calderón on Friday said that the United States was responsible for much of the security problems that plague Mexico.
"We live next to the world's largest drug consumer, and all the world wants to sell them drugs through our door and our window. And we live next to the world's largest arms seller, which is supplying the criminals," Calderón said, according to CNN.
Just Published at the Latin America News Dispatch
Headlines from the Western Hemisphere
North America
Caribbean
Central America
Andes
Southern Cone
Image: Gobierno Federal @ Flickr.
Subscribe to Today in Latin America by Email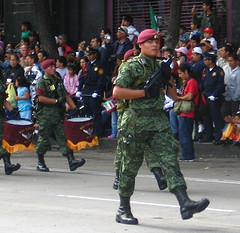 September 10, 2010
> Staff