Nicaraguan President Daniel Ortega is in New York City for the United Nations General Assembly. His son Rafael Ortega Murillo was sanctioned by the United States on Thursday for corruption and money laundering.
Nicaraguan Diplomatic Official Killed In New York City
NEW YORK CITY – A Nicaraguan diplomatic official was found dead with his throat slashed in an apartment in the Bronx Thursday, when his driver came to pick him up for the United Nations General Assembly's annual meeting.
The driver found Cesar Mercado, the country's consul general, lying just inside his apartment with the door unlocked at around 10:35 a.m. New York Police Department (NYPD) detectives recovered a 12-inch steak knife found next to the bloody bathroom sink and a 4- to 6-inch paring knife in the sink.
"We are all profoundly shocked by what happened to Cesar," said Danilo Rosales Diaz, Nicaragua's Permanent Representative at the UN, according to the Wall Street Journal. "He will be very much missed by his colleagues."
Inside Mercado's studio apartment in the Bronx's Fordham Heights section, furniture was overturned, but there were no signs of robbery or forced entry, which suggests that he might have know his killer.
The NYPD is looking through Mercado's phone records and computer as well as searching for fingerprints to try and find a suspect. Despite the bloody knives, police have not ruled out that his death was a suicide.
A neighbor of  Mercado's said he hard a commotion in his apartment around three in the morning, but didn't think much of it.
U.S. Ambassador Robert Callahan assured Nicaraguan Vice President Jaime Morales that the FBI would do everything possible to investigate Mercado's death.
Nicaraguan President Daniel Ortega is currently in New York City for the United Nations Genral Assembly meeting.
Photo: Presidencia de La Republica del Ecuador @ Flickr.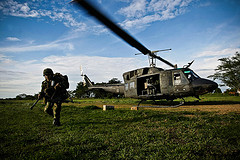 September 24, 2010
> Staff