Haitian President René Préval.
Préval Says Baby Doc Must Face Investigation In Haiti; No Comment On Elections
January 24, 2011
By Staff
Today in Latin America
Top Story — Haitian President René Préval said Saturday that ex-dictator Jean-Claude "Baby Doc" Duvalier had every right to return home from exile, but must now face an investigation of alleged abuses during his reign.
In his first public comment since Duvalier returned to Haiti a week ago, Préval made the announcement after a meeting with Dominican President Leonel Fernández.
"Duvalier had the right to return to the country, but under the constitution, he also must face justice," Préval said, according to The Canadian Press. "If Duvalier is not in prison now, it is because he has not yet been tried."
Préval also said that Haitians cannot be barred from their homeland by law, which applies to both Duvalier and ousted former President Jean-Bertrand Aristide, who has been in exile in South Africa since 2004.
Préval declined to say whether he knew ahead of time about Duvalier's sudden return to Haiti, which the former dictator attributes to his want to help rebuild the country after last year's earthquake.
Préval also had no comment on the country's disputed Nov. 28 presidential election, which was marred by  fraud. The Organization of American States (OAS) is now recommending that Préval's favoured candidate, Jude Célestin, be left out of a runoff.
Préval could find himself deemed illegitimate and his government not recognized by the international community if runoff elections to choose his successor are not announced before Feb. 7.
"No recognition of him as president, Jean-Max Bellerive as prime minister after that," said an anonymous diplomat, according to The Miami Herald.
Just Published at the Latin America News Dispatch
Headlines from the Western Hemisphere
North America
Caribbean
Central America
Andes
Southern Cone
Image: bbcworldservice @ Flickr.

Subscribe to Today in Latin America by Email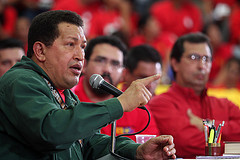 January 21, 2011
> Staff