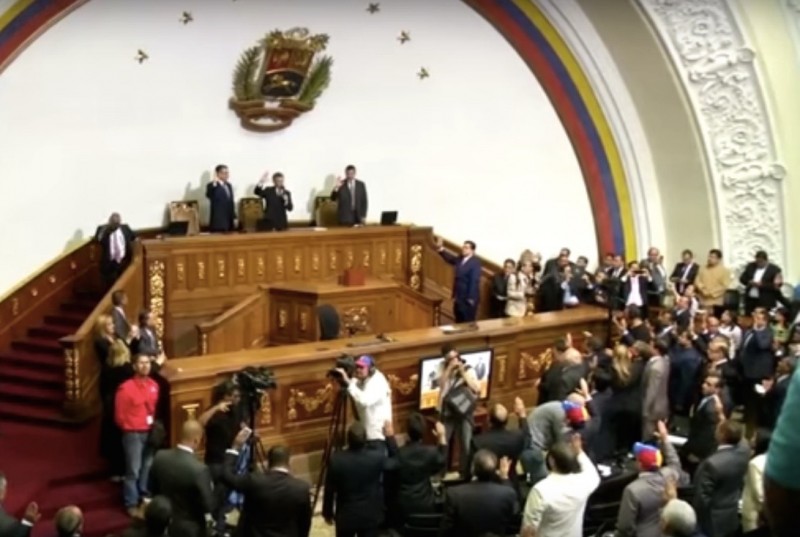 Venezuela's National Assembly. (Image:
YouTube
)
Venezuela's Top Court Rules Legislature Cannot Remove Judges
March 2, 2016
By Staff
Top Story — Venezuela's National Assembly will not be permitted to investigate, and potentially reverse, last year's appointment of 13 new Supreme Court justices following a Tuesday ruling from the same court, which came down hours before legislators were set to debate the issue. The ruling is the latest institutional blow against the opposition-led legislature and its ability to limit the mandate of President Nicolás Maduro.
The ban will likely spur conflict between Maduro's socialist administration and the legislature, a theme of Venezuelan politics since the Democratic Unity coalition won a "supermajority" of lawmakers in the December election. The lame-duck congress approved the new justices just days before the opposition took control of the legislature in the new year, which opposition leaders say was an attempt to undermine their election victory.
Opposition leaders say that some of the retired judges who left, opening up 13 new positions, may have been forced to quit. Still, the current justices warned the legislature that they would consider any attempt by the lawmakers to reconsider the new appointments as overstepping their authority.
Tuesday's ruling also comes some two weeks after the Supreme Court voted in favor of Maduro's declaration of an economic emergency, which gave him decree powers in order to fight runaway inflation. Despite the Supreme Court's unwillingness to budge on this issue, opposition legislators in the National Assembly recently celebrated a victory it they passed an amnesty law last month seeking the release of 75 political dissidents from prison, including prominent opposition leader Leopoldo López.
Headlines from the Western Hemisphere
North America
Caribbean
Central America
Andes
Southern Cone