Supporters of ex-president of Haiti Jean Bertrand Aristide hold signs bearing his nickname "Titid" that read "We are waiting for you," in Kreyol.
Haiti Grants Former President Aristide a Diplomatic Passport
February 1, 2011
By Staff
Today in Latin America
Top Story — Haitian officials said Monday that former President Jean-Bertrand Aristide is eligible for a diplomatic passport.
Aristide's lawyer, Ira Kurzban, said he was notified of the country's decision last week and that he sent a letter to Haitian authorities on Monday to request that Aristide's passport be "issued immediately, and that plans for his return commence immediately."
The issuing of a passport to Aristide by Haiti's Council of Ministers, under the direction of current President René Préval, is a major reversal for Préval, who had refused Aristide's request for a passport for years, due in part in to international pressure.
"The Council of Ministers, under the leadership of President Rene Preval, decided that a diplomatic passport be issued to President Aristide, if he asks for it," Fritz Longchamp, general secretary for the presidency, told Reuters.
There is no definite time frame for Aristide's return, but there are worries from the United States and others in the international community that his arrival will cause more disruptions in an already edgy political climate after November's chaotic presidential and legislative elections.
Results from the contested elections are due Wednesday and Préval needs to step down from his post by February 7.
Aristide, a former Catholic priest who first came to power in 1990, was ousted months later in a coup led by Brigadier-General Raoul Cedras. In 1994, he returned to Haiti after the military regime gave up power in the face of a U.S. invasion and served his term until 1996.
He was re-elected in 2000, but once again forced from power early in 2004, after several months of increasing political turmoil. The leftist leader is still thought to have a considerable group of supporters in Haiti.
Headlines from the Western Hemisphere
North America
Caribbean
Central America
Andes
Southern Cone
Image: Ben Piven @ Flickr.
Subscribe to Today in Latin America by Email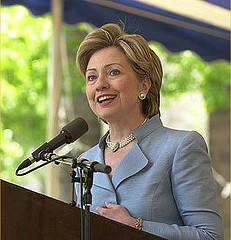 January 31, 2011
> Staff