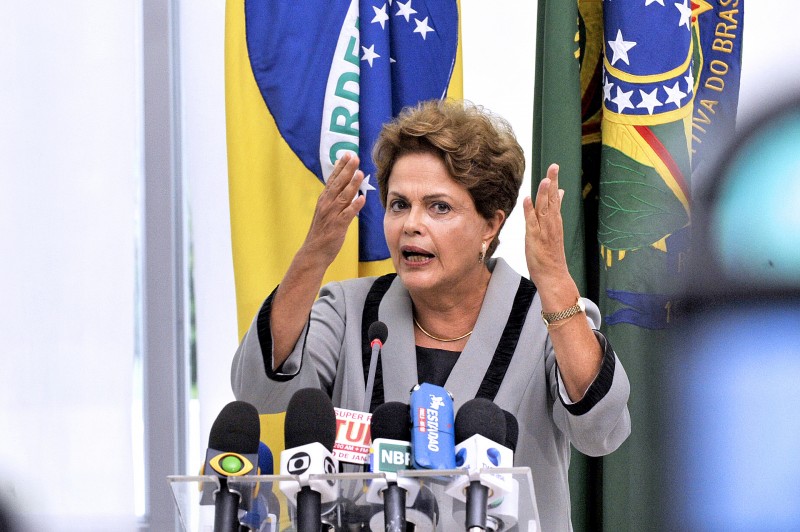 Brazil Court Grants Rousseff Temporary Reprieve on Impeachment
December 18, 2015
By Staff
Brazil's Supreme Court issued two decisions Thursday that will assist embattled President Dilma Rousseff in her attempts thwart impeachment proceedings.
The Court voted to invalidate the results of a secret ballot vote in the election of the impeachment commission and ordered a new open ballot vote, which likely be "more favorable" to Rousseff, the Wall Street Journal reported. The judges also voted to let the Senate review the impeachment case against Rousseff brought by the lower house.
The decisions, along with the fact that Brazil's legislature will be in holiday recess until February, have offered Rousseff a temporary reprieve from impeachment proceedings, which are formally based on charges she illegally distorted government accounts to hide budget deficits.
Also on Thursday, Vice President Michel Temer, who is slated to become president should Rousseff be impeached, denied allegations that he is plotting against her. Temer aditted that his party, the Brazilian Democratic Movement, a key coalition ally of Rousseff's Workers' Party, is split over whether to push for her removal.
The leader of the impeachment proceedings, the lower house Speaker Eduardo Cunha, who is also a member of Temer's party and who has battled his own graft allegations, was also implicated this week in additional corruption allegations. Those claims, first reported by the magazine Época, stem from bribes allegedly paid to Cunha to secure funding for the redevelopment of Rio de Janeiro's port area ahead of the 2016 Summer Olympics.
Headlines from the Western Hemisphere
North America
Caribbean
Central America
Andes
Southern Cone