Secretary of State Hillary Clinton.
Hillary Clinton In Haiti To Discuss Elections And Cholera Outbreak
January 31, 2011
By Staff
Today in Latin America
Top Story — United States Secretary of State Hillary Clinton said that the U.S. will not suspend aid to Haiti after meetings in the capital of Port-au-Prince on Sunday. Rumors had surfaced that the the U.S. would cut off aid to push Haiti to accepts the recommendations made by the Organization of American States (OAS) to settle the electoral crisis.
Clinton made the statement after meeting with the three leading candidates and the outgoing President René Préval. The final results of the disputed first round of the election are expected on Wednesday.
While aid will still be given to Haiti, Clinton did urge the country to adopt the OAS report and said that the United States has "made it very clear " that it supports the findings.
Clinton arrived in Port-au-Prince on Sunday for back-to-back meetings with the three presidential candidates and Préval. Her visit comes at a time when many fear that Haiti could plunge into political instability as elections officials prepare to announce on Wednesday the final results of the presidential and legislative elections.
"The international community has been very clear and I'm going to be carrying that message, but I will also be listening. And if there are ideas that we should follow-up on, we will take those into account," Clinton said before the meetings, according to Fox News.
Clinton also addressed Haiti's cholera epidemic, which has killed more than 4,000 Haitians since October. The epidemic is now receding.
"I want to first of all express my great appreciation and admiration for everyone working to stem and then reverse the cholera epidemic," Clinton said, according to AFP. "It's a good news story to the extent that the numbers are diminishing but it's by no means over. They are still admitting patients, as they did today."
Headlines from the Western Hemisphere
North America
Caribbean
Cuban dissident Guillermo Fariñas returned home after being taken to the hospital with chest pains following his third arrest in 48 hours, his mother said.
A sixth person died Saturday from a New Year's Day blaze in Puerto Rico that police say was set by one of her relatives, as more than a dozen family members sat down for dinner.
Central America
Andes
Southern Cone
Image: Rachel_Bunting @ Flickr.
Subscribe to Today in Latin America by Email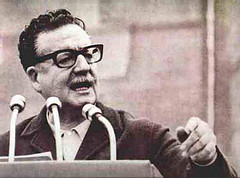 January 28, 2011
> Staff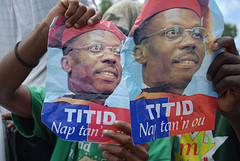 February 1, 2011
> Staff