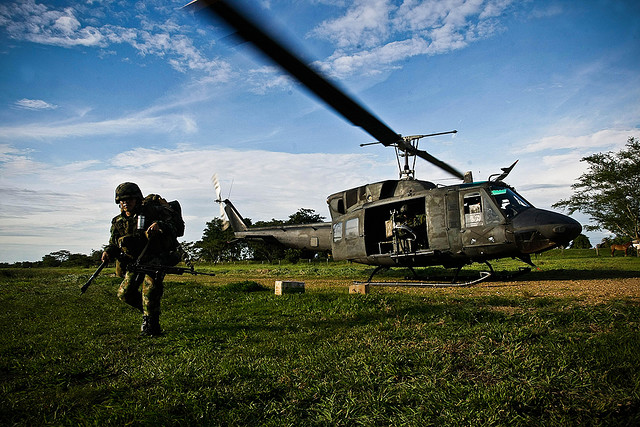 Colombia: 36 FARC Rebels Dead In Second Air Raid This Week
March 27, 2012
By Staff
Today in Latin America
Top Story — Following quickly on the heels of an air raid that killed 33 FARC guerrillas last Wednesday, the Colombian military announced that a raid in Meta state on Monday killed another 36 rebels. According to Colombia's chief of the armed forces Gen. Alejandro Navas, the attack had been planned for several months. The Vista Hermosa municipality where the bombing occurred was a traditional FARC stronghold where guerrillas were apparently training. The armed forces reportedly bombed and then raided the camp on foot, capturing computer equipment and five rebels, three of whom were women.  Though the FARC has said it will release long-held hostages on April 2 and 4, Colombian President Juan Manuel Santos said that Colombian troops "will not stop, will continue and will persevere" in defeating the rebels. Some analysts have expressed concern that the recent bombings and deaths of FARC rebels will delay the planned release of the hostages, but others argue that doing so would further damage the guerrilla group's international reputation.
Read more from the AP.
Headlines from the Western Hemisphere
North America
Caribbean
Central America
Andes
Southern Cone
Image: Mauricio Moreno Valdes @ Flickr.