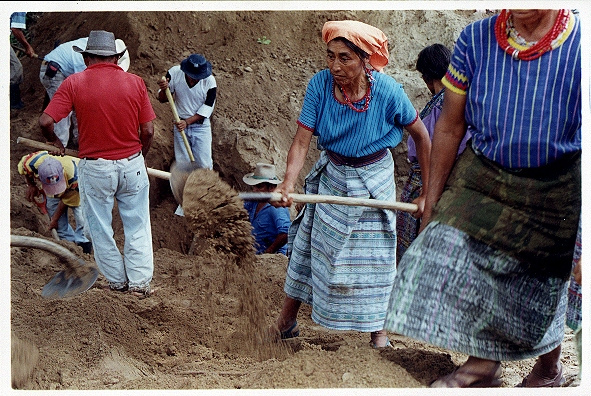 Remains Of 99 People Found In Guatemalan Mass Graves
April 23, 2012
By Staff
Today in Latin America
Top Story — Forensic anthropologists working at a former military outpost in Guatemala have unearthed the remains of at least 99 people who were massacred in Guatemala's Alta Verapaz region during the country's 1960-1996 civil war. The anthropologists discovered 15 separate mass graves at the site, now used as the United Nations' Regional Command for Peacekeeping Training. According to statements from survivors and family of the victims, there should be 200-300 people buried in the area. The victims, including men, women, and children, were members of indigenous Mayan communities targeted by the Guatemalan military in Alta Verapaz, and their remains showed evidence of being bound. Since 1992, Guatemala's Office of Human Rights and the Association of Relatives of Detained and Disappeared of Guatemala has located about 6,000 skeletons and identified 65 percent of the victims found, but the UN estimates that over 200,000 people died during Guatemala's civil war.
Read more from ABC News.
Headlines from the Western Hemisphere
North America
Caribbean
Central America
Andes
Southern Cone
Image: International Rivers @ Flickr.