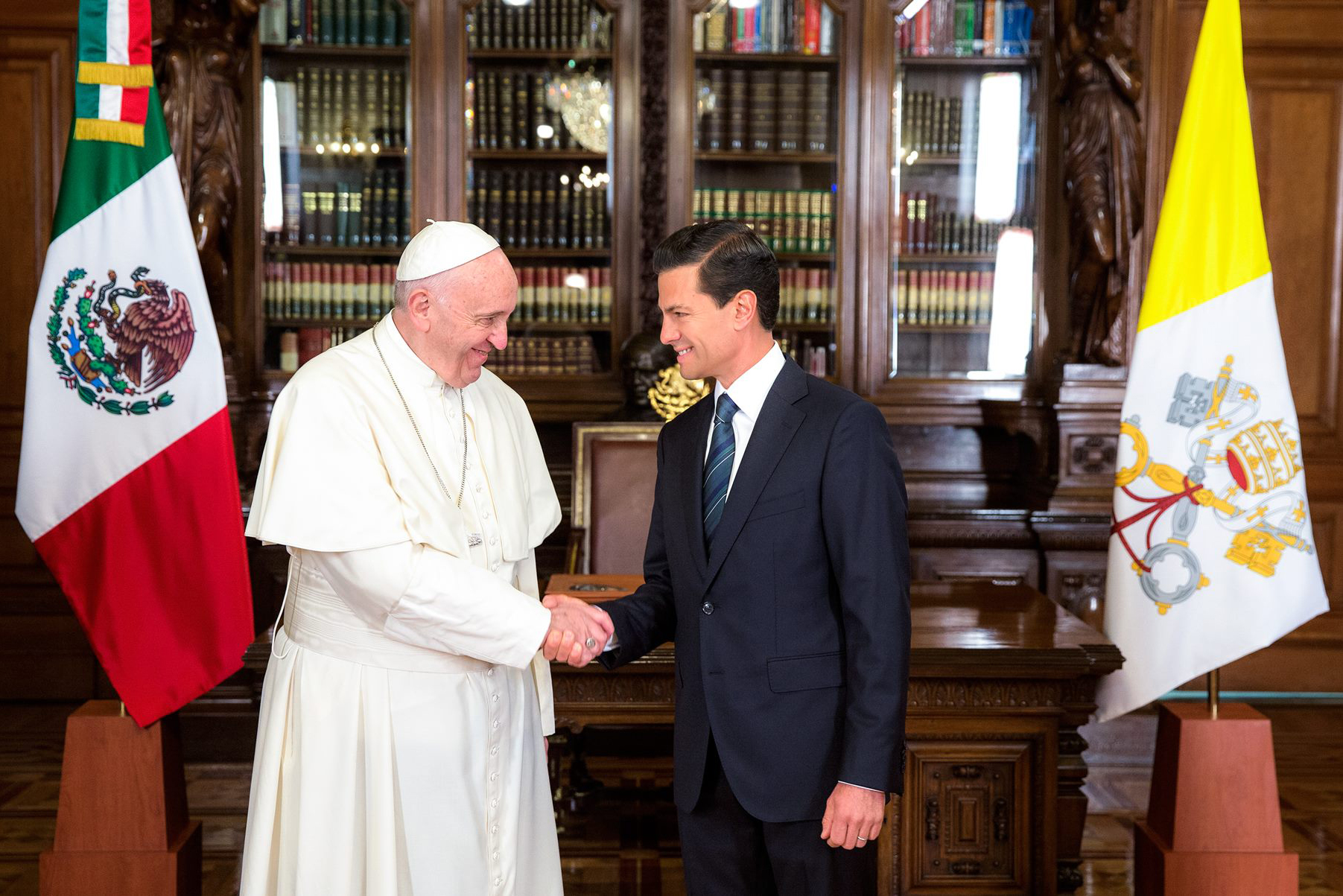 Pope Francis Champions Indigenous Peoples During Mexico Trip, But Avoids Criticizing Government
February 16, 2016
By Staff
Top Story — Pope Francis left for Mexico's Michoacán state on Tuesday morning, where he plans to meet with young people in the capital Morelia, a major narco-trafficking hub. The visit will mark the second-to-last stop in the Pope's six-day tour of Mexico, a trip that saw him break ranks with prior Vatican doctrine over its treatment of indigenous believers.
The Pope's pronunciations during his visit to Mexico have thus far fallen in line with his work on behalf of marginalized communities and the environment. The New York Times notes, however, that Francis has also avoided antagonizing the administration of President Enrique Peña Nieto with critical rebukes.
It remains to be seen whether Francis will meet with the families of the 43 students missing from the state of Guerrero since September 2014. The relatives of several of the missing students are expected in Ciudad Juárez, where the Pope will travel to on his last day in the country.
The Pope visited the largely indigenous southern border state of Chiapas on Monday, which is considered, according to the BBC, the least Roman Catholic state in Mexico. He celebrated Mass in three Mayan languages and asked for forgiveness for the "systematic and organized" exclusion of indigenous peoples throughout history.
"Some have considered your values, culture and traditions to be inferior. Others, intoxicated by power, money and market trends, have stolen your lands or contaminated them," he said. "Today's world, ravaged as it is by a throwaway culture, needs you."
During his visit to Chiapas, Francis prayed before the tomb of Bishop Samuel Ruiz, who led the state's San Cristóbal diocese for about 40 years. Ruiz was beloved by Chiapa's churchgoers but controversial among Mexico's Catholic leadership for supporting the incorporation of indigenous traditions into church rituals. Ruiz also backed the ordination of married indigenous deacons, a policy struck down by the Vatican after his death in 2011.
Francis vindicated many of Ruiz's positions. In a decree, he gave his approval for the Aztec language Nahuatl to be used in Mass. His inclusion of three Mayan languages during his own service signaled that these could be used as well, according to the Vatican Press Office. Several married indigenous deacons participated in Monday's Mass.
Headlines from the Western Hemisphere
North America
Caribbean
Central America
Andes
Southern Cone