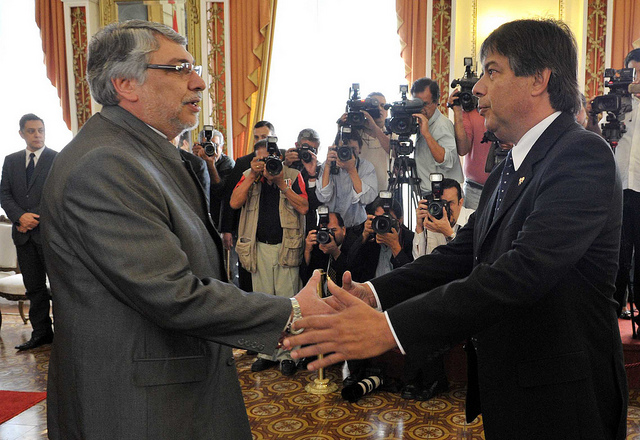 Paraguay: 15 Deaths, 9 Murder Charges After Land Dispute Turns Violent
June 18, 2012
By Staff
Top Story — Rubén Candia Amarilla was sworn in Saturday as Paraguay's new interior minister after Carlos Filizzola and Police Chief Paulino Rojas resigned due to violent clashes that left at least 15 people dead in Paraguay's northeastern Canindeyu province. Six police officers and at least nine landless farmers died Friday, and many more were injured after Paraguayan police raided a 4,900-acre reserve in Canindeyu where the farmers were living. The land is owned by the estate of politician Blas Riquelme, but has been occupied for several weeks by 150 landless peasants to grow soybeans. The farmers said the land had been illegally seized during the 1954-1989 military rule of Gen Alfredo Stroessner and argued that it should be redistributed after Paraguayan President Fernando Lugo promised land reforms to the country's approximately 87,000 landless peasants in 2008. Police arrested nine farmers, including a 15 year-old boy, on murder charges following an eight-hour firefight between the peasants and the security forces. Interior Minister Candia Amarilla promised to continue the evictions.
Read more from BBC News.
Headlines from the Western Hemisphere
North America
Caribbean
Central America
Andes
Southern Cone
Image: Fernando Lugo Méndez @ Flickr.