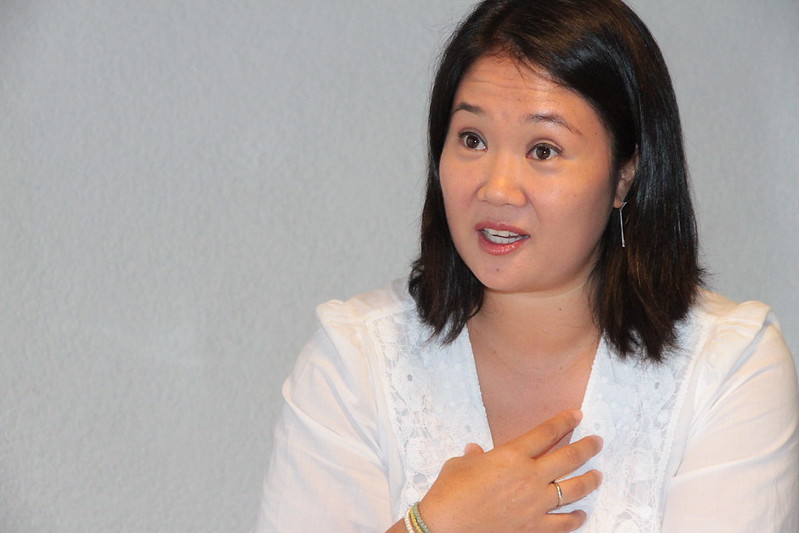 Keiko Fujimori, daughter of former Peruvian President Alberto Fujimori, was ordered freed from jail yesterday. (Photo courtesy of Néstor Soto Maldonado via Flickr)
Keiko Fujimori Ordered Freed from Jail
November 26, 2019
By Staff
TODAY IN LATIN AMERICA
PERU: Peru's Constitutional Tribunal approved a habeas corpus request yesterday to free Keiko Fujimori, the daughter of former Peruvian President Alberto Fujimori. Keiko Fujimori was jailed last year after she was accused of accepting laundered money from Odebrecht, a Brazilian construction giant, to fund her 2011 and 2016 presidential elections. 
The tribunal's president, Ernesto Blume, said that "the Constitutional Tribunal isn't ruling on the fundamental issue. It's not declaring her absolution nor her guilt." The ruling will likely cause contention among Fujimori's supporters and detractors. Peru is in the middle of a reckoning over corruption throughout the country that has destroyed confidence in elected officials. Almost every recent president is involved in the Odebrecht scandal.
Headlines from the western hemisphere
SOUTHERN CONE
BRAZIL: Huge crowds gathered in Rio de Janeiro on Sunday to welcome players from the Flamengo soccer team after their victory in the Copa Libertadores. But fighting broke out toward the end of the celebration, resulting in clashes between the police and fans. Fans threw stones and bottles at police officers who responded with tear gas and batons. It was not immediately clear why the violence erupted, but local media reported that fans had tried to break through one of the security cordons surrounding the Flamengo's team vehicle. Security forces were eventually able to clear the city center.
ANDES
COLOMBIA: Protests in the Colombian capital of Bogotá have continued for three days in a row. The anti-government demonstrations started peacefully on Thursday, but clashes between protesters and police have broken out. Three people have died since the start of the protests against proposed austerity measures and corruption. There have also been reports of looting and vandalism. President Iván Duque denounced "the vandalism," "terrorism" and "looting" at a press conference on Saturday. He also said security forces will stay on the streets to maintain order. Meanwhile, Duque's government announced yesterday that it is deporting 59 Venezuelans who participated in the anti-government protests.
CARIBBEAN
HAITI: Charlot Jeudy, the leader of an LGBTQ organization in Haiti, was found dead in his home in Port-au-Prince yesterday. It's not yet clear how he died. Jeudy was the president of Kouraj, a group that advocates for LGBTQ rights and against discrimination. Haiti does not allow gay marriage, and it remains highly stigmatized to be openly gay in the country. Kouraj has had to move its headquarters three times after people attacked it.
PUERTO RICO: For the first time, an endangered Puerto Rican toad was born by in vitro fertilization. The toad, whom scientists named Olaf, was the first of more than 300 Puerto Rican crested toads to hatch after the fertilization. The International Union for Conservation of Nature and Natural Resources has labeled the species as critically endangered, with a population of between 300 and 3,000 on the island. Most of them live in the southern half of Puerto Rico.
CENTRAL AMERICA
NICARAGUA: Nicaraguan journalist Carlos Fernando Chamorro returned home yesterday after 11 months in exile in Costa Rica, where he fled for his safety. Chamorro founded the newspaper Confidencial and was openly critical of the government of current President Daniel Ortega. Chamorro said he decided to return, along with other exiled Nicaraguan journalists, to "do journalism in Nicaragua," but it remains risky for him to be there. He fled to Costa Rica in January after he said he received "extreme threats." About a month earlier, police had raided the offices of Confidencial. 
NORTH AMERICA
MEXICO: A Mexican actor and a French man, who were abducted at a popular mountain peak near Mexico City on Sunday, were released yesterday. Friends of the actor Alejandro Sandí, who has appeared on the television series "El Señor de los Cielos," were present at the kidnapping and filed reports following the incident. Actress Esmeralda Ugalde said she was driving with Sandí and another actress when robbers cut them off, taking Sandí and the vehicle. The French Foreign Ministry confirmed that a French citizen was also abducted, but refused to disclose any further details for security reasons.
 UNITED STATES/MEXICO: The Mormon family whose relatives were killed in an ambush earlier this month is asking the United States government to designate Mexican drug cartels as terrorist organizations. The LeBarón family began a petition to encourage presidents Donald Trump and Andrés Manuel López Obrador to jointly develop a strategy to combat drug cartels. Members of the LeBarón family are also scheduled to speak with AMLO on Dec. 2 when they will ask him to accept the United States's offer to fight the cartels.
 UNITED STATES: Over the weekend, a crowd of 100 people stormed the Harvard-Yale football game during the halftime show to advocate debt relief for Puerto Rico and environmental justice. Students and alumni from both universities demanded the schools divest from fossil fuels and cancel their Puerto Rico debt holdings. The rally lasted about half an hour, after which those remaining on the field were removed by law enforcement. Harvard and Yale's endowment holdings are both managed by fund managers and by private equity firms invested in Puerto Rican debt.