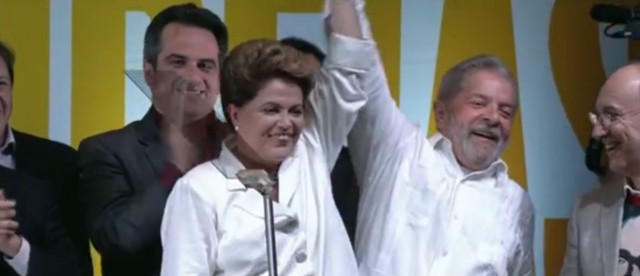 Brazil Re-elects Dilma Rousseff as President
October 27, 2014
By Staff
Top Story — Brazilian President Dilma Rousseff won her re-election bid in the closest race in the country's history, taking just over 51 percent of the vote to beat her opponent Aécio Neves. The tight victory marks the end of a campaign cycle that stunned observers for the atypically vicious attacks from both sides.
Rousseff, of the left-populist Workers' Party, opened her victory speech by saluting fellow party member and former President Luiz Inácio Lula da Silva, whose two-term tenure preceded her own. Rousseff's victory on Sunday ensures that the Workers' Party will have ruled for at least 16 years by the time her presidency ends.
Neves, of the center-right Social Democracy party, conceded defeat in a two-minute speech in Belo Horizonte, the capital city of Minas Gerais state, where he was a popular two-term governor between 2003 and 2010. In spite of his success there, Neves lost this key battleground state — the second-most populous in the country — to Rousseff. As Mauricio Moura, a George Washington University political strategy professor, told the Associated Press, "Brazil has never elected a president who didn't win in Minas Gerais."
Both candidates' campaigns became openly hostile in the weeks before Sunday's election. Former President Lula da Silva compared Neves' campaign to the Nazis. Neves' team, in turn, likened Rousseff's campaign strategist to Joseph Goebbels, Hitler's propaganda minister.
Following his defeat, Neves told his supporters that he congratulated his opponent over the phone, and stressed that the biggest priority moving forward is a sense of unity among Brazilians on both sides.
Despite Neves' loss, Sunday's results are the highest that the Social Democracy party has ever received during a presidential election — including the two terms won by former President Fernando Henrique Cardoso in 1994 and 1998. (On both occasions, Cardoso won during the first round of voting.) The last time election results came down to a single-digit percentage margin was in 1989, when da Silva lost his bid to Fernando Collor by 6 percent of the vote.
Headlines from the Western Hemisphere
North America
Caribbean
Central America
Andes
Southern Cone
Image: Screenshot, Globo