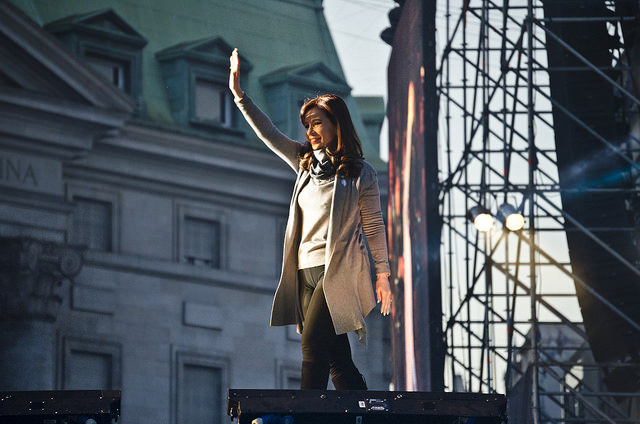 Case Against President Cristina Fernández Dismissed
February 27, 2015
By Staff
Top Story — A federal judge in Argentina has dismissed a criminal complaint against President Cristina Fernández that has captivated the country since the prosecutor working on the case, Alberto Nisman, was found dead in his apartment in January, just hours before he was to testify against Fernández. Ruling that Nisman's case was not sufficient to warrant a criminal investigation of Fernández, Judge Daniel Rafecas said that there was "not even circumstantial evidence" against the president.
Nisman, whose case was picked up by federal prosecutor Gerardo Pollicita following his death, had accused Fernández and other top officials of conspiring to cover up Iran's role in the 1994 bombing of a Buenos Aires Jewish community center in exchange for favorable trade conditions, particularly with respect to oil. The allegations, in tandem with Nisman's mysterious death, prompted suspicion of Fernández, who didn't help matters when she announced his death was a suicide early on, and then changed her tune and proclaimed it a murder.
"I dismiss the case because no crime was committed," Rafecas said. Fernández did not respond to the judge's ruling, but her interior minister announced on Twitter,"We always said Nisman's complaint against Fernández was nonsense. A judge confirmed that today."
Rafecas' ruling comes as Argentine lawmakers passed a bill Thursday that will overhaul the country's intelligence service, which played a central role in the controversy over Nisman's case. Nisman's evidence in the case against Fernández came in large part from former Argentine director of counterintelligence Antonio Stiusso, and Fernández has suggested that former intelligence agents were trying to smear her with Nisman's death. Fernández and her supporters say the new legislation will reign in the maverick agency, but opponents say the bill changes very little.
Headlines from the Western Hemisphere
North America
Caribbean
Central America
Andes
Southern Cone
Image: Ministerio de Cultura de la Nación Argentina, CC BY-SA 2.0