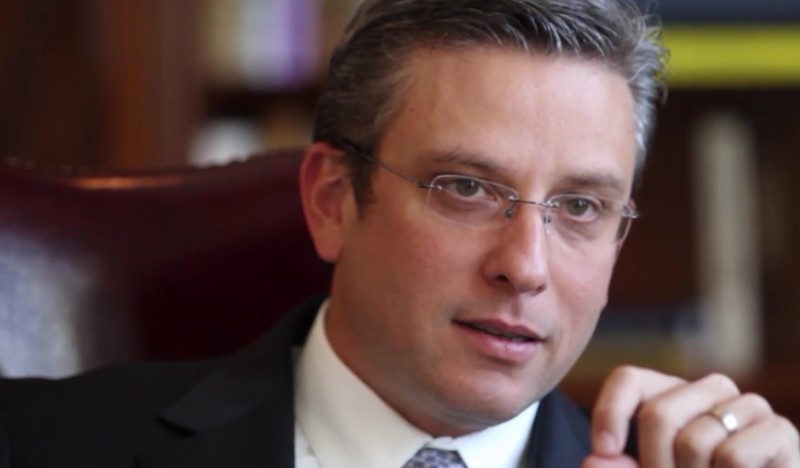 Puerto Rico's Governor Alejandro García Padilla. (
YouTube
, screenshot)
Puerto Rico Submits Budget With $674 Million in Cuts
May 21, 2015
By Staff
Top Story — Puerto Rico's government submitted a budget request on Wednesday of around $9.8 billion, representing austerity cuts of some $674 million as the U.S. territory continues to face a harsh financial crisis after eight years of economic recession.
Struggling under the weight of $72 billion in public debt, the island's Governor Alejandro García Padilla decided not to announce the budget on television, as has been tradition, but instead presented the bill after the legislature had recessed. In addition to setting aside $1.5 billion aimed at paying off Puerto Rico's massive public debt, the cuts reportedly also include plans to close some 95 schools and 20 public agencies in an effort to reduce costs.
The budget proposal, which calls Puerto Rico's economic situation a "historic fiscal crisis," comes after massive protests last week over proposals to slash $166 million from the University of Puerto Rico's budget — cuts that have since been rolled back after lawmakers agreed on a proposal to raise the sales tax from 7 percent to 11.5 percent.
Puerto Rico has faced years of austerity measures amid its continuing financial crisis, which saw, among other measures, the laying off of more than 20,000 public workers in 2009. The island's government recently attempted to file Chapter 9 bankruptcy due to the growth of public debt.
Puerto Rico alone is prohibited from filing Chapter 9 bankruptcy as a territory under U.S. law. However, the island territory's Resident Commissioner Pedro Pierluisi — a non-voting member of U.S. House of Representatives — has introduced a bill in Congress that would allow the commonwealth to do exactly that. If allowed to declare bankruptcy, Puerto Rico's $72 billion in public debt — accounting for around 70 percent of the islands GDP — would make its bankruptcy filing the largest in U.S. history.
Headlines from the Western Hemisphere
North America
Caribbean
Central America
Andes
Southern Cone