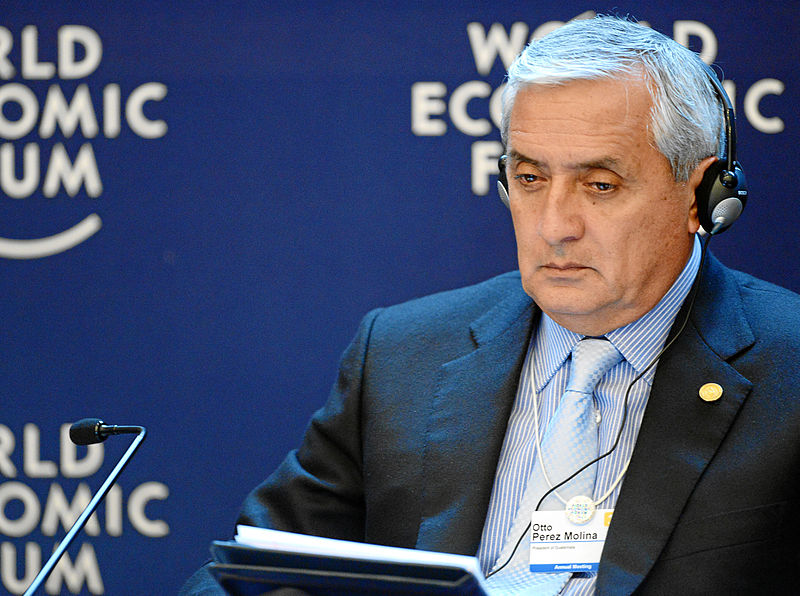 Guatemalan President Otto Pérez Molina, seen here at the 2013 World Economic Forum. (Image:
Michael Wuertenberg
, CC BY-SA 2.0)
Guatemalan Congress to Review Presidential Immunity Amid Corruption Scandals
June 11, 2015
By Staff
Top Story — Guatemala's Supreme Court on Wednesday cleared the way for the legislature to decide whether it will pursue the impeachment of President Otto Pérez Molina, who has faced calls to step down in recent weeks over two corruption scandals that have forced many of his closest associates to resign.
A five-member congressional commission must now decide whether to strip Pérez Molina of his presidential immunity, an act that would be unprecedented in Guatemala's modern history. If the president's immunity is taken away, proceedings similar to impeachment would take place.
The court's decision comes amid two corruption cases that have unseated a number of Pérez Molina's closest allies, including his vice president, the head of the intelligence agency, the former president of the country's central bank and a number of cabinet members.
One scandal, which brought down Vice President Roxana Baldetti, allegedly involved the acceptance of bribes from large businesses in exchange for lower customs fees — a plot allegedly masterminded by Baldetti's secretary. The other scandal involved officials at the country's Social Security Institute, who are accused of overpaying a Mexican pharmaceutical company in exchange for sizable kickbacks.
The scandals have resulted in large protests in Guatemala City calling for Pérez Molina's ouster. The president, for his part, has denied any involvement in either scandal.
Headlines from the Western Hemisphere
North America
Caribbean
Central America
Andes
Southern Cone