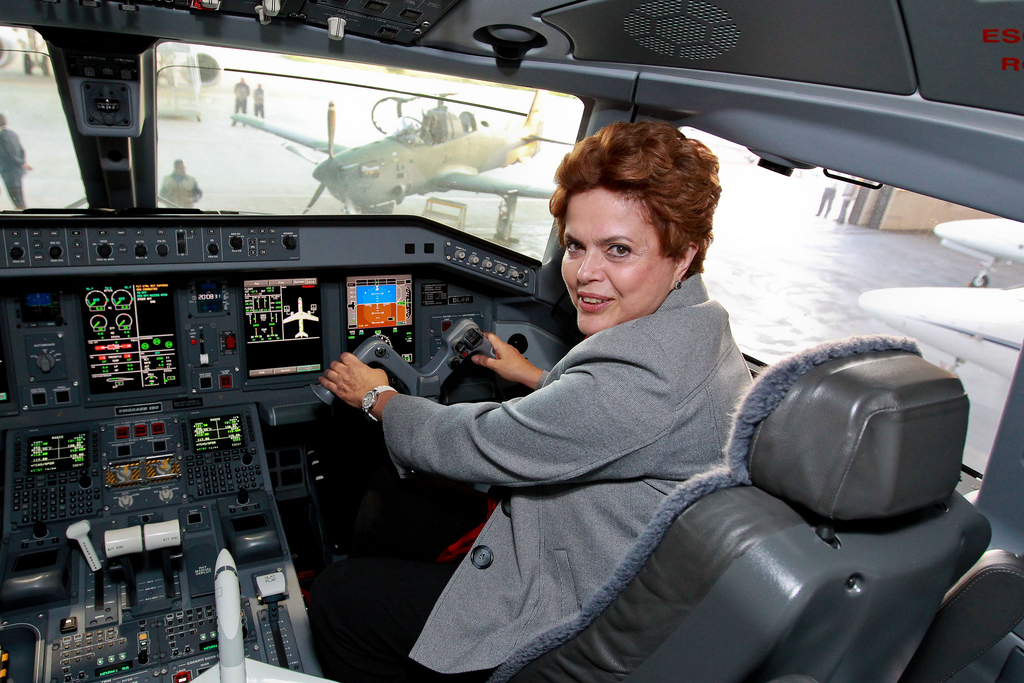 President Dilma Rousseff on a 2010 visit to Brazilian airplane manufacturer Embraer. (Image:
Dilma Rousseff
, CC BY-SA 2.0)
Brazilian President Seeks $64B Overhaul of Roads, Airports, Economy
June 10, 2015
By Staff
Top Story — Brazil's President Dilma Rousseff on Tuesday announced her government's plans to spur investment in infrastructure, an effort which could help modernize the country's roads, bridges, ports and airports as well as kick-start its struggling economy.
The initiative emphasizes the role of private finance in projects like airport renovations, Reuters reported, along with highway and railroad expansions and changes to the port system. The plan also calls for the creation of a new airport services company. A total of 198.4 billion reais ($64 billion) in project funding will be sought.
A prior infrastructure plan in 2012 only attracted a fifth of the 210 billion reais that were pursued. An economist told the Financial Times that many of the projects listed in Rousseff's Tuesday announcement were proposed in 2012. Rousseff, however, said that in this round, investors would be offered more favorable terms, Reuters reported, and while subsidies by the state development bank BNDES will reportedly be reduced, its role will still be "relevant," Rousseff said.
As Reuters reports, the World Economic Forum ranks Brazil's infrastructure 120th out of 144 countries.
While Reuters noted that Rousseff's announcement comes as she struggles with poor approval ratings due to high inflation, unemployment and a scandal at the state oil firm Petrobras, at least half of the projects would not begin until 2019, after the end of her second term as president.
Headlines from the Western Hemisphere
North America
Mexico announced that teacher testing will continue as planned in order to improve under-performing schools, despite protests by radical teachers' unions demanding that mandatory teacher evaluations be eradicated.
Mexico's Soccer Federation is investigating two players and the coach of the national team over tweets they sent on election day backing the Green Party, which would be breaking a code of ethics that maintains the team must remain impartial on religious and political affairs.
Caribbean
A new United Nations report reveals members of the U.N. peacekeeping mission in Haiti engaged in "transactional sex" with over 225 Haitian women, revealing that sexual exploitation continues to be underreported during such missions.
Soccer is fast becoming the sport of choice for younger generations in Cuba, threatening to unseat baseball as the country's most revered sports institution, reports The Wall Street Journal.
Central America
Former Panamanian President Ricardo Martinelli is being investigated by the country's Supreme Court for allegedly ordering illegal wiretaps on more than 150 people, including high-ranking opposition figures.
The Inter-American Commission on Human Rights has condemned the murder of a prominent transgender activist in El Salvador as a hate-crime, the ninth LGBT citizen reported killed since 2009.
Andes
A long-standing border dispute between Venezuela and Guyana has flared up again after the discovery of significant oil reserves off the coast of both countries, reports The Washington Post.
An Estonian climber missing since Sunday has been rescued in Peru, while authorities continue to search for the remaining three members of her mountaineering group.
Southern Cone
Alejandro Burzaco, the president of a sports marketing firm in Argentina wanted by U.S. officials for his connection to the FIFA corruption scandal, turned himself in to police in Italy following his nearly two-week disappearance.
Chile has implemented tougher sanctions, including higher fines and jail sentences, to curb racism, discrimination and violence at soccer matches ahead of the 2015 Copa America tournament, which begins Thursday.
Another 24-hour walkout by transportation workers in Argentina has brought parts of the country to a halt as unions protest high taxes and inflation.