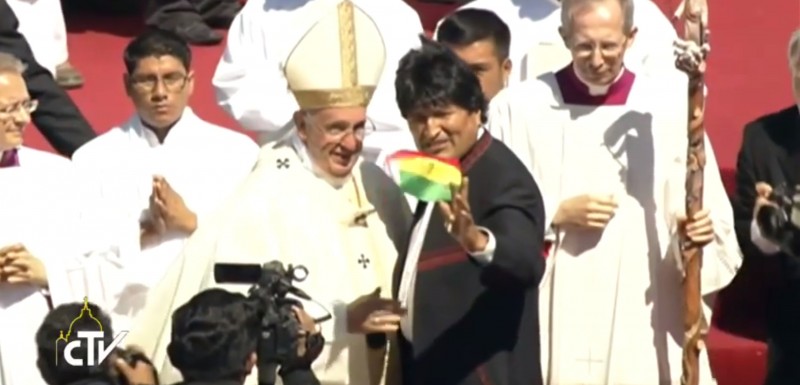 Pope Francis and Bolivian President Evo Morales in Santa Cruz, Bolivia. (Image:
Vatican
, public domain.)
Pope Apologizes For Colonial-Era Church Abuses
July 10, 2015
By Staff
Top Story — Pope Francis publicly apologized on Thursday for the abuses committed by the Catholic Church against the indigenous populations of the Americas during the colonial period, using stronger language than any other pope to date.
"I also want for us to remember the thousands and thousands of priests who strongly opposed the logic of the sword with the power of the cross. There was sin, and it was plentiful. But we never apologized, so I now ask for forgiveness. But where there was sin, and there was plenty of sin, there was also an abundant grace increased by the men who defended indigenous peoples," Francis said, drawing raucous applause from the audience in Santa Cruz, Bolivia, The Associated Press reported.
While Pope John Paul II also apologized while visiting the Dominican Republic in 1992, Francis went further, saying he was apologizing with "regret," according to the AP. John Paul's successor, Benedict XVI, made no such apology. Many in the church have long insisted it was a benevolent protector of indigenous populations against Spanish conquest. But in recent years more bishops have acknowledged the complications in that narrative.
Bolivia, the second stop on Francis' tour of South America, has the highest share of population identifying as indigenous in all of Latin America, and its president, Evo Morales, is the region's first person of indigenous descent to hold that office.
Francis' apology preceded another gesture of apparent humility. Before holding Mass, Francis changed into his vestments in the bathroom of a Burger King restaurant.
Headlines from the Western Hemisphere
North America
Caribbean
Central America
Andes
Southern Cone