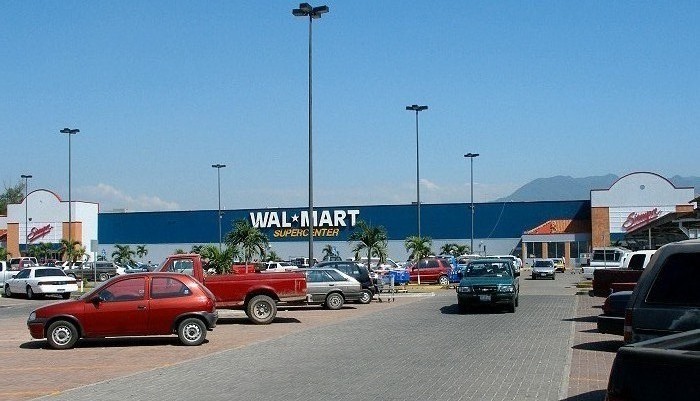 A Walmart in Puerto Vallarta, Mexico. (Image:
Coolcaesar
, CC BY-SA 3.0)
Report: Corruption Probe into Walmart's Mexican Operations Unlikely to Result in Prosecutions
October 20, 2015
By Staff
Top Story — A three-year investigation led by the U.S. Justice Department has found little evidence of corruption in the business practices of Walmart executives in Mexico, a Wall Street Journal report revealed Monday. Nearly 20 percent of Walmart's 11,500 stores are located in Mexico.
Using unnamed sources with knowledge of the case, the report detailed the findings of the multi-departmental investigation into a potential violation of the Foreign Corrupt Practices Act. The sources have claimed that, with the five-year statute of limitations on corruption charges looming, the case in Mexico could be resolved with a small fine and no criminal charges. The Justice Department investigation allegedly failed to differ significantly from Walmart's internal investigation.
The findings challenge a 2012 series of Pulitzer Prize winning New York Times reports into the company's practices in Mexico, which found that Walmart de México executives reportedly attempted to hide $24 million in suspect payments. Those bribes were allegedly made to government officials and other middlemen to acquire permits, circumvent democratic oversight and best competition in facilitating the construction of new stores in the country.
The 2012 investigation caused Walmart stock prices to fall nearly 5 percent immediately following its release, costing a reported $10 billion. In response, Walmart fired their legal counsel in Mexico and spent nearly $650 million on the internal investigation and compliance upgrades.
The recent federal investigation did, however, reportedly find evidence that Walmart paid widespread but small-scale bribery in India, and that charges are expected in that case.
Headlines from the Western Hemisphere
North America
Caribbean
Central America
Andes
Southern Cone