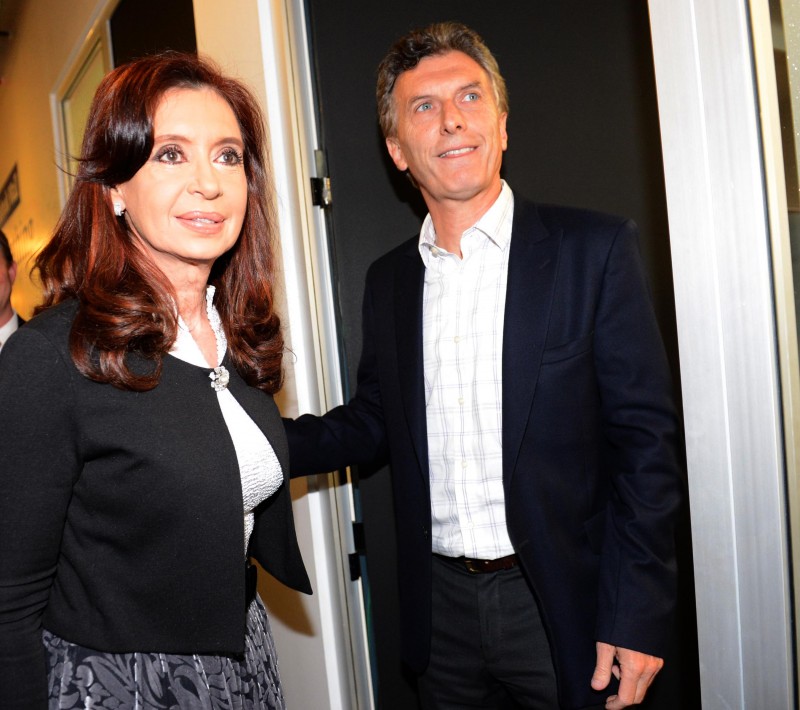 Argentine President-elect Mauricio Macri and his predecessor Cristina Fernández de Kirchner in 2104. (Image:
Presidency of Argentina
, Public Domain).
Macri Assumes Argentine Presidency Amid Feud with Predecessor
December 10, 2015
By Staff
Hello subscribers, sorry for the delay this morning in sending you Today in Latin America. We have been having technical difficulties with our website, but they should now be solved. Thanks for your patience!
— The LAND staff
Top Story — Mauricio Macri assumed the presidency of Argentina today, signaling a shift away from the left-leaning populism of President Cristina Fernández de Kirchner, although Argentina remains divided, in some cases bitterly so.
Macri's inauguration comes amid a bitter public feud with Kirchner, who has decided not to attend today's ceremony. Kirchner harangued the incoming president and his staff during her exit speech on Wednesday night for his pro-business stance and plans to liberalize the economy and increase U.S. investment, including an announcement on Dec. 6 that he would seek to end capital controls which limit the amount of U.S. dollars that can be taken out of Argentina.
The country's central bank chief Alejandro Vanoli, a Kirchner ally, stepped down on Wednesday, a move he threatened if Macri won the November run-off elections.
Macri will appoint as Vanoli's replacement the U.S.-educated Federico Sturzenegger, a current legislator and chief economist at the state-run oil and gas company YPF. Critics say Macri is working too closely with U.S. economic interests and fear austerity measures that could lead to cuts in the social spending that expanded under Kirchner and her late husband.
Just Published in Latin America News Dispatch
Headlines from the Western Hemisphere
North America
Caribbean
Central America
Andes
Southern Cone