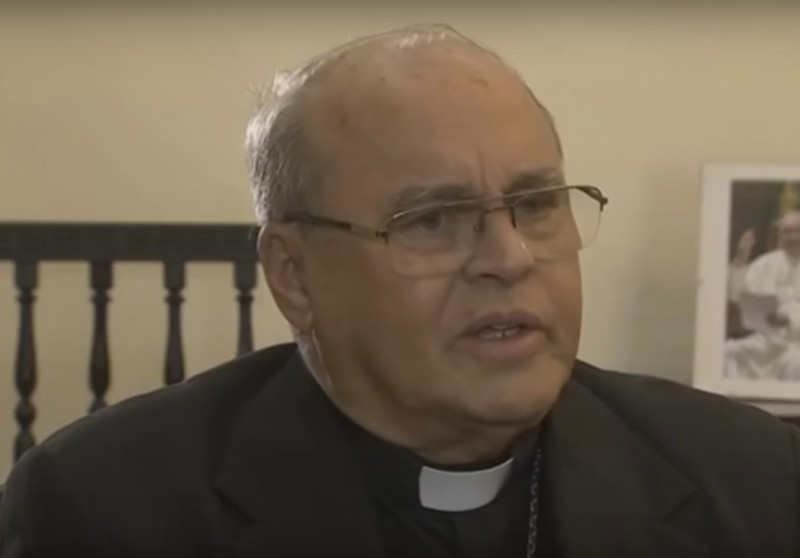 Cardinal Jaime Ortega. (Image:
Youtube
, screenshot)
After Transforming Church's Role in Cuba, Longtime Havana Cardinal Steps Down
April 27, 2016
By Staff
Top Story — Cardinal Jamie Ortega, the longtime leader of the Catholic Church in Cuba and a key player in the clandestine negotiations that resulted in resumed diplomatic relations between the United States and Cuba, stepped down on Tuesday. His retirement was expected, and he will be replaced by Juan de la Caridad García Rodríguez as Havana's archbishop, the Associated Press reported.
Ortega, 79, had been the Archbishop of Havana since 1981 and is credited with passing along letters from the Vatican to U.S. President Barack Obama and Cuban President Raúl Castro urging them to reach a political detente.
Ortega also oversaw three papal visits to Cuba and served during a period in which, according to The New York Times, "the church became the only institution outside the government with any sway on the island."
In the years since Ortega assumed his position, the church has expanded its influence into areas formerly dominated by the state and encouraged the government to accelerate economic reforms. In contrast with the marginalization that followed the revolution in 1959, the church is now expanding in both size and scope, offering social services like job training.
Ortega faced criticism, especially among the Cuban exile community, for allegedly not doing enough to support Cuba's dissidents, including notably calling a group of activists "delinquents" in one case. The Miami Herald suggests Ortega sought a greater role for the church in Cuba at the expense of fully supporting pro-democracy efforts by dissidents.
Ortega's retirement comes amid a generally chilly backlash from the Cuban government following the positive hype surrounding Obama's visit to Havana last month. On March 28 former Cuban President Fidel Castro wrote a rare open letter in the state-run newspaper Granma, warning, "we don't need the empire to give us anything."
Revolutionary rhetoric also predominated at Cuba's Communist Party Congress earlier this month, when President Raúl Castro announced he and other top party leaders would remain in power for at least another five years. The overriding message of the party congress was of continuity, and of improving upon Cuban socialism even in light of economic reforms and warmer relations with the United States.
In choosing García as Havana's new archbishop, Pope Francis did not specify whether he expected him to follow Ortega's political example and continue to advocate for change.
Headlines from the Western Hemisphere
North America
Caribbean
Central America
Andes
Southern Cone