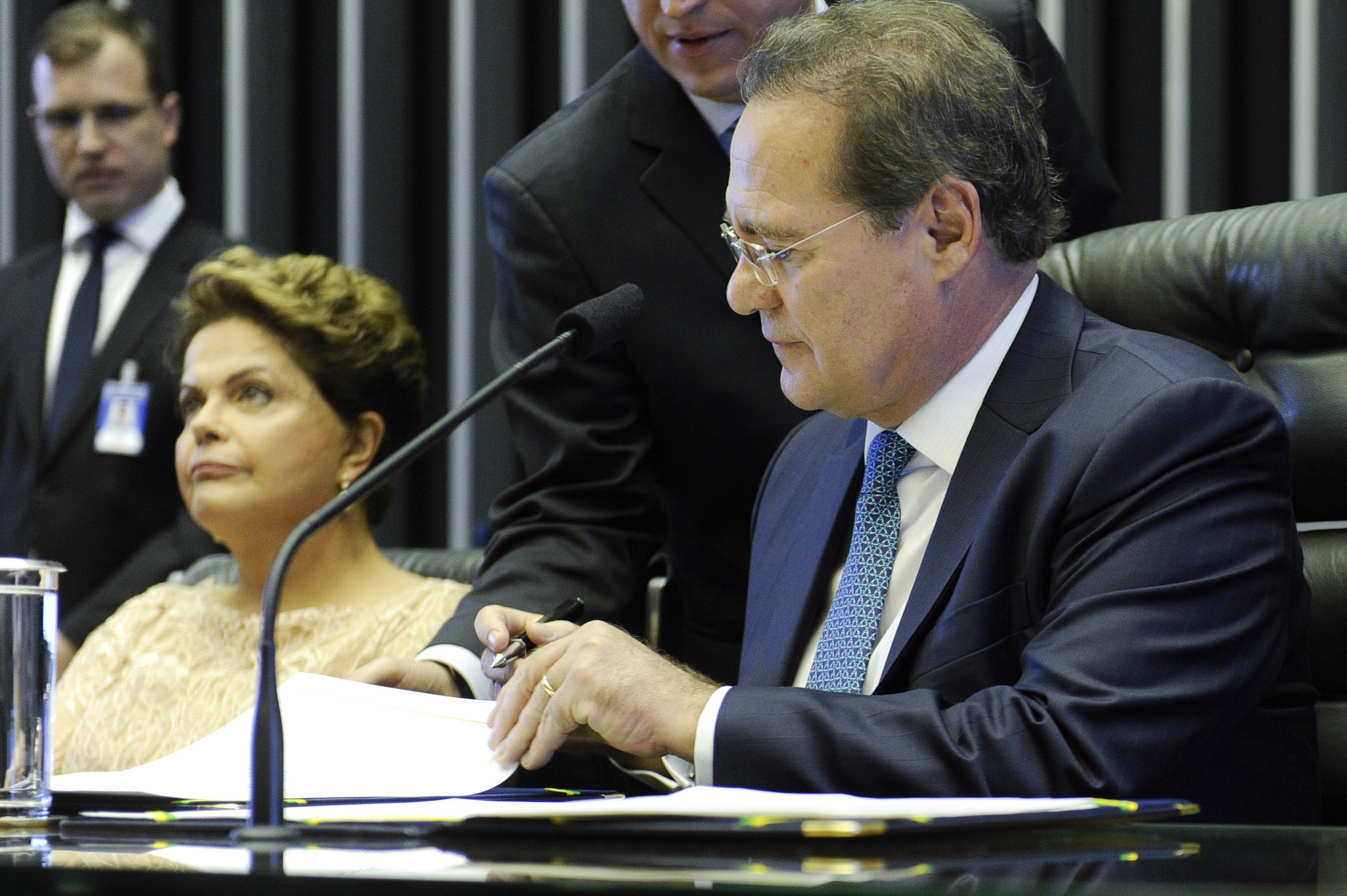 Brazil's President Dilma Rousseff and the Senate leader Renan Calheiros. (Image:
Brazilian Senate
, CC BY 2.0)
Brazil's Opposition Party Split on Decision to Support New Interim Government
April 26, 2016
By Staff
Top Story — Looking ahead to a 2018 presidential run, Brazil's largest opposition party is split on the degree to which they will support a provisional government in the likely case that President Dilma Rousseff is impeached through a Senate vote on May 12.
Senior members of the Brazilian Social Democracy Party (PSDB) said Monday that while it would back former Vice President Michel Temer's interim government, the party is divided on the decision of joining his cabinet, Reuters reported.
The maneuvering comes just two weeks after Brazil's lower house of Congress voted to impeach the president, casting Rousseff into a fight to stay in office that led her to make a speech at the UN General Assembly in New York last Friday, where she described her opponents as "coup mongers."
Temer's March 29 split from the government coalition had been the loudest death knell for Rousseff's presidency up until the fateful vote a few weeks later. He is currently working with his Brazilian Democratic Movement Party to prepare to assume the presidency in May as Rousseff will be suspended from her office if the Senate deals the final blow with an impeachment vote.
In light of Brazil's worst economic recession since the 1930s, business leaders are pressuring PSDB to fall in line with Temer in order to restore investment credibility and quell the crisis. Former central bank governor and PSDB member Henrique Meirelles is likely to be offered the position as Temer's finance minister in the interim cabinet; more top posts are expected to be offered to other PSDB members.
Yet PSDB leaders are wary of their top members accepting cabinet positions like this one, as party leader Aécio Neves, who is expected to run in the 2018 elections, said last week. Still, the party walks a fine line, because if they do not fully join the Temer government and the interim president manages to pull Brazil out of the recession, PSDB could lose in the next election. The party plans to meet on May 3 to make a final decision on their position towards a likely Temer presidency.
The PSDB holds leverage over Temer in another way; the party has led efforts to annul Rousseff's presidency through a case in the Supreme Electoral Tribunal based on allegations of illicit campaign financing. If that case succeeded, Temer, as Rousseff's running mate in 2014, would be forced out of office as well.
Headlines from the Western Hemisphere
North America
Caribbean
Central America
Andes
Southern Cone