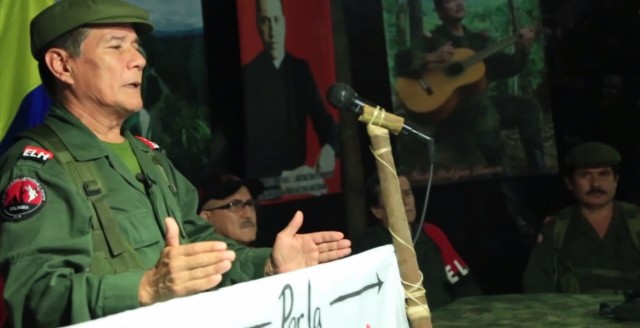 Colombian Rebel Group ELN Open to Peace Talks with Government
January 8, 2015
By Staff
Top Story — Colombia's ELN, the country's second-largest guerrilla group after the FARC, proclaimed its willingness to engage in peace talks with the government on Wednesday. The announcement follows President Juan Manuel Santos' Monday statement that ongoing peace talks with the FARC are progressing favorably, and that the ELN should follow suit.
Wednesday's announcement by the ELN was delivered via video link to rebels currently assembled in the jungle by the ELN's founder and top commander, Nicolás Rodríguez, best known under the alias Gabino. It has been interpreted as a direct response to the president's words on Monday, when he declared, "We want to invite the ELN to join the initiative of the unilateral ceasefire, as the FARC did, and also to come to an agreement as soon as possible about the points of the agenda that we've been discussing for some time."
While the FARC has engaged in formal peace talks with the government over the last two years, the ELN has for months held only exploratory talks about the possibility of formal negotiations.
Speaking with regard to ongoing peace talks with the FARC, Santos praised the rebel group's compliance with an open-ended, unilateral ceasefire that the group initiated on Dec. 20. The honoring of the ceasefire, according to the president, will allow for the acceleration of the peace talk process, and a possible bilateral ceasefire. Santos had previously rejected the idea of a bilateral ceasefire, citing the fact that the FARC used a ceasefire during peace talks from 1999 to 2002 to rearm and increase the size of its army.
Headlines from the Western Hemisphere
North America
Caribbean
Central America
Andes
Southern Cone
Image: ELN, screenshot
Subscribe to Today in Latin America by Email