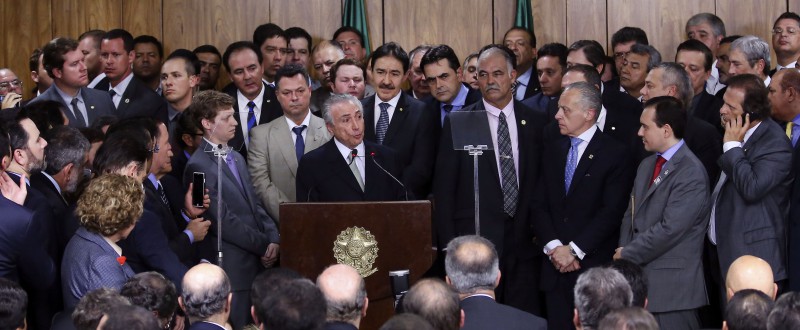 Brazilian president Michel Temer and his ministers (Valter Campanato/Agência Brasill)
Brazil's unpopular, scandal-plagued president weighs bid for new term
March 26, 2018
By Staff
TODAY IN LATIN AMERICA
Despite approval ratings that have settled in the single digits, Brazilian President Michel Temer may seek a second, full term in October's national elections. Speaking with Istoé magazine last week, Temer said "it would be cowardly not to be a candidate," insisting that he is "proud" of the way his administration has governed the "literally broken" country he inherited. Temer, who had recently denied any plans to run in October, said he may not announce a decision for another month and a half, but signaled that a future candidacy "is not unlikely."
A relatively low-profile longtime lawmaker with a reputation as a backroom power-broker, Temer entered office by leading a successful impeachment campaign against his former running-mate, Dilma Rousseff, in 2016. His administration has been mired in near constant scandal ever since, with Temer himself leaning heavily on congressional allies to preserve his prosecutorial immunity as president. Should he decide to launch a candidacy, Temer would look to consolidate the political center, against far-right insurgent Jair Bolsonaro and former center-left President Luiz Inácio Lula da Silva, who has continued to defy an upheld court conviction that could prevent his name from appearing on the ballot in October.
HEADLINES FROM THE WESTERN HEMISPHERE
NORTH AMERICA
Mexican authorities arrested three former local officials Saturday for mishandling the investigation into the 2001 murder of eight girls and women in the border state of Chihuahua. The victims, who ranged from ages 15 to 19 and whose bodies displayed signs of rape and torture, were found in a cotton field outside Ciudad Juárez. Following a 2011 Inter American Court of Human Rights decision, ordering Mexico to re-open the case and scrutinize the original investigators, the cotton field became a memorial to the city's endemic femicide.
In an attempt to exert pressure on NAFTA negotiations, President Donald Trump set a May 1 expiration date for Mexico and Canada's exemption from new U.S. aluminum and steel tariffs. On Saturday, European Commission President Jean-Claude Juncker said it was unrealistic to expect talks to conclude by the deadline, which was established by executive order and also applies to the European Union.
CARIBBEAN
Puerto Rican authorities reiterated Friday that they will not accept pension cuts called for by the federal control board supervising the archipelago's finances. The board's plan would reduce monthly pension payments above $1,000 by an average of 10 percent, a proposal that was removed from the revised plan put forward by the administration of Gov. Ricardo Rosselló. Christian Sobrino, Puerto Rico's representative to the control board, said that the board's plan, in its current form, would encourage further population exodus, rendering Puerto Rico a "footnote in the history of the Caribbean."
CENTRAL AMERICA
At least 17 forest fires have broken out in eight different Guatemalan departments over the last five days, according to the national disaster management agency. Authorities claim that five were brought under control by the end of weekend. A government spokesperson reported that more than 740 hectares have been consumed by forest fires throughout the country in 2018.
A week before the second and final round of Costa Rica's presidential elections, just one percentage point separates the two candidates, according to a new poll conducted by the Political Studies and Investigation Center. Fabricio Alvarado, an evangelical preacher from the conservative National Restoration Party, enjoys a slight advantage on former ruling party cabinet member Carlos Alvarado, with 43 percent support among likely voters. Some 15 percent of respondents said they are still undecided heading into the April 1 vote.  
ANDES
José Antonio Abreu, the renowned orchestral director who created Venezuela's "El Sistema" music education program, died Saturday, at age 78. Launched in 1975, El Sistema was designed to introduce youth to classical music through choirs, orchestras and music centers across the country, particularly in poorer areas, with the purpose of "democratizing music." It has since been replicated across 60 countries and received various awards, including recognition from UNESCO and the Royal Swedish Academy of Music.
In his first address as president, Martín Vizcarra pledged Friday to confront corruption and restore faith in Peru's governing institutions. Vizcarra is taking over for his disgraced former running-mate Pedro Pablo Kuczynski, who resigned the presidency last week amid a deepening bribery scandal and was stripped of his passport by a judge on Saturday. The former vice-president and governor said he will form a completely new cabinet but did not mention specific anti-corruption measures.