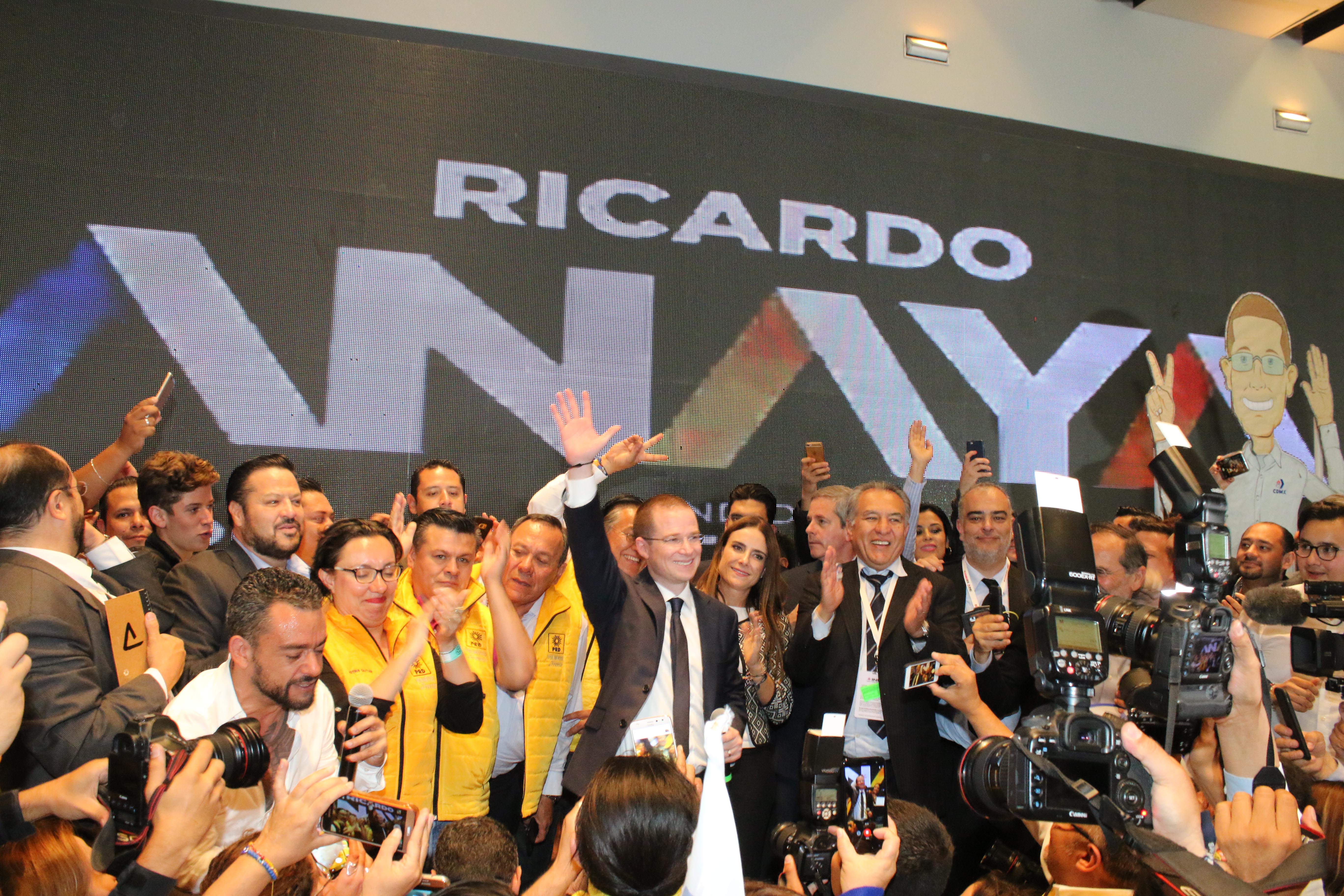 Ricardo Anaya, Mexican presidential candidate for the coalition Por México al Frente at the first presidential debate on April 22. Photo by PANCDMX PAN Ciudad de México on Flickr
European authorities may be investigating alleged money laundering by Mexican presidential candidate Anaya
April 26, 2018
By Staff
TODAY IN LATIN AMERICA
MEXICO: European authorities are investigating an alleged money laundering scheme set up to support  Ricardo Anaya, Mexican presidential candidate for a coalition that includes his center-right party PAN and center-left PRD, reported the Spanish newspaper El Español citing unnamed sources. Juan Pablo Olea Villanueva, a Spanish and Mexican dual citizen and a close ally of Anaya, owns at least 14 companies in Spain with alleged irregularities in their financial statements that would suggest money laundering.
Since February, the Mexican office of the General Attorney has been investigating a possible crime in the financing of Anaya's campaign that involves Olea Villanueva and his boss Manuel Barreiro, who is currently in hiding in Canada. Anaya and the PAN have denounced the investigation as a plot by current president Enrique Peña Nieto and his party, the PRI, to destabilize the presidential campaign but an investigation by European authorities would give credence to the accusations.
HEADLINES FROM THE WESTERN HEMISPHERE
NORTH AMERICA
MEXICO-UNITED STATES: The migrant caravan that President Trump has targeted with angry tweets, finally reached the border between Tijuana and San Diego on Tuesday. Around 380 people will be asking for asylum in the United States.
CARIBBEAN
HAITI: Six U.S. lawmakers have urged the U.S. government to help Haiti put an end to the reported $400 million a year it loses in uncollected revenues from untaxed Dominican Republican goods brought across the border illegally. Former Haitian Finance Minister Daniel Dorsainvil, said it creates unfair competition for Haiti and also has cost the country about 560,000 jobs in agriculture and manufacturing.
PUERTO RICO: Two men were detained south of Patillas, Puerto Rico, by the U.S. Coast Guard attempting to smuggle a shipment of cocaine and heroin worth an estimated wholesale value of $13.3 million. The men, one Puerto Rican and one Dominican, were initially detected by a maritime patrol aircraft while riding a go-fast boat that had visible packages on deck.
CENTRAL AMERICA
NICARAGUA: The death toll from the anti-government protests that have rocked the country for the past week after President Daniel Ortega announced pension cuts reached 30 according to Nicaragua's Center for Human Rights. The government hasn't updated an official death toll since Friday, when it announced 10 people had died.
HONDURAS: The southern Honduran city of Choluteca is suffering under an intense drought affecting its 200,000 residents, due to the privatization of the Choluteca River some years before according to Mayor Quintín Soriano. It is the only river in private use in Honduras.
ANDES
VENEZUELA: Chevron has withdrawn its executives from Venezuela, following last week's arrest of two of its employees on possible treason charges. The arrests stem from a procurement dispute between the U.S. multinational and PDVSA, Venezuela's state oil company. Another U.S. oil firm, ConocoPhillips, claimed victory yesterday in a $2 billion international arbitration against PDVSA.
COLOMBIA: In another blow to the FARC peace process, the former commander known as Iván Márquez suggested he will no longer assume one of the Senate seats set aside for the rebel group's new  political party. Márquez characterized the recent arrest of fellow commander alias Jesús Santrich, who is wanted for extradition to the U.S. on drug charges, as a political persecution, saying he has no desire to serve as a senator just for "them to call me a narcotrafficker."  
SOUTHERN CONE
PARAGUAY: Center-left coalition candidate Efraín Alegre is calling for a formal recount of Sunday's presidential election results, claiming to have proof that Mario Abdo's narrow victory benefited from fraud on the part of the right-wing Colorado ruling party. More than a thousand Alegre supporters rallied outside national election headquarters in Asunción Tuesday night,  but authorities have thus far dismissed allegations of irregularities.