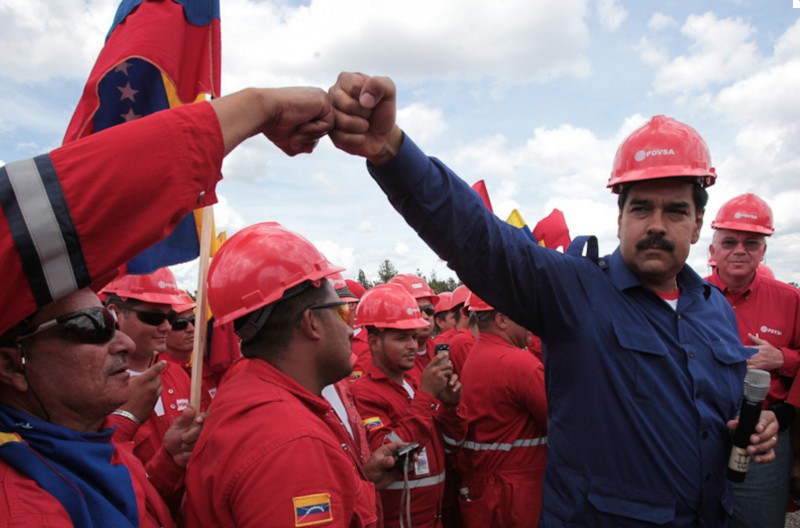 Venezuelan President Nicolás Maduros on a visit to PdVSA oil workers in the Orinoco Petroleum Belt (Image:
Venezuelan Government
, Public Domain)
Venezuela's Maduro Gains Decree Powers, Sidestepping Opposition Legislature
February 12, 2016
By Staff
Top Story — Venezuela's President Nicolás Maduro gained effective decree powers on Thursday after the Supreme Court ruled in favor of his declaring a state of economic emergency, dealing a blow to the opposition-controlled National Assembly.
The top court's move was swiftly branded unconstitutional by Maduro's critics and denounced as equivalent to a coup, The Associated Press reported. Maduro's administration has taken a series of measures to maintain control of Venezuela's government ever since an opposition-led coalition gained a supermajority during a landslide electoral victory in December.
Maduro had proposed assuming decree powers in January, arguing that he needed expanded executive powers to fight triple-digit inflation and economic recession. The legislature rejected it by a 107-53 vote, arguing that it failed to offer concrete solutions to the country's economic woes.
The Supreme Court's decision, made public on Thursday, determined that Maduro did not need legislative approval to declare a state of economic emergency, granting him decree powers for a period of 60 days.
Maduro did not immediately outline the policies he will enact by decree, but has previously pledged to raise gas prices and alter the currency exchange system to combat a thriving black market in U.S. dollars.
Headlines from the Western Hemisphere
North America
Caribbean
Central America
Andes
Southern Cone
Subscribe to Today in Latin America by Email