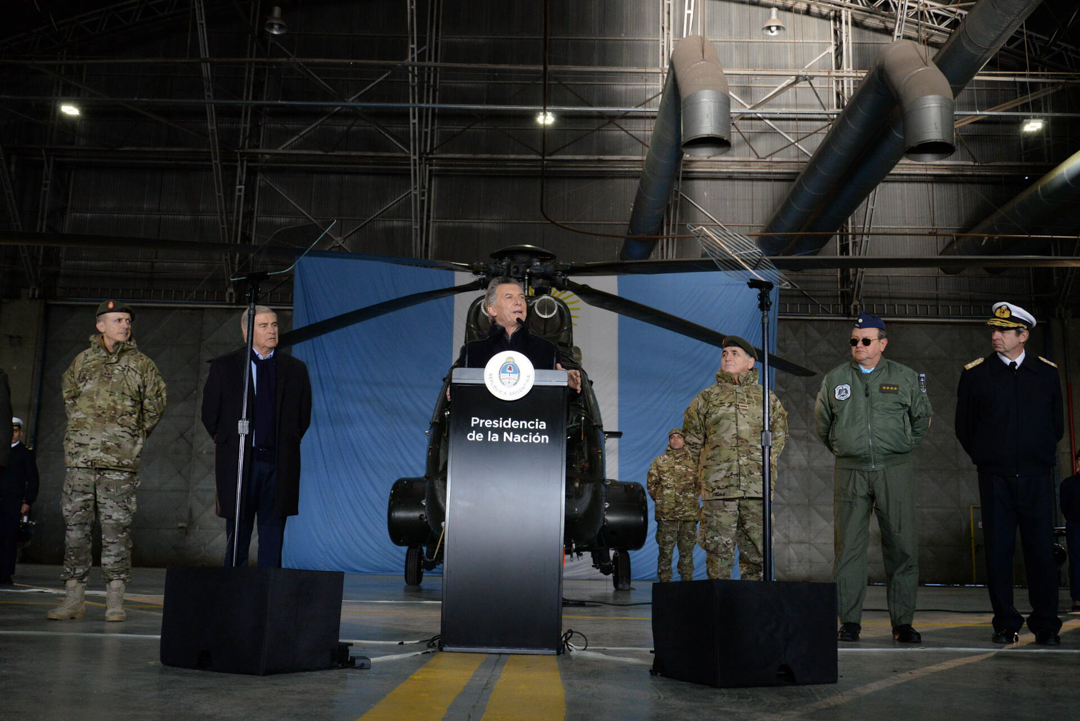 President Mauricio Macri announces a reform of the National Defense System at the Campo de Mayo military garrison, July 23, 2018. Photo from Casa Rosada Presidencia de la Nación www.casarosada.gob.a//informacion/fotos, CC0
Argentina president announces controversial military participation in internal security
July 24, 2018
By Staff
TODAY IN LATIN AMERICA
ARGENTINA: President Mauricio Macri said on Monday he is pushing for a reform that will allow the armed forces to participate in fighting crime, drug traffic, terrorist threats and other internal security issues. The role and size of the military had been limited since the return to democracy after the dictatorship of 1976 to 1983, when a military junta ruled the country resulting in up to 30,000 people being kidnaped and forcibly disappeared and over 2,000 members of the armed forces later accused of crimes against humanity. Macri, who raised the wages of military members two weeks ago, promised during his speech at the base of Campo de Mayo to invest in new technology and equipment for the armed forces. The president's support of the military is a fulfillment of a campaign promise to give them back their rightful place.
Human rights groups criticized the decision saying it poses a risk to human rights and defending a strict separation between defense and security. Macri said he will modify a 2006 decree that limited the armed forces to the defense of Argentina against attacks by another country, but analysts say he will also need to modify through Congress, where Macri does not hold a majority, the laws of Defense (1988), Interior Security (1991) and Intelligence (2001) which prohibit the participation of the military in internal security.
HEADLINES FROM THE WESTERN HEMISPHERE
NORTH AMERICA
MEXICO: The interior department released a report over the weekend that shows that homicides rose by 16% in the first half of 2018 compared with the same period in 2017. With 15,973 homicides reported, it is the highest number since comparable records began being kept in 1997 and if the trend continues by the end of the year national homicides will be 22 per 100,000 population, close to the levels of Brazil and Colombia which have a rate of 27 homicides per 100,000 people but still well below Honduras and El Salvador where the homicide rate is 60 per 100,000.
CARIBBEAN
PUERTO RICO: Gov. Ricardo Roselló asked yesterday for federal help for the crisis of the archipelago's forensics institute that was made public by an inquiry by lawmakers into complaints of backlogs and bad odors. Rosselló asked the secretary of the U.S. Health Department of Health and Human Services for up to two years' worth of technical support.
CENTRAL AMERICA
NICARAGUA: President Daniel Ortega gave a rare unscripted interview to Fox News yesterday where he said that bringing the 2021 elections forward as demanded by the opposition would only bring more instability and denied his government's responsibility in the bloodshed that has cause between 277 to 351 deaths, according to the Inter-American Commission of Human Rights and the Nicaraguan Pro-Human Right Association. Last week, Ortega had blamed the violence on a  "murderous, coup-mongering satanic sect," and yesterday he said the militia groups behind many of the attacks on demonstrators were not allied to his government, as it has been documented, but were supported by  drug traffickers and political enemies of his administration. Yesterday, thousands of supporters and opponent of Ortega gathered in Managua in rival demonstrations, but no clashes were reported.
GUATEMALA: A former president of Congress was arrested in Monterrey, Mexico, yesterday on charges of corruption. Luis Rabbé is accused of abuse of authority, illegal appointments and misuse of public funds and had been running from justice since August 2016, soon after he finished his period in the Guatemala Congress.
ANDES
VENEZUELA: Hundreds of health workers continued their month-long protest yesterday despite President Nicolás Maduro's promises over the weekend to increase investments in the health sector. Doctors and nurses demand higher wages to offset inflation and funding for equipment and basic medical resources.
SOUTHERN CONE
BRAZIL: Hundreds of people led by acrobats on stilts wearing bloody camouflage outfits demonstrated in Rio de Janeiro to demand an end to police brutality and mark the 25th anniversary of the Candelaria massacre, when police officers fired on homeless children and teenagers who were sleeping in front of Candelaria Church killing eight, ages 11 to 19. Three officers were sentenced and later pardoned. The protest comes at a time of a controversial move by President Michel Temer to impose military control over policing as violence spirals in the Rio de Janeiro state.
CHILE: The Office of the Attorney General published yesterday a report showing all the cases of sexual abuse related to the Roman Catholic Church that it has investigated. The report shows there have been 144 separate investigations for 266 victims, including 178 children and teenagers, going back as far back as 1960. Of the 158 people investigated, 139 are bishops, priests or deacons and the rest are lay persons in charge of pastoral parishes or linked to schools. The report says 22 cases have resulted in convictions and 36 investigations remain open.