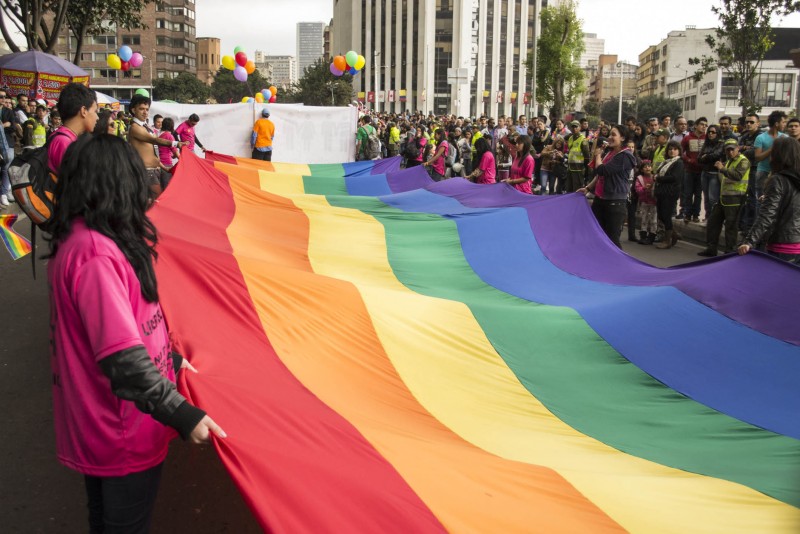 A 2013 LGBT rights march in Bogotá. (Image:
Diego Cambiaso
, CC BY-SA 2.0)
Colombia High Court Ruling Lays Groundwork for Gay Marriage
April 8, 2016
By Staff
Top Story — Colombia's constitutional court decided in a 6-3 vote Thursday against a ruling that defined marriage as only between heterosexual couples, positioning the country to become the fourth in Latin America to legalize gay marriage.
"This is a victory against all the conservative political parties, against the Catholic church and everyone who tried to block our rights," Luís Felipe Rodríguez, a gay rights activist from Cali, told The Guardian.
Argentina, Brazil and Uruguay have legalized same-sex unions since 2010, placing Latin America at the unlikely forefront of the marriage equality fight despite the continent's deep ties to the Catholic church and legacy of social conservatism. In 2009, Mexico City became the first Latin American capital city to legalize gay marriage.
The progressive policies of some Latin American governments contrast with laws that many activists say restrict women's rights, especially concerning abortion. The latter point has gained additional prominence amid the region's Zika crisis, as a result of which many organizations have advised women to defer pregnancy due to the risk of birth defects.
Thursday's decision marked a surprising turn in a prolonged battle in Colombia's constitutional court. A 2011 ruling defined gay couples as families, and requested that Congress pass legislation to grant them the same rights as heterosexual ones. If Congress did not pass a law before a June 2013 deadline, same-sex couples would automatically be able to legalize their unions. But owing to vague language in the court's ruling, The Guardian notes, notaries and judges who opposed gay marriage were able to deny couples' requests to be married. Many were told that they could only enter into a "solemn contract" instead.
The decision on Thursday rejected a proposed ruling that would have banned notaries outright from recognizing same-sex couples as married. A subsequent ruling is expected in the coming weeks, The Associated Press reports, which will establish as discriminatory the practice of refusing to recognize the legitimacy of same-sex unions, therefore legalizing gay marriage.
Headlines from the Western Hemisphere
North America
Mexico's government announced Thursday its plan to improve its image in the United States, just days after Republican presidential candidate Donald Trump announced his plan to potentially block remittances from undocumented Mexican immigrants in order to force Mexico to fund a border wall. Part of of the strategy involves Mexican President Enrique Peña Nieto's move to send both a new ambassador and a public relations expert to Washington in order to counter Trump's damaging rhetoric.
The Atlantic profiles Miami's Little Havana neighborhood, where demographics are shifting as lower-income immigrants from Central America replace Cuban immigrants, but businesses still try to play up their "Cubanness" to turn a profit.
Caribbean
The former Cuban leader Fidel Castro made a rare public visit on Thursday in honor of the birthday of Vilma Espin, a revolutionary heroine and Castro's sister-in-law, a move that comes just days after Castro wrote a critical open letter in response to U.S. President Barack Obama's visit to the island.
The AP reports on Cuba's upcoming Communist Party congress, to be held April 16-19, during which leader Raúl Castro will outline the party's vision for the expansion, if any, of economic freedoms on the island. Party insiders have made unusually frank complaints about the lack of a public debate ahead of the congress.
The U.S. First Court of Appeals restored gay marriage rights to Puerto Rico on Thursday, after a U.S. District Judge earlier ruled that the Supreme Court's landmark decision did not apply to the U.S. territory.
Central America
El Salvador's Congress approved a $100 million dollar, 20-year loan to finance efforts against soaring crime: additional police, investigations, prosecution and other measures.
Andes
Venezuela's President Nicolás Maduro said he would consider pursuing a constitutional amendment to truncate the term length of the opposition-led congress from five years to two months, an effort to thwart what he describes as a coup attempt.
Maduro further escalated his power struggle against congress by vetoing legislation that would award amnesty to imprisoned politicians and activists who the law's authors consider political prisoners for having resisted the administrations of Maduro and his mentor Hugo Chávez.
Humberto de la Calle, Colombia's former vice president and lead negotiator in the ongoing FARC peace talks said he created a company in Panama to manage his family's estate but denies any wrongding in connection with the Panama Papers revelations, saying that he paid adequate taxes to the Colombian government and eventually returned the assets to Colombia.
Southern Cone