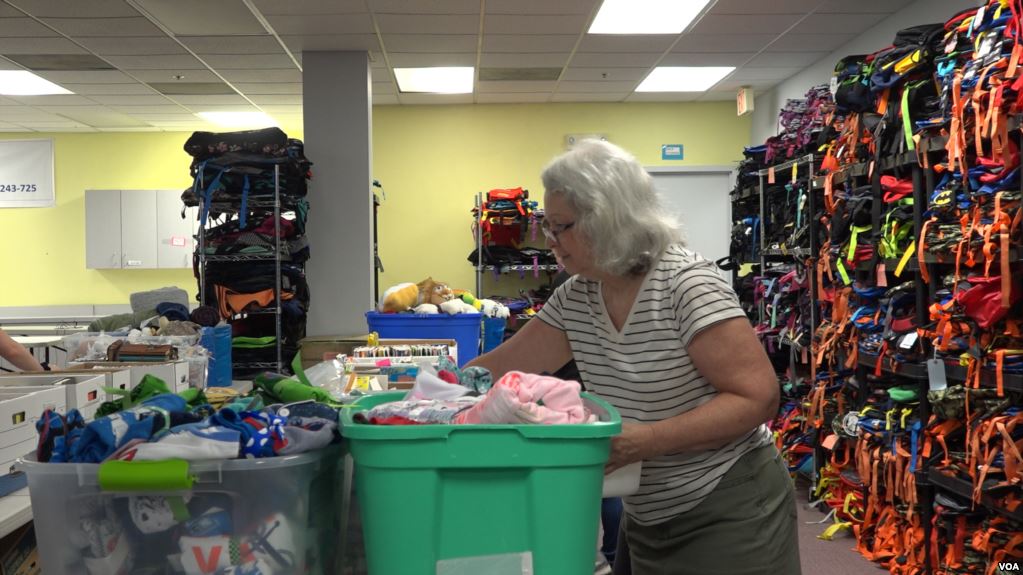 A volunteer at a nonprofit prepares care packages for the children separated from their parents at the U.S.-Mexico border. Photo by Voice of America, CC0
Trump administration failed to reunite all separated migrant children before court deadline
July 27, 2018
By Staff
TODAY IN LATIN AMERICA
UNITED STATES: The Trump administration was not able to reunite by yesterday's deadline711 of the children five and older separated from their parents under a new immigration policy designed to deter undocumented immigrants. The administration said it had fulfilled the order by a federal judge in San Diego after it reunited 1,442 children with their parents in U.S. Immigration and Customs Enforcement custody and 378 with parents not in custody or with sponsors. But 711 children remain in federal custody and have been deemed "ineligible" for reunification, these include 431 children whose parents have been deported, 120 children whose parents have waived their right to reunification and 67 children whose parents raised "red flags" for criminal history or other reasons. Earlier this month, the Trump administration also missed another deadline to reunite all of the children under five years old it had taken from their parents, when only 57 of 103 babies and toddlers were given back.
In a court filing placed on Wednesday, dozens of immigrant parents accused U.S. authorities on the Mexico border of coercing or misleading them into signing forms agreeing to be deported quickly relinquishing their right to be reunified with their children. Some were told signing the form would be the only way to get their children back and others who were illiterate or only spoke Indigenous languages were made to sign without understanding what they were agreeing to.
HEADLINES FROM THE WESTERN HEMISPHERE
NORTH AMERICA
MEXICO: Assailants shot to death six people at a funeral in the state of Michoacán, in western Mexico, late on Wednesday evening. Four more people were wounded in the attack in the city of Uruapan. Witnesses say the assault is part of the turf war between the Viagra drug cartel and the Jalisco Nueva Generación drug cartel and it follows a similar attack on July 15, when armed men killed five people and wounded 17 in a funeral home in the north-central state of Zacatecas.
CARIBBEAN
CUBA: On Tuesday, three senior State Department officials who made an unannounced trip to La Habana met with Carlos Fernández de Cossio, the director general of Cuba's Foreign Affairs U.S. section, to discuss the strange illnesses that some U.S. embassy personnel have suffered. The next day the Cuban official said that during the meeting Cuba "rejected the United States delegation's use of the term" attack, because it considers that "it entails defamation" adding that there is no evidence "that something has even happened." Former Cuban President and head of the Communist Party, Raúl Castro, who was not in the meeting, said yesterday that "under the pretext of health effects on its diplomats, in what is called by some a 'sonic war,' the origin of which nobody has been able to explain or prove (…) bilateral links with the United States have deteriorated."
CENTRAL AMERICA
NICARAGUA: The Inter-American Commission on Human Rights issued on Tuesday a report raising the number of confirmed deaths related to the protests to 295. But the Nicaraguan Pro-Human Rights Association said on Thursday that according to its own research 448 people have died. Director Álvaro Leiva said that 399 of the dead had been fully identified and that there were photographs, news reports and other evidence to document the other cases. There are also 595 people reported as missing according to the organization.
ANDES
PERU-COLOMBIA: Peruvian Authorities approved on Tuesday the preliminary studies recognizing the existence of Indigenous Isconahua and Mayoruna peoples living in voluntary isolation in the area of a new proposed indigenous reserve in the provinces of Requena and Ucayali. The recognition by the Multi-sectoral Commission on Isolated Peoples requires that protection mechanisms for the groups are established while the process to create the Western Divisor Mountain Chain Indigenous Reserve is still ongoing. Earlier this month, Colombian president Juan Manuel Santos signed a decree recognizing the rights of Indigenous groups in voluntary isolation or initial contact to self-determination over their territories and to not be contacted against their will, this means the prohibition of direct or indirect intervention in the areas where groups are suspected to exist. Colombia was the last of the Amazon countries with confirmed or suspected peoples in voluntary isolation to create a public policy for their protection, the other countries are Peru, Brazil and Ecuador.
ECUADOR: President Lenín Moreno said at an event in Madrid during a European tour that WikiLeaks founder Julian Assange must ultimately leave Ecuador's London embassy. It had been previously reported that senior officials from Ecuador and Britain discussed how it would be possible to remove Assange from the embassy if his asylum there were revoked. Assange was granted refuge at Ecuador's embassy in 2012 by Moreno's predecessor and now political opponent Rafael Correa.
SOUTHERN CONE
ARGENTINA: Thousands marched under the rain in Buenos Aires yesterday to protest against President Mauricio Macri's announcement on Monday to allow the military to collaborate with internal security. The protest was summoned by the Grandmothers of the Plaza de Mayo to coincide with their weekly demonstration for the children stolen and illegally adopted during the Argentine Dirty War.